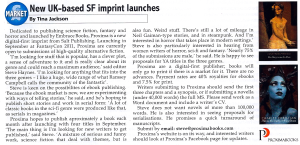 On Friday, Twitter chum Rebecca Brown alerted me to the fact that Mrs Darcy (remember her?!) had been spotted in the pages of Writers' News, which sent me on a frantic hunt for my copy. Which actually arrived on Saturday.
Anyway, there she is on page 28, along with fellow author Charles Christian's enigmatic blue lady, accompanying a rather spiffy feature on Proxima Books, my wonderful publishers. All rather cool.
I've added a few more pages to Wickhampedia since I last mentioned it, including a new improved main page and articles on Emma, Bride of the Zombie and Perversion. There's more to come, once I've got over Monday's news. Which I haven't yet, by any means. I'm still buzzing.