Around this time of year it's traditional to reflect on the year that's been and set some goals for the year to come. I tend not to write down the latter, because there's a massive element of hubris involved in doing so. I did in fact post a list of targets here at the start of 2009 and then took the list down straight away and moved it to the private forum of my writers' circle because it looked a bit silly (although I did in fact hit five out of the nine specified goals). This year they went straight to the private forum.
Anyway, let's see what happened with some of those ten goals for 2010, shall we?
1) Finish Mrs Darcy versus The Aliens – well, can't argue with that.
2) Either get it published properly or get a sufficient following on the serialisation to make merchandising a possibility – well, the least said about merchandising the better, but I did get a publisher.
3) Get on the shortlist for either Fish or Bridport (left over from 2009) – somewhat unexpectedly, I got on both shortlists this year, although the fact that the Bridport one was for poetry was a bit of a curveball. For some reason, I didn't mention either the Bristol or Sean Ó Faoláin in my list, because that would have looked a bit greedy. Oh well.
4) Win a poetry prize – thank you, JBWB, for that one.
7) Do more live readings, including poetry – well, I did do some more live readings (principally at Sparks), and I did read some poetry at one open mic evening. But I still need to work on that in 2011, I think. This will include developing some voices for reading extracts from Mrs Darcy. Ahem.
So that's five out of ten goals achieved, which I suppose isn't too bad. Oddly, the one goal that I failed to mention in my list at all was "Get something broadcast on the BBC." Must have thought that one was completely out of the question …
'Tis the season of good cheer, excessive consumption and Christmas Specials. My good friend Toby Frost, author of the fabulous Space Captain Smith trilogy, has made a habit of producing one of these for the last few years and here is the latest one, "A Fairytale of New Dorchester." Go and download it now if you know what's good for you

Not to be outdone, I thought it might be fun to do something similar with Mrs Darcy. So here's my first attempt at a Christmas Special, "Mrs Darcy's Christmas Carol." The theme was pretty obvious once I'd realised that I had a few ghosts hanging around already, waiting to be put to work. Hope you like it, anyway.
It only remains for me to wish you all a Merry Christmas – or whatever alternative you celebrate at this time of year – and I'll see you on the other side of the turkey …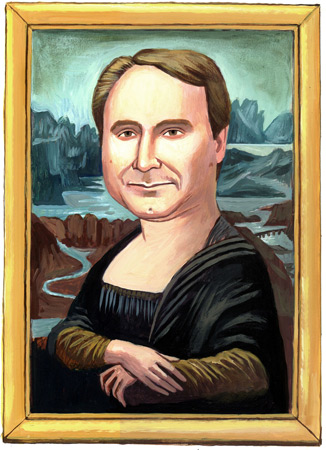 I came home from a week's holiday on Friday to find that I'd managed to bag third place in the fiction section of this year's Slingink Scribbling Slam (formerly known as Eurofiction), alongside Jocelyn Hayes and behind the awesomely prolific and consistent Stef Hall and Sallie Tams.
I was particularly pleased about this because I have considerable respect for the judge, Nik Perring; his book of short stories, "Not So Perfect" was one of the highlights of the year for me. I was also pleased because the half-dozen pieces that I came up over the twelve weeks of the competition were the first short stories I'd written for quite some time and they turned out to be a bit different from my previous work.
Paradoxically, what I'm really, really pleased about is that I managed to get that place with some stories that are actually quite flawed, but which can be fixed (thanks mainly to Nik's critique). So I'm looking forward to seeing them all get out there into the big wide world in 2011.
I also took part in the poetry section, and although I ended up somewhat lower down the order, I've got some pieces that I can work with there as well (thanks again to the critiques of the judge, Mandy Pannett). I've said it before, but you really can't beat competitions like this one and the Whittaker to force you to produce new work.
And in case you're wondering what the Great God Dan is doing there, for the purposes of the competition I went under the pseudonym BrownDan and I borrowed this rather splendid caricature from Slate magazine as my avatar. I'm finding it quite hard to say goodbye to him now. I'm sure his eyes are following me around the room …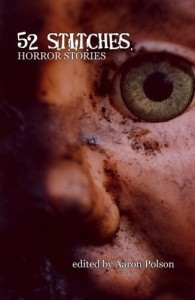 My little friend here would like to draw your attention to a splendid new 52 Stitches anthology which is now available to buy. You really should buy this one, for two reasons.
First of all, it's very good and contains some splendidly creepy flashes from the likes of Cate Gardner, Mercedes Yardley, Barry Napier, Rachel Green, CL Scarr and many more (oh, and me).
Secondly, as some of you may be aware, one of the authors involved, Jamie Eyberg, was killed along with his wife in a tragic accident earlier this year, leaving behind two young kids. All profits from the anthology will therefore be given to Jamie's memorial fund for their benefit. I only had the most tangential interactions with Jamie, but he seemed a nice and genuine guy as well as being a talented and original writer. A sad loss.
Just a very quick post to wish Ms Austen a very happy one and hoping that it proves as auspicious as her birthday in 2009 when *ahem* Mrs Darcy versus the Aliens was launched on an unsuspecting world. I'd like to think that she'd take it in the spirit that it is intended.
Anyway, here's a really nice review and interview with yours truly, courtesy of Jennifer Duke of the rather splendid Bennet Sisters blog. Many thanks to Jennifer for inviting me in and for her unexpectedly kind words.
So with this unexpected and frankly rather intriguing epilogue, "Mrs Darcy versus the Aliens" comes to a close – not, however, without leaving the door open to the first of many sequels.
What an extraordinary year it's been for Mrs D (I was about to say "journey", but I stopped myself just in time). When I put the prologue up on December 16th last year, I had absolutely no idea whether or not it was going to fly. I had enough written to keep things going for about three months, which I reckoned would give me enough time to take a decision on whether or not to continue writing. Much to my surprise, I did get sufficient interest to keep it going and here we are at the end.
One day soon I'll write a much longer post on how it all happened, what worked and what didn't and what I'd do differently if I had to go through it all again. But that will have to wait until after Christmas, because someone somewhere seems to have just pressed the fast-forward button in my life and I'm struggling to keep up. I hate it when they do that.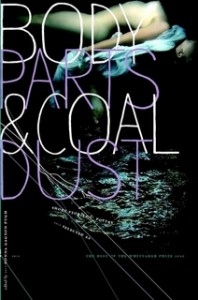 Now there's an arresting cover for you, eh? This year's Whittaker Prize anthology is now available, and what a stunning piece of work it is too. Massive kudos to Donna Gagnon Pugh, the editor, and her cover designer, the enigmatically-named Five Seventeen.
Oh, and I've got a couple of poems in it, "Rock Bottom" and "I Suppose We All Thought That, One Way or Another."
Get yourself a copy now!
And so the story comes to a close – although do watch out for Saturday's epilogue. After a final dramatic confrontation between Elizabeth and Lady Catherine (in which, true to tradition, the latter is accused of being insane), Rosings burns to the ground and everything ends happily-ish after.
Or does it …?
In other news, I recorded my "Tracks of My Life" feature for Radio Verulam on Monday. I really do not know if this was a good idea or not. Tune in on January 2nd at 10am GMT to hear me make a fool of myself. Not sure if it's going to be worth missing the Archers omnibus edition for, mind.
And so we reach the penultimate episode of the story (although there is a rather tantalising epilogue as well) and we find most of the supporting characters in a bit of a pickle. Who will come to their rescue?
In other news, I'm recording my Radio Verulam "Tracks of My Life" tomorrow morning. After far too much deliberation, I have chosen sixteen tracks of varying suitability which I am convinced – depending on which way my mood is swinging at a given moment – will almost certainly make me look either like a total philistine or a pretentious pseud. Either way, you will be pleased to know that neither "Ernie" nor "Two Little Boys" made the final cut.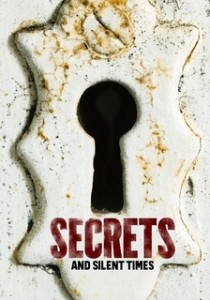 Some time ago I took part in the Slingink Prize and managed to get shortlisted in the poetry section with my piece "Imitation of a Suicide". The resulting anthology is now available from Lulu and a good read it looks too. I'm looking forward to getting my copy and I'll be particularly intrigued to see how the junior prizewinners stack up against their more seasoned counterparts. My suspicion is that they'll more than hold their own.
In other Slingink news, today I submitted my entries for the final round of this year's scribbling slam. I've really enjoyed this year's competition, having not written much in the way of short fiction this year. In fact I sat out last year's Eurofiction (the precursor of the scribbling slam) as well as the fiction section of this year's Whittaker Prize and it was really nice to get back into being forced to come up with some stories.
I think I'm reasonably pleased with all of the stories and all but one of the poems I came up with. I'm not really in contention for the top spot in either category, but I've definitely got some material that I can work with – which is, after all, the main reason for doing it.