This is quite an important episode, in which we get some hints as to Wickham's back story. We also meet his boss, Colonel Sutherland, and a delightful nurse whose name (for no good reason, frankly) spawns a sequence of increasingly convoluted puns.

My story "The Greatest Disciple" has the honour of bringing the first year of "Fifty-Two Stitches" to a close. There have been some superb stories in "Fifty-Two Stitches" this year, and I would strongly recommend the anthology if you're looking for something to spend that cheque from your favourite maiden aunt on; I'm sure she would approve. This one is another story of mine with a vaguely religious theme, although I should warn those of a nervous disposition that for such a story there is rather a lot of bad language in it.
It may be Boxing Day and some of you out there may have sore heads, but the saga continues nonetheless. Today we meet old Mr Firth, described as "the local mentalist". It is possible that this is an example of the more modern usage of the term, meaning "nutter", rather than "one who can read minds". Then again, perhaps it hardly matters.
I should perhaps also mention that one of the younger members of the Verulam Writers' Circle got quite excited at the opening line "Elizabeth dismounted from Keira and tied her up", until I reminded him that Keira was a horse. Oh dear.
At around this time of year, I feel an urge to write a post listing everything I've done this year and setting goals for the next one. In fact, around this time last year I did indeed write such a post – then I took one look and deleted it. As it happens, I have achieved around half of the goals that I set myself, but that's good (so I tell myself) because it still leaves something to do next year. Even if the remaining goals are all the really difficult ones.
All in all, it's been a decent enough year, though, even if I have no idea where any of it is leading. And it is really nice to see the readership for this blog building over the year – unless of course you are all Russian pornbots. Either way, I hope you'll all stick around to see what happens in 2010. I'll certainly be fascinated to find out, because frankly it could go anywhere. Or indeed nowhere at all.
In the meantime, I shall wish you all a merry whateveritisyoucelebrateornot and see you in a day or two's time when I'll probably be going on about this Saturday's episode of Mrs Darcy vs The Aliens. You are keeping an eye on that, aren't you?
Have fun!
… in which we catch up with what's been happening with the Bingleys, is now published. I have a feeling that this is not going to end well. It did strike me after I put this episode on the schedule that readers outside the UK might not get the references. So here are a couple of clues.
A few weeks back, I noticed that one of the guys I follow on Twitter was tweeting about a project to do with the twelve days of Christmas, so I followed the #12days hashtag around (as you do) and tracked down the guy who was organising it, Jim Wisneski. At the time, he had already got a writer lined up for each of the twelve days, but a few days later he decided that he might as well double up and have two stories each day. At which point I threw my hat into the ring and – for no particular reason – grabbed "Eight Maids a-Milking".
I'm not sure that I entirely understand the resulting story, "The Miracle at Hightop Farm", but I think I quite like it. However, you should be warned that calf worship is a dangerous and illegal activity and subject to extreme penalties should you be caught in the act.
And so the saga continues. This episode is a cosy, domestic scene between the Darcys, setting up an important future plot line. There are, however, no aliens in it. Sorry.
Amazingly, this rather professional-looking blog has already picked up on Mrs Darcy! And I'm so pleased that the commenter likes Dave's picture. It really is perfect.
Last night I heard that all three of my entries to this contest had been selected in the top 25 for their group. What happens next is that one out of these is chosen by popular vote to go through to the next round (which appears to start at 2AM in the morning, UK time, but we'll cross that bridge if we come to it). A further four entries are picked by the judges, making a total of five entries going forward out of each group.
Now as far as I can tell, there are no rules against soliciting votes. However, it does seem a tad unethical, so please understand that what follows is purely for information, OK?
Here are my three entries:
She knew how to make an old man smile and get his pulse racing. She also knew not to trigger the heart attack until he'd amended his will.
We watched as the attack took Earth by surprise. The final war lasted barely seconds before the human race was totally devoured by nanobots.
It was a vicious and unprovoked sidelong attack – and from someone who claimed to be a knight as well. But we were all just pawns to him.
And here's the voting form for Round 19. Just in case. Y'know.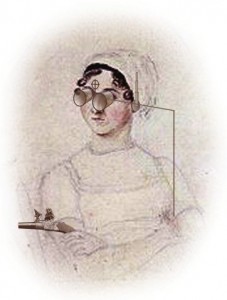 Well, then. It's Jane Austen's birthday today, which is as good a time as any to launch a new project that owes a considerable amount to her work. Well, it owes a small amount to her work, anyway. Now I can see the sceptics amongst you muttering to yourselves that he last thing the world needs is another bloody Austen mash-up, so let me reassure you that it is nothing of the sort.
Here's how it came into being.
Back in late 2007 I was having a conversation with my good chum Toby Frost (author of the highly successful Space Captain Smith series) about "Jonathan Strange and Mr Norrell", which I had just read. I described it to him and we agreed that it was essentially a Regency novel with added wizards. I then wondered what would happen if you wrote a Regency novel with added aliens, and we both thought that this was an excellent idea – along with all the other excellent ideas that tend to arise in the pub after a writers' circle meeting.
But it wouldn't go away. So in 2008 I scribbled a prologue and a synopsis down and submitted it to the Winchester Writers' Conference "First 3 Pages of a Novel" competition. It didn't place, but the critique was generally positive, even if it did start with the dreaded words "This is a brave venture!"
Now anyone knows that "brave" actually means "foolhardy" or "a really stupid idea to waste your valuable time on", and as a result I put it to one side again. Then, in December of that year, I happened to mention the concept in passing to my friend Kate Nash, who was just setting up her new literary agency. She was really taken with it (mainly because she's a published author of Regency romances herself), and basically said that if I could come up with three chapters by the London Book Fair, she would be willing to give it a go.
Then disaster struck. A certain zombie book appeared. This was immediately followed by everyone and their maiden aunt also announcing similar mash-ups. And the last thing I wanted to do was look as if I was jumping on some bandwagon (I have principles, you know). So I downed tools, and focussed my attention on short stories instead.
But you can't leave a good project alone. And my wonderful friends at the Verulam Writers' Circle kept on at me to continue with it, providing excellent feedback along the way. And I eventually did sign up with Kate Nash as my agent, and she is, even as I write, knocking on doors. Or whatever it is that agents do.
However, we both think that the project could do with a bit more of a nudge from the grass roots. So here's the deal. Over the next few weeks, I'm going to be publishing "Mrs Darcy vs The Aliens" in twice-weekly installments, on a brand, spanking new blog, www.mrsdarcyvsthealiens.com. If you like it, tell everyone you know. I want this to be big. Well, obviously I do. In return, I promise to keep writing it, so you can find out what happens.
Oh, and Mrs Darcy has her own Twitter account, so you can follow her at @RealMrsDarcy. Tell everyone about that, too!
(By the way, isn't that picture ace? It's courtesy of my mate Dave Weaver, who is a damned fine writer as well. Remember his name.)
Toby Frost has done it again! A year on from last year's splendidly festive Space Captain Smith Christmas special, "When Slay Bells Ring", he's just brought out "The Celery and the Ivy". Here's the blurb:
Toby Frost has put aside his iMelodiatron to decree:

By popular demand it has been declared that the universe of Space Captain Smith must get even more exciting, so we are proud to present The Celery and the Ivy, in which Isambard Smith, Polly Carveth, Rhianna Mitchell and Suruk the Slayer set out to bring Christmas cheer to a remote research station.

With Suruk seeking to feast on Stephen, Carveth yearning for equine company and Rhianna wanting to get her hands on Smith's nut roast, how will the sole inhabitant of a biological research station take to his visitors?

Find out by downloading The Celery and the Ivy, by Toby Frost – and then feel free to pass it on to all your chums, especially if they are yet to discover the wonderful world of Space Captain Smith.
I think the only thing wrong with this is the idea that there is anyone out there who is yet to discover the wonderful world of Space Captain Smith. Surely everyone on the planet is a fan? At least, that's the way it would be if there were any justice in the world.
So what are you waiting for? Download it here. Oh, did I say it was free? Well it is. So no excuses whatsoever, then. Pass it on.