It's been another exciting day in the world of TAKE IT COOL. First of all, I spent an hour (or slightly less than an hour, owing to a mix-up with the location of the front door of the studio) in the delightful company of DJ Cheryl Morgan and other guest Natalie Burns at Bristol's Ujima Radio, talking about Dennis Pinnock and short stories and so on. You can listen to it again here (my bit starts at 22:17 minutes in). I don't think I made too much of a hash of things, but your mileage may vary, as they say…
There's been another review of TAKE IT COOL, this time in Family Tree magazine (available from all good newsagents, price £4.99). Here's what they said, in a spread that took up nearly half a page: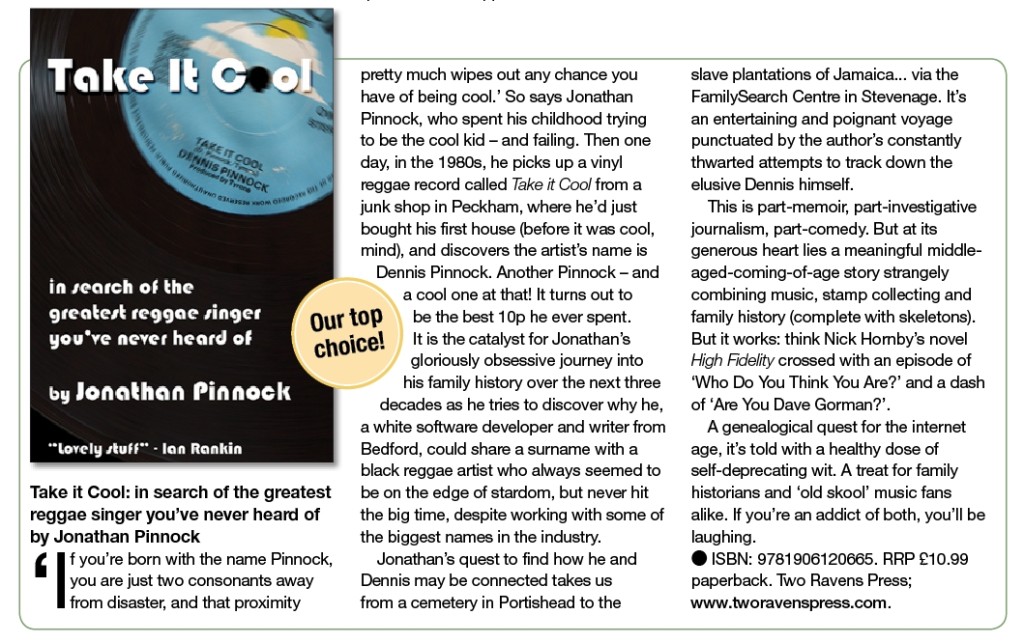 As you may imagine, I'm pretty chuffed by this, and really pleased that – like the review in the Herald that I posted yesterday – they absolutely get it. I couldn't have asked for a better reaction. It's also nice to see that a small publisher like 2RP can still get stuff noticed, even without the massive marketing machinery of the big players.
And there's more… I dropped in on the lovely Vanessa Gebbie's blog yesterday to talk about the story behind the story of TAKE IT COOL. I love her comment about me refusing to be pigeonholed. I wish it were deliberate policy on my part, but it's more a case of me not having a clue about what I'm doing…