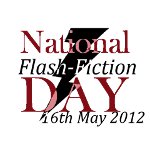 Well, at least it's less than a week since I last blogged…
I'm currently heavily stuck into Project Y, which has somehow made its way up to the remarkable total of 23500 words today. There are a few crucial things that have to fall into place (mainly because it's a non-fiction project and certain real-life things have to either happen or not happen soon), but apart from that it's all fitting together really well. Touching wood as I say it, it seems to be working, and it's the best feeling ever when a project does that. I'm so looking forward to the time when I can tell everyone what it's all about.
However, I haven't been completely neglecting fiction. Last week I was really chuffed to receive a commission to write a piece for the forthcoming anthology to be published in association with National Flash Fiction Day (which – spot that logo in the bottom right-hand corner – is now supported by the Arts Council!) Check out the other names involved – there are several of my flash fiction heroes and heroines there 🙂
The good news is that you – yes, you! – can be involved too. As you can see, submissions are now open, so get cracking and send something in by close of play on Tuesday April 10th. Hmmm. Better get going on my own effort soon, I guess.