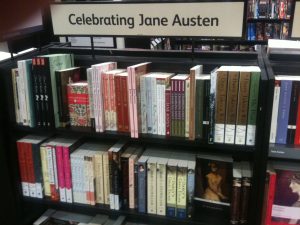 Before we go any further I really would like to draw your attention to the picture on your left, which does indeed show my book on display, face out, in a section of Waterstone's in Bath entitled "Celebrating Jane Austen". I should perhaps add that this was not my doing; it really was like that when I went into the store.
And I should also mention that if anyone out there lives in or near Bath, those copies are also signed with my new tentacle signature™, so they will be worth £1000s one day. Probably on the same day that £1000 will buy you a couple of gobstoppers, in fact.
Moving on, today the Grand Blog Tour reaches Kirsty Stanley's place. Kirsty is the lovely lady who took over the management of Slingink when it looked as if that forum was about to close and has been running it ever since. The Slingink Eurofiction competition (now renamed the Slingink Scribbling Slam) was the source of some of my earliest successes as a short story writer, so I was really pleased when Kirsty stepped in to keep it going. In fact, the Slingink Scribbling Slam has just started up again – there's still time to register, and I strongly recommend giving it a go.
Today's interview is a little different from the others so far, in that Mrs Darcy gets a few questions as well as me. The answers are a little surprising, to say the least.