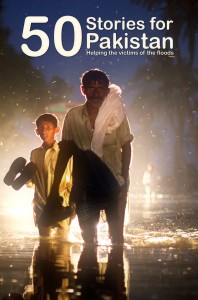 One of the things that I've always felt really bad about is that I never submitted anything for Greg McQueen's 100 Stories for Haiti project. The rather specious reason for this is that I didn't have anything available that would fit the guidelines (it had to be upbeat and under 500 words, and most of my short pieces tend to be a bit gruesome).
So as soon as I heard that Greg was putting together another anthology – this time in aid of the Pakistan flood appeal – I looked a bit harder and realised that I did in fact have just such a piece, Desert Culture. And today I found out that it had made it into the book. I'm really excited about this and I feel honoured to be part of such a worthwhile project.
But be warned. I'll be pestering you to buy loads of copies when they become available. And you will, won't you? Well, I can't think of a better Christmas present.