When I first went on Twitter, one of the first "publishing industry" types I followed was @meandmybigmouth, aka Scott Pack, publisher of the Friday Project, mainly because I'd actually heard of him (because he'd given my mate Toby Frost a good review on his excellent blog). He turned out to be a good choice to follow, because he's a very entertaining and interactive tweeter and occasionally he comes up with some very good recommendations (I ended up getting a DVD of "Oldboy" because of him – wow). And one of the things that he seemed to be banging on about on a regular basis was the Firestation Book Swap, a literary event that he runs in collaboration with the author Marie Phillips.
So out of curiosity I went along to the latest one, a couple of days ago. I was particularly attracted to this one, because one of the guests was Tom Morton, the man behind the @DrSamuelJohnson Twitter account (and if you're not on Twitter, take a look – I think this account alone makes an unanswerable case for joining Twitter). And what fun it was.
The first thing to clear up is that it isn't actually held in an operational fire station. That would be silly. It's an arts centre in Windsor that presumably once used to be a fire station (although the pole had mysteriously vanished, which was slightly disappointing). Although the event takes place in an auditorium, it's very inclusive and it feels more like a social occasion than a show.
At the start, Scott went round the audience handing out pieces of paper inviting us to scribble down a question for the guests. He actually recognised me from my Twitter avatar and said hello, which was nice. The rest of the evening essentially consisted of a free-ranging chat (too loose to be called an interview, and all the better for it) between Scott and Marie and their two guests (the other one being Tim Coates, an ex-Waterstones head honcho who's written what sounds like a fascinating book about the editor of The Times during the Crimean War), punctuated by breaks for cake (which there was an awful lot of), prize giveaways and swaps.
Ah, the swaps. The idea is that you take along a book that you've finished with with the intention of swapping it with one brought along by another member of the audience. The success of this largely depends on your ability to pitch the book that you're trying to swap, and I don't think I got this quite right. The book I was trying to dispose of was Umberto Eco's "Island of the Day Before", my pitch being essentially that it was by the author of the fantastic "Name of the Rose", was in excellent condition and had a really nice cover. The fact that I hadn't actually read much beyond the first few pages before giving up was very soon rumbled and I ended up taking it back home with me.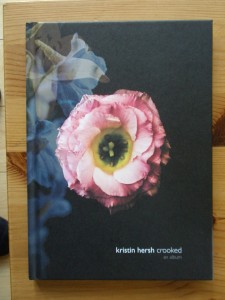 But I did win something in one of the prize giveaways for guessing what was being described by one of Dr Samuel Johnson's definitions, which was a sauna. That sounds wrong. I didn't actually win a sauna. The sauna was the definition. What I won was this splendid artefact.
I have a feeling that this is another artist whose back catalogue I'm going to be shelling out for. And this book is indeed a thing of beauty.
I also came away with signed copies of Dr. Johnson's Dictionary of Modern Life and Marie Phillips' Gods Behaving Badly, which I'm very much looking forward to reading.
All in all, a great evening, marred only by the fact that I unaccountably caught the wrong train at Slough and ended up in Reading instead of Paddington. I blame this on Sarah Salway: I was engrossed in Leading the Dance. If you haven't read this yet, get yourself a copy now and you'll see why.