Feb
13
Is it really a week since my last post? Yes, it looks like it is. Ho hum. Well, the good news is that the mysterious Project Y is getting very close to the magic 10000 words and I'm actually beginning to feel quite excited about it. No clues yet as to what it's all about though. Sorry. Meanwhile, I had a piece  published in The View From Here this week about that utterly wonderful film The Artist and what we writers can learn from it.
The next thing that happened this week was that I was interviewed by that excellent chap Charles Christian for his new online magazine The Urban Fantasist. As interviews go, I think it's one of my better ones, so do take a look. And bookmark that site – looks well worth following.
But the most exciting thing of course was Get Writing 2012, which took place yesterday. It was particularly exciting for me because I had the opportunity to do my first-ever workshop. Strictly speaking, I did one three years ago, on entering competitions, but as only a couple of delegates went to it (until a few of my VWC chums very loyally came along to bolster the numbers) I don't think it really counts. Yesterday's was entitled "Weird and Wonderful" and was all about unlocking creativity, basically by setting the brain problems to solve. From where I was sitting (or standing, mostly) it seemed to go well, and the group was extremely responsive. I'd like to do more of this kind of thing: it's a lot of fun.
Jan
16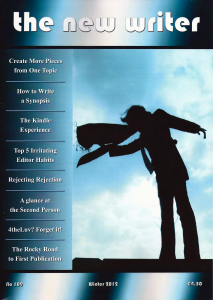 Very quick post because I'm recovering from a severe bout of man flu. My poem "Cyprus Delight", which was highly commended in last year's New Writer competition, is in the very latest edition of the magazine, on page 49. It's always nice to see something in print, especially a poem.
The other good thing that's happened in the last few days is that my workshop at the Get Writing 2012 conference has sold out. I'm really pleased about this because last time I did one, back in 2008, I had an audience of two plus some chums from the Verulam Writers' Circle who took pity on me. Suppose I'd better get going on preparing my workshop then. But first I have a talk to Harrow Writers to do this Thursday – if you're in the area, do drop in.
Jul
4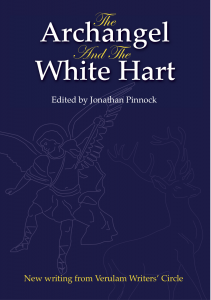 We  thought it was about time we officially launched our very wonderful VWC anthology, The Archangel and the White Hart (remember, that's the one that I edited and has been featured twice on Scott Pack's spiffy Me and My Short Stories blog).
So this Thursday, July 7th, at 7PM, if you're in the vicinity of Waterstone's in St Albans, drop in and say hello. If you speak nicely, you may even get a glass of wine thrust into your hand. You may be asked to buy a copy of the book in return of course, but it is very good, so it's a pretty good deal if you ask me. There may also be readings and stuff.
Not only that, but I have a feeling that I haven't actually mentioned anything here about the forthcoming launch of Mrs Darcy versus the Aliens yet, so I'd better rectify that. The book itself comes out at the beginning of September, but the launch takes place at this year's FantasyCon in Brighton. In fact, it's not just Mrs Darcy that's being launched, but Proxima itself, so it should be quite a party.
Speaking of which, have you been following the development of the Proxima covers? Every single one of them is absolutely stunning. And SF covers have been known to be a bit naff, haven't they?
In other news, I've reactivated the blog over at Mrs Darcy's dedicated site (although I've moved it so you'll need to change your RSS feed) to make it easier to keep people informed about what's going on there. Wickhampedia continues along its merry way. I really have no idea where it's going, to be honest, but I'm sure it knows what to do.