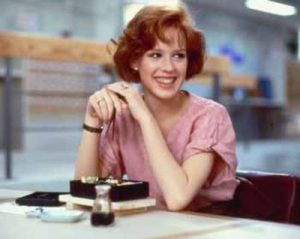 Today the longlist for this year's Frank O'Connor International Short Story Award was announced, and Dot Dash is on it, which makes a nice double with last week's Edge Hill longlist. The list itself is even longer than the Edge Hill one, which I guess is reasonable enough given that is a truly international prize rather than one restricted to those born or working in the British Isles.
There are consequently even more big hitters on the list than Edge Hill (if that's possible) so I have no expectations whatsoever of getting any further. It is, however, quite nice and more than a little weird to be on the same longlist as Molly Ringwald. Yes, that Molly Ringwald.
In other celeb-oriented news, I had a weird Twitter conversation yesterday with Jim Bob out of Carter USM about loft ladders. I thought you might enjoy it, so I storified it.
Finally, I had a very nice review the other day from Dan Purdue, which you can read here. I also found out that the January edition of Faces of Oman (a monthly supplement given with the Times of Oman) had chosen Dot Dash as one of their two books to review. I say review, although the words are taken mostly from the blurb, plus one phrase from the Independent On Sunday piece. I'm there on page 65, next to Virginia Ironside. All very odd.
… and I haven't got a coherent blog post for you, I'm afraid. I'm alternating between feelings of wild elation and the feelings of a particularly confused rabbit frozen in the headlights right now, so coming up with anything remotely sensible is beyond me. September's blog tour is taking shape nicely, though, with a wide variety of stops along the way. There are still a few places left, so if you fancy putting me up for a day, do drop me a line. I'm reasonably well behaved and I will try to leave your blog in the state it was before I arrived.
I'm also going to be posting an interview here very soon with Steve Moran of the excellent Willesden Herald Short Story Contest, at which time we will have a FREE GIVEAWAY. Which is a bit of a first for this blog and frankly rather exciting, so watch out for that.
I should also say that my online chum Nicola Morgan, whose splendid book Write to be Published has possibly the best page 246 ever committed to print, also has a new Kindle-only book out, called Tweet Right – The Sensible Person's Guide to Twitter. I'd strongly recommend this to anyone out there who isn't yet on Twitter or is on Twitter and can't make sense of it, because she's a great tweeter and she knows what she is talking about.
Finally, there's a bit more Wickhampedia this week, although I have no idea what you'll make of it. Incidentally, if anyone out there knows anyone really famous who'd like to publicise this a bit, it would, like, be really good, you know.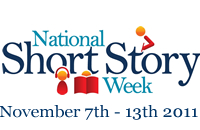 Last week I was asked if I fancied being this month's guest editor for the National Short Story Week web site and I must have hesitated for – ooh – at least a couple of seconds before saying yes. Anyway, the resulting piece is now up on the site – do go and have a look. It turns into a bit of a rant in the end, albeit a very polite one.
In other news, I'm on Google+ if you're into that kind of thing. To be honest, I'm not madly excited about it at the moment. The "circles" concept strikes me as exactly the thing that a geek would come up with as being really cool, but I'm not sure I really see people making great use of it. Sure, in theory it enables you to post different stuff for different groups of people to see, but I have two problems with this.
Firstly, if a tech-savvy US senator can accidentally post a picture of his todger to his Twitter stream instead of a DM, then sure as hell other people are going to screw up which Google+ circle they're posting their "look at me I'm so wasted LOL" pictures to. At least on FB and Twitter you know that everyone's watching.
Secondly, I actually quite like the blurring that occurs in these places. You find out that people you've had one kind of interaction with have a whole other side to them and sometimes that's very interesting. Sometimes it's weird, too, but there you go. Ho hum. I'm probably just resisting change as usual. We'll see.
Some time ago, my good mate Oscar Windsor-Smith tagged me with this, for which I feel deeply honoured. He also gave strict instructions that I should reveal seven hitherto unsuspected things about myself and then tag a further seven hapless victims myself. I was just about to respond to this when I saw what Claire King had done and decided that anything I said would look very insignificant beside appearing on the Crystal Maze.
But then I felt like a party pooper, so I've decided to go ahead and make a fool of myself, although one out of two will have to do, I'm afraid, 'cos I really hate pestering people. Anyway here are those seven things:
I used to have a soft toy dog called Dismal Desmond. (What ever happened to him, I wonder?)
I once had to be taken screaming out of a showing of "Swiss Family Robinson". Hey, that was one scary movie. There was some kind of big cat involved, if I remember correctly.
I got thrown out of the school chess club for playing suicide chess. Oh come on, it's much more fun.
The first computer program I ever wrote calculated the volumes of spheres for radii 1 to 10. It was written in FOCAL and worked first time. (FOCAL? Trust me, you don't want to know.)
I once gave a performance of the rondo from Mozart's 4th horn concerto on a 14' length of garden hose with a trombone mouthpiece in one end and a plastic funnel at the other. It was almost but not quite recognisable.
At university, I was secretary of the Dampers Club, a society for people who had fallen in the river off punts. I had fallen in within 5 minutes of first setting foot in a punt.
I met Mrs P in a prom queue. We were the last two people allowed in, because the Albert Hall was full. Good gig if I remember right, although we did spend most of the evening eyeing each other up.
I think that will do for now, don't you?
If I fall asleep in the middle of writing this, it's because my brain is still somewhere midway between here and Indochina. I have a number of reasonably heavy-duty posts lined up, including a review of Ed Siegle's "Invisibles" and a reflection on belatedly encountering the work of Raymond Carver for the first time (or to put it another way, What I Read On My Holidays), but they'll have to wait for the rest of my cerebellum to arrive before I attempt to write them.
Instead, here's a quick plug for an event coming up in London next Monday evening: Imran Ahmad giving one of his inimitable narrative performances. If you haven't read his book "Unimagined", you are missing out on a treat. I'm quoted on his website as describing it as a "quietly subversive masterpiece of militant moderation", but don't take my word for it, check out what everyone else says. Especially Scott Pack – because Scott Pack's endorsement is of course a copper-bottomed guarantee of quality. Ahem.
Anyway, I've heard Imran speak twice – once at the Verulam Writers' Circle and once at Get Writing 2010 – and he was extremely entertaining on both occasions. Definitely recommended.
In other news, my print copy of the The Right Eyed Deer 5 arrived today, including that interview with yours truly. Well worth a few quid if you ask me, but then I would say that

For no particular reason, the day job has gone a bit bonkers at the moment, which means that most of the carefully crafted posts that I had planned have been elbowed out in favour of this general ramble about stuff.
First of all, I really had planned to say something about the splendid "Get Writing" conference a couple of weekends ago, but everyone else who went seems to have overtaken me and written about it already, so it hardly seems worth it now. One thing that I will say was that possible the most interesting talk of the day came from Matt Bates, who is the fiction buyer for WHSmith Travel. I hadn't heard anyone from the buying end of things talk before, and it was quite an eye-opener.
Basically he said that the single most important criterion for deciding whether or not a book makes it into one of his stores is the cover (the second most important criterion is how informative and interesting the blurb on the back is, by the way). The moment I heard this, I made it my mission for the rest of the day to get one of my postcards printed with Mrs Darcy's cover into his hands – something that I actually achieved within ten minutes of his talk ending. The good news is that he really liked it. But then, who wouldn't?
I happened to be in Bath last weekend, so I took a few of the postcards there with me, giving a couple to the young lad on the till in the Jane Austen Centre ("Awesome!"), one to Waterstones and one to another bookshop who reacted by saying they'd heard that the "first one" was being made into a film. Hmmm. Although does it really matter if I get confused with P&P&Z? I need to practice how I react to this

Today I had a fabbo day pretending to be a real author for a while by attending a lunchtime reception for new joiners at the Society of Authors and an evening launch party for Ed Siegle's "Invisibles", which looks as if it's going to be a superb read. At the latter it was also nice to meet Alison MacLeod, who was one of the other authors involved in the National Short Story Week "Consequences" stunt. My combined intake of wine across the two events was quite high. I could get used to this.
Finally, when I got back this evening, I found that a particularly daft piece of mine (I know I've said that before, but, trust me, this one is dafter than average) is going to be published by The Pygmy Giant at the weekend. I've also been invited to contribute to another publication, but I'll keep that one a little mysterious for the time being.
And I nearly forgot. My piece "Perfect Moment" was apparently one of OneFortyFiction's most popular stories in February. Here it is again, in case you missed it.
Yesterday morning I found out that I'd made it through to the final of "Tweet Me a Story" for the second year running. Many thanks to all of you out there who voted for me, as I ended up as being the "Audience Award" winner for my group (again for the second year running). There is a little voice in the back of my head that is telling me this was probably more to do with the power of social networking than any real merit, but I'm going to ignore that for the moment …
And last night at midnight the word for the final was distributed, and it was "surprise". Which was a bit of an awkward one, because half the trick in these things is to find a less obvious interpretation of the prompt word and at first sight "surprise" doesn't offer much scope for thinking outside the box. But I'm quite pleased with the three I came up with eventually – certainly more so than last year's final, anyway. The results are announced on Monday.
Before that, Mrs P and I went to see The Ukulele Orchestra of Great Britain in concert. Wonderful. Here they are in case you've never come across them before:
Sometimes you don't need to go looking for stories. All you need to do is rely on your brain to make a few connections.
A couple of evenings ago Mrs P was away for the night and I nearly blew the house up (or at least I thought I nearly did, except that Ed who runs Café Doom and who knows about these things now assures me that I didn't really, but that doesn't matter for the purposes of the story). Basically I left one of the gas rings on for a few hours and only noticed the smell just before I turned in for the night. At which point I switched it off, opened the windows wide, turned on the fan and averted disaster.
Thinking about my apparent near-extinction, I remembered the extraordinary ending of Rainer Werner Fassbinder's 1978 film, "The Marriage of Maria Braun." Here it is in case you've never seen it. Obviously, being the ending of the film, it does contain spoilers. It does also contain Hanna Schygulla, which will be sufficient for most of the male readers of this blog:
Terrific film, I seem to remember. From Fassbinder I then started thinking about 80′s one-hit-wonder Susan Fassbender, of "Twilight Café" fame. Here she is (also featuring the dumbest voiceover EVER by Steve Wright):
Great, isn't it? I bought that single when it came out, back in 1981. Weirdly, she definitely sounds like she's singing with a German accent, although it turns out that she was English. No idea why she started calling herself Fassbender.
And then I looked her up on Wikipedia (as you do). And I found out that she died twenty years ago, in 1991, at the age of 32. No more details as to how or why.
Somewhere in that lot there is a story. Isn't there?
[EDITED TO ADD: I'd forgotten that Rainer Werner Fassbinder also died tragically early at the age of 37.]
I'm going to change the nature of this blog very slightly this year, as there probably won't be so many of the breathless "Look at me I won something" and "Look at me I've had something published" posts. This is mainly because I'm intending to focus a bit more on writing longer stuff – but do note the use of the word "intending" there though. So I'm thinking of doing the odd review and interview from time to time as well as the occasional homily from my lofty position as a Nearly Published Author. Hope this works for you out there, although I'm guessing the Russian viagrabots probably won't care one way or another (hi, by the way, and no thanks, but it was nice of you to offer).
When I was made redundant from my last proper job, back in the early nineties, I did something odd that I've only recently worked out the reason for. After I'd had my interview with my boss (which I really hadn't seen coming and the nature of which I only realised when it became apparent that he was reading from a script) and he'd walked me up to my office to collect my things, we paused on the steps outside the building. Then before I turned to head off into an uncertain future with a mortgage and young family to support, I shook his hand.
For years afterwards, I wondered why I'd done this. It was entirely instinctive, but it seemed the right thing to do at the time. But surely I was letting the man off the hook? Shouldn't I have sworn at him and spat in his face? He was, after all, potentially ruining my life; in the early nineties, there weren't many opportunities going, I had serious commitments and my financial position was heading due South even before this happened.
What I eventually worked out was that the handshake wasn't for his benefit at all. It was all for mine. Basically I was saying to myself that I was big enough to cope with this in a dignified manner and there was no point in bearing a grudge. It was all about (here comes that word) closure. It meant that I could put it all behind me and move on without dwelling on the past. Which is, pretty much, what I did. (Incidentally, it struck me at the same time as this revelation that the Christian principle of "loving thine enemy and praying for thy persecutors" works on exactly the same basis – it's not for your enemies' and persecutors' benefit, but yours. Why did no one ever explain this to me? Or maybe I simply wasn't listening. Pity. Me and Christianity might have got on better.)
The relevance of this to writing is of course that writing is all about rejection. It will seem at times as if the entire publishing world is up against you. But the more you dwell on this fact, the less time you'll spend writing and – more importantly – getting better at writing. So here's a tip: every time you get an e-mail from an agent or publisher saying that your work isn't quite right for them (or whatever), get right back to them to thank them for letting you know. You'll feel so much better for doing so and they will be ever so slightly confused (which will also make you feel good). Then move onwards and upwards. Whatever you do, don't bear a grudge against them in particular or (worse) the entire industry. It will only hold you back.
A similar principle applies to having your work critiqued. But maybe that's a slightly different subject for another time.
In the absence of any coherent theme for a post, I thought I'd tell you about a few things that have caught my eye lately. This may become a regular feature or it may not. Here goes, anyway.
First of all, I'm assuming that everyone has already read Nik Perring's "Not So Perfect"? If not, why not? Judging by the amount of coverage it's had in the blogosphere and twittersphere, it should be selling by the bucketload, and it certainly deserves to. It's about the size of a CD and doesn't take much longer to read as it does to listen to one, but it punches way above its weight and the stories linger on long after you've finished reading it. My particular favourite (and I know that other reviewers have picked up on this one as well) is "My Wife Threw Up a Lemur". This is a lovely piece of magical realism, which is never an easy genre to work in without tipping over into self-indulgence. But Perring knows exactly how far to push it and in doing so draws a picture of a relationship that is far more illuminating than a purely realistic description. Go and buy it if you haven't already.
At the City of Derby last year, there were three of us in the running for prizes, but in reality it was a race for second place. The winning story (as it happens, another piece of superbly-handled magical realism) was so far ahead of the rest that I just sat back and enjoyed it when Gaby Pritchard read it out. She's got a novel coming out under the name of Gabrielle Kimm later on this year and even though it's historical fiction (which I'm usually not a fan of) I'm definitely going to get myself a copy. Check out that first paragraph. Gorgeous.
Finally, my favourite site at the moment is Good Show Sir – a real treat for fans of bad sci-fi and fantasy cover art. Soft targets, I know, but some of them are quite breathtakingly bad. They even sometimes get the author himself dropping in to comment. And as far as I'm aware, they've only made one serious mistake, and even then they were gracious enough to admit it when Toby pointed out the error of their ways.