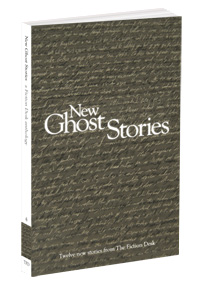 The Fiction Desk's sixth anthology, "New Ghost Stories" has just been released, and what a splendid collection it is. Take a look at the stellar list of contributors, for one thing. I'm really looking forward to reading it myself, and not just because there's one of my stories, "A Whole Bloody Century", in it. Go on, treat yourself or one of your loved ones to a copy now.
Had a nice piece of news at the weekend, in that I emerged (after six gruelling rounds) as the winner of the fiction section of this year's NOT The Whittaker Prize. This competition is the semi-official successor to The Write Idea forum's Whittaker Prize. The contest involved writing a new story every two weeks to a set of prompts. Following this, we all scored each others' entries anonymously and totted up the results. The best thing about it is that I now have half a dozen new stories that I can eventually submit elsewhere. Some of them will need a severe edit, and one or two may end up in the wastepaper basket, but they're all about subjects I would never have dreamed of writing about before.
Finally, I had a really nice rejection this week, from The Letters Page. It was nice for two reasons. Firstly, it was handwritten by the editor himself, none other than Jon McGregor. Secondly, because the writers whose work was accepted included the awesome George Saunders and Kevin Barry. One of those rejections that counts for a thousand lesser acceptances, and a nice end to a year that's been slightly lukewarm at times from the writing point of view.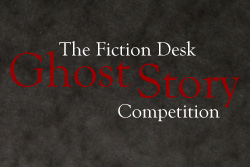 I was very pleased to find out that my sort-of-or-is-it-really-ghost-story "A Whole Bloody Century" has been shortlisted for The Fiction Desk's first annual ghost story competition. Especially so since it now looks as if all the shortlisted stories are also going to be included in an anthology, and not just the winners as previously planned.
"A Hundred Bloody Years" has been kicking around for quite some time. – as long ago as 2009, under its old title "Unquiet", it was highly commended in a JBWB competition – but up until now, I've never been 100% happy with the delivery of the big reveal at the end. I think I've finally sorted it now, though, and I'm really looking forward to seeing it in print. The Fiction Desk do produce some excellent anthologies.
Meanwhile, TAKE IT COOL continues on its merry way. In this episode, "The Wrong Corner of the Triangle", I start to dig into my own family history and come up with something completely unexpected. Hope you're all still enjoying it. And if you haven't tried it yet, there's still plenty of time to catch up before the next one appears on Monday.
Oh dear. Another blog gap. Let me try to explain…
I think I may have learnt something important over the last week or so. For various reasons, not all of which I want to reveal quite yet, I'm in a bit of an odd place with my writing. The thing is, despite having had two books published (and several more, if you include the software ones), I'm no closer to working out what kind of a writer I am. Now it's true that this matters less and less these days – you've only got to look at the CVs of the likes of Naomi Alderman and Steven Hall on the Granta Best Young Novelist list to see that – but it would still be nice to have a bit of a clue as to what I'm doing instead of stumbling around in the dark.
So lately I've been looking for Signs, and as luck would have it last week there were two opportunities for Signs to appear. Unfortunately, neither Sign bothered to show up. The first one was the announcement of the shortlist for the Venture Award for poetry pamphlets. Now, I didn't hold out much hope for this one, but a small amount of hope was nonetheless present (because otherwise, why had they put me on the longlist?). However, it wasn't so much the fact that I failed to make the cut that bothered me, it's the judge's remark that many of the collections that fell short had too many weak poems padding them out. My problem is that I haven't a bloody clue which ones are the weak ones and which are the strong ones. But then again, maybe this means that I'm not a proper poet yet. Either way, I'm no nearer finding out if I'm ever going to be one.
The other Sign that failed to make its scheduled appearance was the shortlist for the Edge Hill Short Story Prize. Now again, it was an unlikely proposition, given the unprecedented strength of the field this year, but the hope was always there, and as John Cleese's character says in Clockwise, it's not the despair – I can cope with that – it's the hope I can't stand.
The important thing I have learnt from this is that it's pointless as a writer to wait for external agencies over which one has no control whatsoever to provide a direction. To be strictly accurate, it's not actually something I've learnt this last week – it's something I've remembered again. After all, I've never had a mentor and I've always made up my career as I've gone along. Back in late 2010, against advice from some people, I started blogging Mrs Darcy versus the Aliens as a direct reaction to my frustration at not getting a short story collection accepted. Two years later, they'd both been published and it didn't matter that they were two totally different books. Maybe I just need to find another project that I can love and get stuck into it, without worrying about what kind of a thing it is.
The good news is that the week ended with a couple of nice acceptances. The first of these was from Josephine Corcoran's splendid And Other Poems blog, which specialises in re-publishing poems that haven't previously appeared online, for "Pants Outside Trousers, Big Letter H On T Shirt, Here To Save The World." The second was from the Ilanot Review for my short story "Oddly Enough, It Wasn't About Larry Walters At All." Coincidentally, out of everything I've ever written, I think those may be two of my favourite titles.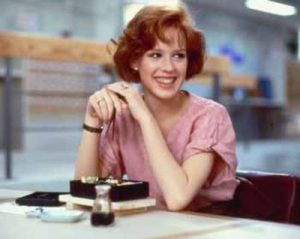 Today the longlist for this year's Frank O'Connor International Short Story Award was announced, and Dot Dash is on it, which makes a nice double with last week's Edge Hill longlist. The list itself is even longer than the Edge Hill one, which I guess is reasonable enough given that is a truly international prize rather than one restricted to those born or working in the British Isles.
There are consequently even more big hitters on the list than Edge Hill (if that's possible) so I have no expectations whatsoever of getting any further. It is, however, quite nice and more than a little weird to be on the same longlist as Molly Ringwald. Yes, that Molly Ringwald.
In other celeb-oriented news, I had a weird Twitter conversation yesterday with Jim Bob out of Carter USM about loft ladders. I thought you might enjoy it, so I storified it.
Finally, I had a very nice review the other day from Dan Purdue, which you can read here. I also found out that the January edition of Faces of Oman (a monthly supplement given with the Times of Oman) had chosen Dot Dash as one of their two books to review. I say review, although the words are taken mostly from the blurb, plus one phrase from the Independent On Sunday piece. I'm there on page 65, next to Virginia Ironside. All very odd.
Last Tuesday (oh God, is it THAT long since I last posted?) was a triple-good day. First of all, I found out that the workshop I mentioned here is now fully booked. Yay! Then I found out that Dot Dash is on the longlist for this year's Edge Hill Short Story Prize. Double yay! Although I have to say that the excitement of finding that out is somewhat tempered by the daunting size of that longlist and the presence of some VERY big hitters on there. I strongly suspect that this will be about as far as things go. Still, it's nice while it lasts.
The third good thing to happen was Short Stories Aloud. I'm sure I've said it before, but there's nothing quite like the experience of hearing your words read by a professional actor and Jenny Johns was absolutely brilliant in her interpretations of Return to Cairo and Mirror, Mirror. Steve Hay also gave some excellent readings of a couple of Jon McGregor stories and one by Ernest Hemingway.
Once the formal part of the evening was over, Sarah Franklin, the founder and compere par excellence of SSA proceeded to grill me with questions from the audience. I think I managed to answer most of them, even if (perhaps because) they tended to be actually on the subject of writing, rather than – for example – what my favourite cheese was. They all seemed a very friendly bunch and an exceptionally responsive audience. All in all, it was a most enjoyable evening, and if you're in the vicinity of Oxford when the next one comes along (check their Facebook group to find out) I'd recommend going along. The cake is pretty damn fine, too.
And finally, now that Easter is over and the first three months of the year are behind us, I really promise to post a bit more. There are several reviews circling round waiting to land and if I'm not careful, they may start to run out of fuel…

Yes, it's Get Writing time again soon! Hope you've all booked your tickets for April 20th, because you haven't got much time left. I'll be doing a workshop on the important subject of "How to Stand Out from the Crowd". Here's the blurb:
It isn't enough to be a good writer. A successful writer has to learn how to stand out from the crowd. Jonathan Pinnock draws on his experience of getting both his first novel and his first short story collection picked up for publication in rapid succession to offer advice on how to get yourself noticed. He covers such topics as how to attract the attention of competition judges, how to be ubiquitous without being really annoying and how to make the best use of social media to build an audience.
I'm also going to be one of the co-judges for this year's competition, which has a closing date of this Sunday, March 31st. So you have just five more days in which to get your entry in. Inspire me! Scare me! Intrigue me! And all that. I'm really looking forward to reading them all.
In other news, there's an ace two-page interview with me in the latest edition of the excellent What The Dickens magazine, along with other folk like my old VWC chum Julie Mayhew, Rebecca Front and Olivia Colman (yes, really!) Cool company, eh?
And don't forget to come along tonight to Short Stories Aloud if you happen to be anywhere near Oxford. Me, Jon McGregor and Ernest Hemingway. And cake.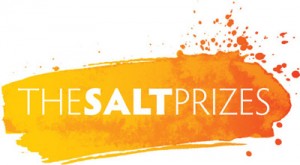 February wasn't a great month when all's said and done: it very rarely is. January at least has the feeling of something new starting, whereas February seems put there deliberately to bring a dose of cold, dark reality to things. This year seemed particularly bad, as the dayjob workload conspired with it to pick off any brave creative urge that dared to poke its head above the parapet.
Anyway, the good news is that March has got off to a much more promising start, with a 3rd prize in the fiction section of the inaugural Salt Prize. It's particularly pleasing, because the story I entered is a high-concept piece that I've always liked but have ended up continually revising and refining. It also means that of the ten pieces I wrote for the 2007-8 Slingink Scribbling Slam, nine have now found good homes.
It's also nice to see loads of familiar faces on the lists. The Salt Anthology of New Writing should have some really good stuff in it when it comes out later on in the year.
Is it a week since my last post? Well, obviously it is. There are reasons for this, none of which, sadly, have anything to do with writing. Anyway, last Sunday, the always excellent Jim Murdoch put up a startlingly thorough review of "Dot Dash" – so thorough in fact that I haven't quite dared to read it all yet. However, the good news is that he starts his summary with:
This is a fine collection of short stories and well-balanced
so perhaps I should screw up my courage and give the review the close reading that it clearly deserves. There are, as I write, seven comments under the piece as well and I'm probably being extremely ill mannered by not joining in the discussion.
This was followed up by a wonderful review by crime writer (and fellow Salt author) Christina James of "Mrs Darcy versus the Aliens", timed to coincide with the 200th anniversary of the publication of "Pride and Prejudice". It's always nice when a title that's over a year old gets a bit of renewed attention, especially from someone who so obviously gets it.
What else? Oh yes, my poem "Bloody Italians" (the one that was Highly Commended in the Fire River Poets competition) has now gone up on their website. Click the "Highly Commended" button to read it.
And finally, bookings have opened for this year's "Get Writing" conference. I'll be saying a bit more about my workshop in due course, but in the meantime, here's where you need to go to sign up.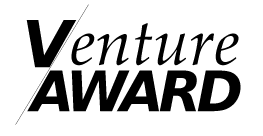 Whoops. Been a bit busy with other stuff, so the blog has been left to moulder for a couple of weeks. Anyway, the important news is that a pamphlet of mine is one of fifteen that have been longlisted for the Venture Award. This is actually quite exciting as, for one thing, there's a £1000 cash prize on offer, as well as the chance of having said pamphlet published. So it would seem that it's all about poetry at the moment. The shortlist is announced in March, so watch me bite my nails until then.
Hmmm. Need to hone my headline writing skills, I think. Whatever. I found out on New Year's Eve that my poem "Seven Day Wonder" was Highly Commended in last year's Newark Poetry Competition. Once again, it would have been nice to get into the winner's enclosure, but I'm not really complaining because it's still very encouraging. I really must spend a bit more time at this poetry lark. It would be quite cool to have a slim volume out there with my name on it.
Meanwhile, "Dot Dash" continues to gather reviews, including one or two nice ones on Amazon from complete strangers, and another brilliant one today from Scott Pack. I love the idea of getting someone like Park Chan-wook to film "Convalescence" – "Oldboy" and "Sympathy for Lady Vengeance" are two of my all-time faves. However, it is VERY unlikely to happen, so calm down, Pinnock.
Amazingly, the Kindle edition of "Dot Dash" is STILL available for only 77p (in the UK) or 99¢ (in the US). But you've probably all bought it by now, haven't you? If you haven't, see me afterwards.