Oh dear. Another blog gap. Let me try to explain…
I think I may have learnt something important over the last week or so. For various reasons, not all of which I want to reveal quite yet, I'm in a bit of an odd place with my writing. The thing is, despite having had two books published (and several more, if you include the software ones), I'm no closer to working out what kind of a writer I am. Now it's true that this matters less and less these days – you've only got to look at the CVs of the likes of Naomi Alderman and Steven Hall on the Granta Best Young Novelist list to see that – but it would still be nice to have a bit of a clue as to what I'm doing instead of stumbling around in the dark.
So lately I've been looking for Signs, and as luck would have it last week there were two opportunities for Signs to appear. Unfortunately, neither Sign bothered to show up. The first one was the announcement of the shortlist for the Venture Award for poetry pamphlets. Now, I didn't hold out much hope for this one, but a small amount of hope was nonetheless present (because otherwise, why had they put me on the longlist?). However, it wasn't so much the fact that I failed to make the cut that bothered me, it's the judge's remark that many of the collections that fell short had too many weak poems padding them out. My problem is that I haven't a bloody clue which ones are the weak ones and which are the strong ones. But then again, maybe this means that I'm not a proper poet yet. Either way, I'm no nearer finding out if I'm ever going to be one.
The other Sign that failed to make its scheduled appearance was the shortlist for the Edge Hill Short Story Prize. Now again, it was an unlikely proposition, given the unprecedented strength of the field this year, but the hope was always there, and as John Cleese's character says in Clockwise, it's not the despair – I can cope with that – it's the hope I can't stand.
The important thing I have learnt from this is that it's pointless as a writer to wait for external agencies over which one has no control whatsoever to provide a direction. To be strictly accurate, it's not actually something I've learnt this last week – it's something I've remembered again. After all, I've never had a mentor and I've always made up my career as I've gone along. Back in late 2010, against advice from some people, I started blogging Mrs Darcy versus the Aliens as a direct reaction to my frustration at not getting a short story collection accepted. Two years later, they'd both been published and it didn't matter that they were two totally different books. Maybe I just need to find another project that I can love and get stuck into it, without worrying about what kind of a thing it is.
The good news is that the week ended with a couple of nice acceptances. The first of these was from Josephine Corcoran's splendid And Other Poems blog, which specialises in re-publishing poems that haven't previously appeared online, for "Pants Outside Trousers, Big Letter H On T Shirt, Here To Save The World." The second was from the Ilanot Review for my short story "Oddly Enough, It Wasn't About Larry Walters At All." Coincidentally, out of everything I've ever written, I think those may be two of my favourite titles.
An odd little poem of mine went up at The Pygmy Giant today, the first of a batch of three that was recently accepted there. "This Is Just To Be Meta" is, I guess, a parody of the idea of parodying a particular famous poem, "This Is Just To Say" by William Carlos Williams. There are, I suppose, three possible responses to this:
Huh?
Hey, a meta-parody! Neat!
Someone is trying to be too clever for their own good, aren't they?
Take your pick. I'm probably going with 3, to be honest.
The other two poems, "Dali's Moustache" and "Dissonant Love Song #2″, will appear some time in 2013, and I'll let you know when.
In other poetry news, I think I can now reveal that my poem "Bloody Italians" was Highly Commended in the inaugural Fire River Poets competition. I was particularly pleased about this because they're based not a million miles away, in Taunton, and I've already been to a couple of their open mic nights. I've been asked, along with all the other shortlistees and prizewinners, to read my poem at a special event on May 2nd, so that should be fun.
… is at the lovely Bec Zugor's Tales From The Ironing Board. I stopped off there on my last blog tour for a rather bizarre interview when I had to pretend to be Mrs Elizabeth Darcy. This one is, fortunately, slightly more conventional. Bec's also managed to read the book already, and has posted a wonderful 5* review on Goodreads.
By the way, if you happen to be in the vicinity of Wells in Somerset this Saturday between the hours of 11:30AM and 2PM, I'll be signing copies of "Dot Dash", so do drop in and say hello. If you can't get there and still want a signed copy, do please click on the PayPal button in the left-hand sidebar.
Finally, my new story "The Alternative Electrician" has been accepted for next week's Story Friday at the Museum of Bath at Work in – er – Bath. Busy few days coming up, I think.
… is at Calum Kerr's Unmitigated Audacity, where I ramble on a bit about what keeps us going as writers. Calum is a top bloke – he's the one who organised National Flash Fiction Day, and I also reviewed his splendid flash fiction collection "Braking Distance" here.
Also, alert readers may have noticed that PayPal buttons have recently appeared under the pictures of my books in the left hand margin. Yes, I'm now selling signed copies direct from this blog. Mrs Darcy will still have the famous tentacle signature™ but what special signature will Dot Dash have? There's only one way to find out…
Finally, I've just heard that "The Last Words of Emanuel Prettyjohn" (or at least a slightly adapted version of it) will be on the bill at the Liars' League Treason and Plot event next Tuesday, November 13th. Be there or be square.
Today I'm over at Dan Purdue's excellent Lies, Ink blog being interviewed about what it's like to have been published for a year and how I'm feeling about embarking on the next phase of my career with "Dot, Dash". Do take a look.
Also, a minor postscript to last week's Bridport news: my poem, "Choking Hazard, Small Parts", which was shortlisted in 2010, has just been accepted by Every Day Poets. In case you're interested in how subjective poetry competition judging can be, here's a list of all the competitions where it bombed completely:
Winchester Writers' Conference, 2009
New Writer, 2009
Nottingham Poetry Society, 2009
Excel for Charity, 2010
Ver Poets, 2011
Fish, 2012
So I thought it was about time to retire it from competition and EDP seemed a nice home for it. Fortunately, they agreed. I'll let you know when it appears, so you can decide what you think of it. It may well be that Bridport and EDP have got it wrong, of course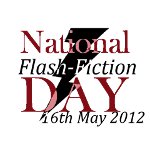 Well, at least it's less than a week since I last blogged…
I'm currently heavily stuck into Project Y, which has somehow made its way up to the remarkable total of 23500 words today. There are a few crucial things that have to fall into place (mainly because it's a non-fiction project and certain real-life things have to either happen or not happen soon), but apart from that it's all fitting together really well. Touching wood as I say it, it seems to be working, and it's the best feeling ever when a project does that. I'm so looking forward to the time when I can tell everyone what it's all about.
However, I haven't been completely neglecting fiction. Last week I was really chuffed to receive a commission to write a piece for the forthcoming anthology to be published in association with National Flash Fiction Day (which – spot that logo in the bottom right-hand corner – is now supported by the Arts Council!) Check out the other names involved – there are several of my flash fiction heroes and heroines there

The good news is that you – yes, you! – can be involved too. As you can see, submissions are now open, so get cracking and send something in by close of play on Tuesday April 10th. Hmmm. Better get going on my own effort soon, I guess.
Didn't have time to mention before 2011 ended that I'd had one more acceptance, from Every Day Fiction for a flash called "Rôle-Play". This means that I have a bit of an Every Day double whammy this month, with an appearance in Every Day Fiction on January 23rd followed by Every Day Poets on January 24th. Which is cool.
In other news, Amy McLean and I were both a bit stunned to see that her video (see last post) has been picked up by the "Tim Burton news" twitter account (presumably unofficial but with a very high follower/follow ratio). Will be interesting to see if it spreads any further…

I've been subbing a few odd things here and there in between whatever it is I'm doing right now and yesterday I heard that one of them, a poem called "Perspective", had been accepted by Every Day Poets. Unlike pretty much everything else I've had published by EDP, this one is quite serious – sad even. More about it nearer the time.
In other news, we've had a rash of mentions for the VWC anthology, "The Archangel and the White Hart". Scott Pack picked out a couple of stories in it for his Me and My Short Stories blog (making a total of four so far!) : Katie Carr's prizewinning entry from the 2010 Get Writing competition, "Beating the Blues" and Oscar Windsor-Smith's splendidly peculiar and somewhat filthy "Camera Segreta". We also got a nice review for the anthology as a whole on Amazon, from someone who isn't in it as far as we know.
Finally, I was more than a little stunned to read (via the wonderful medium of Twitter) that John Harding (of "Florence and Giles" fame – you have read it, haven't you? If not why on earth not – it's utterly brilliant) had lunch with none other than PD James today and gave her a copy of "Mrs Darcy versus the Aliens". The bit that I'm struggling to get my head around is that apparently she was thrilled to bits. Sadly, I'm guessing this means that the challenge to a duel didn't get any further than her agents, but this may actually be better still.
What with promoting Mrs Darcy and so on, I haven't done a lot of submitting stuff lately. But I sent a few things off the other day and I was very pleased to get a quick acceptance from Ink, Sweat and Tears for my poem Lost for Words. I'll let you know when it appears.
What else? Had an unexpected sighting of Mrs Darcy the other day, courtesy of the lovely Sarah Salway (that's Sarah-Salway-who-gets-cover-quotes-from-Neil-Gaiman-and-recently-shared-a-platform-with-William-Gibson, in case you were wondering). At a poetry reading the other day this chap was apparently enthusing about the book, saying that there were "lots of belly laughs". I've no idea who he is, which makes it even better.
I've now added a 404 page to the Mrs Darcy website. Try going to a non-existent page like this one and see what happens. I should do something similar to this place, too, whilst I'm at it.
I've also restarted my Too Many CDs project – the one where I listen to every tenth CD in my collection and give my impressions. We're now up to number 100, which happens to be the splendid "Remedy" by Basement Jaxx.
And finally, if you haven't been keeping up with the increasingly bizarre and unpleasant Brit Writers Award story, this post – and the comments under it especially – will tell you everything you need to know. Wow. Just wow.
OK, sit down. We've got a lot to get through today. First of all, today's official blog tour stop was courtesy of the multi-talented Gale Martin, who I first encountered as a fellow competitor in the Whittaker Prize at The Write Idea forum. Gale is an accomplished mezzo-soprano and opera fan as well as a writer, and she's about to have her first novel – set in the world of opera – published by Booktrope. Anyway, Gale and I chat about writing serials, getting noticed and … blowholes.
Today we also have a little bonus. Something odd is happening on Amazon in the UK, in that "Mrs Darcy versus the Aliens" is "frequently bought together" with this completely unrelated book. Now I vaguely know the author of the other book, Gavin James Bower, on Twitter and he messaged me to suggest that we ought to make something of it. So we got in touch with Helen J Beal, whose fault it all was (because we're both being featured in her book group in the next couple of months – hence the skewed buying patterns).
Helen then put together a massively complicated three-stage three-way competitive interview, the rules of which we both managed to misinterpret in different ways. I think this actually played to my advantage, but honours in the end were fairly divided between the two of us. This may well be the future of book promotion and if Helen wants to be the referee for my forthcoming duel with P D James then the job is hers. (For the record, Gavin seems to be a top bloke and I might actually buy his book because the word on the street is that it's pretty good.)
Speaking of P D James, I am still awaiting the reply from her corner. I think she may be running scared.
I can, however, announce that I have added two more highly prestigious dates to the Never Ending Blog Tour: Sarah Salway on Saturday 1st October and Scott Pack on Monday 3rd. Scott will also be here on Saturday in the guise of Steve Stack, author of "20th Century Dodos" (just out!), on his blog tour.
Oh, and apparently I'm on the bill for the next Liars' League event, Fear and Loathing, along with VWC chum Julie Mayhew and Proxima label-mate Niall Boyce, amongst others. Apparently, there's also a new piece by some bloke called Stephen King. Anyone know if he's any good?