Sep
28

Just realised, what with catching up on reviews and stuff, I haven't mentioned my forthcoming workshop in Luton on "unleashing your inner storyteller". Now I guess there are those who might think that such a thing as an "inner storyteller" should not only remain well and truly on the leash, but should be muzzled at the very least and possibly even destroyed under the provisions of the Dangerous Imaginations Act.
However, I am not one of these people.
So if you happen to be free on the afternoon of Thursday October 18th between the hours of 14:00 and 16:00 in the vicinity of Luton Central Library, come along and hear me talk about where my stories come from and how you can incubate some of your own. Should be fun.
Sep
26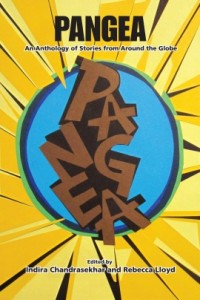 The unfortunate truth about a lot of anthologies produced by groups of writers (and I've been in a few) is that they are – to be completely brutal about it – pretty damn close to vanity projects. To be fair, this is actually no bad thing, because they often provide writers in the early stages of their careers the chance to see themselves in print – and that's an important first step. But the flipside of this is that they rarely make for a satisfying experience for the reader.
So when I was asked if I fancied a review copy of an anthology produced by the members of the online community Writewords, I was more than a little wary. Until, that is, I realised that the list of authors included people like Vanessa Gebbie, Sarah Hilary and Joel Willans. And then I realised this was no ordinary writers' anthology.
"Pangea" is a collection of thirty-four stories by twenty-five authors who come from, live in or have connections with a total of thirteen different countries – hence the name. Several of the stories have won prizes or have been commended in prestigious competitions and others have been published in top quality literary magazines, and in one case broadcast on BBC Radio 4.
As might be expected, then, it's a pretty impressive collection. Not all the stories hit the spot, but it would be unreasonable to expect them to and the hit rate is a lot higher than average. I hate to single any out, but the standouts were Joel Willans' beautifully understated "All For Just Fifty Baht", Tom Remer Williams' superbly constructed "You're Dead", Sarah Hilary's splendidly quirky "The Wedding Fair" (which has the wonderful opening line: "Ella Derby's Dad was in chocolate and her Mum was in shoes"), Vanessa Gebbie's heartbreaking "Breakdown" and Sarah Leipciger's gruelling "Some Game".
All in all, this is a very entertaining and diverse collection. Recommended.
Sep
21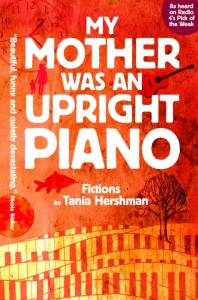 I should start this with a disclaimer: Tania Hershman is a friend of mine. Not only that, she has very generously provided a lovely blurb for my own forthcoming collection (see left). However, I would also like to point out that I wouldn't have asked her if it wasn't for the fact that I'm a massive admirer of her work. Also, I paid for my copy of "My Mother Was An Upright Piano" with my own money – in fact I went for the luxury option with the personalised handwritten extra story in it. So there.
Hershman's first collection, "The White Road" was a terrific read, full of (literally) dazzling invention, but in many ways it was only a hint of what was to come. In the taut fictions of MMWAUP, Hershman has moved into a different world altogether, where meaning is constantly fluctuating and frequently elusive. I think it's significant that the stories that engaged me the most, such as the title story and "forty-eight dogs", were the ones I'd come across before and I'm sure it's a book that will reveal more and more on re-reading.
MMWAUP is the work of a grown-up writer who has gained the confidence to let her muse off the leash and to follow it wherever it goes, however unexpected that turns out to be. However, that's not to say that these stories are in any way self-indulgent, because there is always a logic to them, even if it isn't always immediately apparent, and every word is there for a reason. Now that's a description that could equally apply to poetry, and I think Hershman is actually carving out a territory of her own somewhere between the two forms. It will be fascinating to see where she goes next.
Strongly recommended.
Sep
18
Today I'm over at Dan Purdue's excellent Lies, Ink blog being interviewed about what it's like to have been published for a year and how I'm feeling about embarking on the next phase of my career with "Dot, Dash". Do take a look.
Also, a minor postscript to last week's Bridport news: my poem, "Choking Hazard, Small Parts", which was shortlisted in 2010, has just been accepted by Every Day Poets. In case you're interested in how subjective poetry competition judging can be, here's a list of all the competitions where it bombed completely:
Winchester Writers' Conference, 2009
New Writer, 2009
Nottingham Poetry Society, 2009
Excel for Charity, 2010
Ver Poets, 2011
Fish, 2012
So I thought it was about time to retire it from competition and EDP seemed a nice home for it. Fortunately, they agreed. I'll let you know when it appears, so you can decide what you think of it. It may well be that Bridport and EDP have got it wrong, of course

Sep
10

Last time I announced a Bridport shortlisting, it brought an utterly astounding amount of traffic to the blog, so I'm hoping for great things this time as well.
Anyway, I heard on Friday that I'd made the shortlist for the short story section of the Bridport Prize for "The Joy Inside". Now this news should be tempered by the fact that there are apparently around a hundred stories on that shortlist. However, there were over six thousand entrants (hence, presumably, all that blog traffic), so I'm still massively chuffed to have made it that far.
I'm also massively chuffed for the story in question, which is probably one of the most peculiar things I've ever written. I still don't quite understand it, but there seems to be a logic to it, even if it hasn't yet made itself apparent. I'm also quite pleased that it made it to the shortlist when it's only just under a thousand words in length. One of the things I'm finding myself doing more and more when reading short stories is muttering "cut, cut, cut" to myself, and it's nice to see that shorter stories are being taken seriously in the big competitions.
Now to find somewhere cool to submit it to for publication – or do I give it another try somewhere else?
And a big hello to anyone new who's come here searching for "Bridport Shortlist". Do have a look around. Especially this post.
Sep
4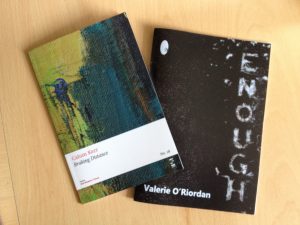 The prizegiving ceremony for the Bristol Short Story Prize is quite a dramatic affair. First of all, the names of all the shortlistees are read out, passing over any who have made it into the top three places. When your name is read out, you have to stand up and go and join the others onstage in the Huddle of Shame. Then the winners' names are read out, in reverse order, until there's one lucky person left sitting in the audience.
My abiding memory of the 2010 ceremony was of the tiny figure of Valerie O'Riordan, who was indeed that lucky person, sitting there completely on her own, clearly unable to believe that she was indeed the winner. But when I read her story, "Mum's the Word", I realised why she'd knocked us all out of the park. Luck had nothing to do with it. Even though it was a fraction of the length of all the other finalists at just over 300 words long, "Mum's the Word" packed one hell of a punch.
O'Riordan's first collection, "Enough", is the first of a new series of chapbooks produced by Gumbo Press and contains ten more flash fictions. You could, if you so desired, read it in the course of an hour or so. However, you would miss out on a lot if you did, because these stories are intense and they deserve to be savoured, one at a time.
O'Riordan has a wonderful ear for both absurdity and casual cruelty. I think my favourite stories are "Space", a bittersweet tale about a mother with a penchant for joyriding in milk floats and "Magic Mirror", a wonderfully taut updating of an old favourite. But each one of the stories in this collection is an object lesson in minimalist writing, making every single word work hard for its place. You can buy copies from the Gumbo website.
As Managing Editor for Gumbo Press, Calum Kerr is Valerie O'Riordan's publisher. He's also the Director of National Flash Fiction Day and in April completed flash365, an exhausting project to write a piece of flash fiction a day for an entire year. Several of these stories were broadcast on Radio 4 on Christmas Eve last year, read by several actors including – calm down, Pinnock – Diana Rigg. Another selection of flashes (all originally from November 2011) appears in this slim volume, published by Salt as number 18 in their Salt Modern Voices series.
There are eighteen stories here, all linked and set in an unnamed motorway service station. These are very different from O'Riordan's – much more playful, but no less entertaining. Part of the fun is in seeing how they all link together, especially as the stories are written in a wide variety of different genres, including crime, science fiction, thriller, romance and comedy. Somehow it does all work, and you're left admiring the skill with which Kerr has managed to fit the jigsaw together – especially given the self-imposed time constraints he was working under.
You can buy "Braking Distance" from Salt's website or the usual other places.
Two terrific collections, then, which between them give an excellent overview at what can be achieved with flash, for just over a tenner between them. What are you waiting for?
(Oh, and in case you were wondering, no sock puppets were harmed – or indeed used – in the making of this review.)