Yesterday morning I found out that I'd made it through to the final of "Tweet Me a Story" for the second year running. Many thanks to all of you out there who voted for me, as I ended up as being the "Audience Award" winner for my group (again for the second year running). There is a little voice in the back of my head that is telling me this was probably more to do with the power of social networking than any real merit, but I'm going to ignore that for the moment …
And last night at midnight the word for the final was distributed, and it was "surprise". Which was a bit of an awkward one, because half the trick in these things is to find a less obvious interpretation of the prompt word and at first sight "surprise" doesn't offer much scope for thinking outside the box. But I'm quite pleased with the three I came up with eventually – certainly more so than last year's final, anyway. The results are announced on Monday.
Before that, Mrs P and I went to see The Ukulele Orchestra of Great Britain in concert. Wonderful. Here they are in case you've never come across them before:
Last week I was asked by Joe Melia (otherwise known as "Mr Bristol Short Story Prize") if I'd like to contribute a piece to the BSSP site about how Mrs Darcy came into being. Before I go on, I must say that one of the things I really love about the BSSP is the way they keep in touch with everyone who's ever made it onto their shortlist – it makes it so much more than just another competition. Here's where you can enter this year's competition, by the way – I strongly recommend having a go.
Anyway, I never turn down the opportunity for a bit of publicity. However, there was a small problem. At the time when I got Joe's e-mail, the Mrs Darcy website was in something of a period of transition between its old state as the blog used for serialising the book and its putative new promotional form. Which meant that before I could respond to him I really had to lick the website into shape, and this in turn meant that I had to learn some CSS skills very quickly indeed. (I'd just like to quickly say sorry to my family for my unpleasant demeanour over the last few days, by the way. You have no idea.)
But after much tearing of hair and thumping of monitors, here's Mrs Darcy's new website. There are still a few gaps, but it's taking shape.
And here's that BSSP piece. There really is no standard path to publication, you know. Everyone's story is completely different. Which is what makes it exciting, is it not?
Sometimes you don't need to go looking for stories. All you need to do is rely on your brain to make a few connections.
A couple of evenings ago Mrs P was away for the night and I nearly blew the house up (or at least I thought I nearly did, except that Ed who runs Café Doom and who knows about these things now assures me that I didn't really, but that doesn't matter for the purposes of the story). Basically I left one of the gas rings on for a few hours and only noticed the smell just before I turned in for the night. At which point I switched it off, opened the windows wide, turned on the fan and averted disaster.
Thinking about my apparent near-extinction, I remembered the extraordinary ending of Rainer Werner Fassbinder's 1978 film, "The Marriage of Maria Braun." Here it is in case you've never seen it. Obviously, being the ending of the film, it does contain spoilers. It does also contain Hanna Schygulla, which will be sufficient for most of the male readers of this blog:
Terrific film, I seem to remember. From Fassbinder I then started thinking about 80′s one-hit-wonder Susan Fassbender, of "Twilight Café" fame. Here she is (also featuring the dumbest voiceover EVER by Steve Wright):
Great, isn't it? I bought that single when it came out, back in 1981. Weirdly, she definitely sounds like she's singing with a German accent, although it turns out that she was English. No idea why she started calling herself Fassbender.
And then I looked her up on Wikipedia (as you do). And I found out that she died twenty years ago, in 1991, at the age of 32. No more details as to how or why.
Somewhere in that lot there is a story. Isn't there?
[EDITED TO ADD: I'd forgotten that Rainer Werner Fassbinder also died tragically early at the age of 37.]
I  think I mentioned last week that I was taking part in NYC Midnight's "Tweet Me a Story" competition again. So I duly stayed up until past midnight last Thursday and awaited the arrival of my prompt word, which turned out to be "perfect". I thought about this for a while, consulted Wikipedia, and came up with three tweets of varying quality and sent them off.
Today the first-stage winners were announced, and I found out that two of my three have made it through to the voting stage in my group. This is one less than last year, when all three of mine made it through, but one of my efforts was a bit pants this time, so no real surprises there.
Anyway, this is the point where I come begging you for your votes. Here are my two tweets:
She seemed perfect: tense but with a passive voice. His mood was imperative, his gender masculine. He offered to conjugate but she declined.
and
"I want this perfect moment to last forever," she'd said. But after a century together in the time bubble, he was beginning to annoy her.
(I like the second one particularly

)
To vote, all you have to do is click here, then click again where it says "Click here", check the boxes against my two tweets and confirm. Last year I was the audience award winner in my group and I made it through to the final. However, during the final, I had a really neat idea but completely tangled the words up, crashing and burning in the process. It wasn't a complete waste of time however, as two of my entries from the final, suitably revamped, went on to appear in PicFic and Nanoism respectively.
What is the point of a publisher? After all, anyone these days can, without much effort, put together a reasonably presentable manuscript in PDF form and upload it to the likes of Lulu or CreateSpace and – bingo! – they've published a book. Not only have they ensure that their cut of royalties is a much higher percentage than if they'd gone via a traditional publisher, but they've retained absolute control of the process. Sure, self-published books will struggle to find their way into bricks and mortar bookstores, but there are plenty available on Amazon (and hang on, isn't CreateSpace an Amazon venture anyway?) And we haven't even begun to talk about e-publishing yet …
So why bother with a publisher at all?
There are good arguments to be made from the point of view of marketing budgets and distribution muscle (although these obviously apply less to smaller outfits than the big boys) but to me the key factor is credibility. Even if your book is, frankly, of a rather silly nature, you still want it to be taken seriously (well, I do anyway). Generally speaking, there are two things that usually militate against the credibility of a self-published book: an awful cover and lousy editing.
It's true that not all books put out by publishers have fantastic covers (here's a truly appalling story about When Covers Go Bad), but one of the things that made me so excited about being picked up by a subsidiary of Salt is that Chris Hamilton-Emery's covers are (or certainly ought to be) legendary – and he's certainly come up with the goods for Mrs D. So that's one win already in the bag. But when I signed my contract, I still wasn't entirely sure what would come out of the editing process. Sure, the feedback I'd had on the first three chapters that I'd submitted indicated that Proxima completely understood what kind of a book it was, but I had no idea how this would work out in practice.
Before continuing, I'd like to digress first to my previous career as an author of software books. The way that my publishers, Wrox, worked was that I'd send them my copy for each chapter in turn and they'd then send it off to up to a dozen of their tame experts, all over the globe. These experts would then plaster loads of comments over the text and I would then have to sift through this lot and re-write. In the case of the first couple of chapters of "Professional DCOM Application Development", this amounted to 200-300 individual things that needed fixing per chapter. It got better in later chapters, partly because I'd got better by then, but mainly because the subjects were sufficiently arcane as to mean there were fewer experts around. But it was awful. The process came close to costing me both my health and my marriage.
Relatively speaking, this time around it's been a breeze. My editor at Proxima, Steve Haynes, aided and abetted by his wife, Jane Holland (who runs Salt's Embrace imprint and has just signed a rather impressive publishing deal with Transworld in her own right) has essentially done most of the edits himself, leaving me simply to nod or to object. The attention to detail has been incredibly impressive and I was initially quite taken aback by the sheer number of tweaks. But the result is that the whole thing flows much better than it ever did and all my writing tics have been excised.
Ah, those tics. My characteristic tic used to be the word "eventually". Once that had been pointed out to me, I managed to get rid of it. Eventually. Although I do have to be on my guard. However, this time around, it was mainly eye-rolling and nose-tapping. I was in fits as I read through the edit and found yet another one that had been removed. It never occurred to me at all when I was writing the thing.
Of course, there are some more fundamental re-writes that have needed to be done, and these have resulted in some (entirely amicable) exchanges of views. One scene was completely re-written between the initial submission and the full, another before the final edit and there's one more that I'm going to have to do this week. I'm going to put the originals up on the "Mrs Darcy" website after publication, incidentally, in a special "deleted scenes" area, just for interest. But we're getting very close to a final edit now and with any luck we should be done by the end of the coming week.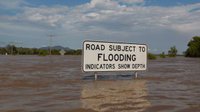 In my last post I said I wasn't going to be submitting much this year, preferring to concentrate on writing full length stuff. So how come I've sent off no less than three pieces in the last couple of days? I don't think it was to demonstrate the power of an unreliable narrator …
One of them at least is for a very good cause. Hot on the heels of "100 Stories for Haiti" and "50 Stories for Pakistan", submissions are now open for "100 Stories for Queensland." Here's the link to the Facebook page for the project and here's where you need to go to submit something. Go on, you know you want to. Even if you don't get accepted (and, frankly, there's every chance they'll throw my effort out) or don't even submit, please buy the book when it comes out.
It's fascinating to see how this came about, by the way. Trevor Belshaw, a veteran of both previous projects, put out a call on Twitter and Facebook by simply asking the question "100 Stories for Queensland?". Jodi Cleghorn, a fellow writer, publisher and (more importantly) Brisbanite responded with "Yes." And from there the momentum just grew and grew. The power of the net, once again.
Meanwhile, I have other things on my mind tonight. I've signed up for NYC Midnight's "Tweet Me a Story" contest again. All you have to do is think up three tweets based on a given word, and you're given five hours to do this in – so no problem, right? Wrong. If you're in the UK, the five hours start at midnight. Wish me luck

I'm going to change the nature of this blog very slightly this year, as there probably won't be so many of the breathless "Look at me I won something" and "Look at me I've had something published" posts. This is mainly because I'm intending to focus a bit more on writing longer stuff – but do note the use of the word "intending" there though. So I'm thinking of doing the odd review and interview from time to time as well as the occasional homily from my lofty position as a Nearly Published Author. Hope this works for you out there, although I'm guessing the Russian viagrabots probably won't care one way or another (hi, by the way, and no thanks, but it was nice of you to offer).
When I was made redundant from my last proper job, back in the early nineties, I did something odd that I've only recently worked out the reason for. After I'd had my interview with my boss (which I really hadn't seen coming and the nature of which I only realised when it became apparent that he was reading from a script) and he'd walked me up to my office to collect my things, we paused on the steps outside the building. Then before I turned to head off into an uncertain future with a mortgage and young family to support, I shook his hand.
For years afterwards, I wondered why I'd done this. It was entirely instinctive, but it seemed the right thing to do at the time. But surely I was letting the man off the hook? Shouldn't I have sworn at him and spat in his face? He was, after all, potentially ruining my life; in the early nineties, there weren't many opportunities going, I had serious commitments and my financial position was heading due South even before this happened.
What I eventually worked out was that the handshake wasn't for his benefit at all. It was all for mine. Basically I was saying to myself that I was big enough to cope with this in a dignified manner and there was no point in bearing a grudge. It was all about (here comes that word) closure. It meant that I could put it all behind me and move on without dwelling on the past. Which is, pretty much, what I did. (Incidentally, it struck me at the same time as this revelation that the Christian principle of "loving thine enemy and praying for thy persecutors" works on exactly the same basis – it's not for your enemies' and persecutors' benefit, but yours. Why did no one ever explain this to me? Or maybe I simply wasn't listening. Pity. Me and Christianity might have got on better.)
The relevance of this to writing is of course that writing is all about rejection. It will seem at times as if the entire publishing world is up against you. But the more you dwell on this fact, the less time you'll spend writing and – more importantly – getting better at writing. So here's a tip: every time you get an e-mail from an agent or publisher saying that your work isn't quite right for them (or whatever), get right back to them to thank them for letting you know. You'll feel so much better for doing so and they will be ever so slightly confused (which will also make you feel good). Then move onwards and upwards. Whatever you do, don't bear a grudge against them in particular or (worse) the entire industry. It will only hold you back.
A similar principle applies to having your work critiqued. But maybe that's a slightly different subject for another time.

I found out the other day that my story "Hidden Shallows" is going to be in the next Every Day Fiction anthology. I should at this point very quickly say to any other EDF authors reading this that I believe decisions are still being made about other stories. I was told about this one early because it's getting close to its contractual sell-by date for inclusion in the anthology; it was in fact the story that opened the third year of EDF if I remember correctly.
This story had a bit of an odd genesis. It was done for the penultimate round of Slingink Eurofiction a couple of years back, at a point where I was feeling quite dispirited about writing, having come up with some pretty lacklustre stuff in the earlier rounds. But I'd always wanted to write a story called "Hidden Shallows" so that one day I could bring out a collection called "Hidden Shallows and Other Stories". Spot the conflicted author there, eh? Looking back, it was a somewhat over-defensive title for a book and I've long since dropped it. However, one of the prompts for this round of Eurofiction was to write a story set near water and at the time it seemed a good opportunity to at least get a story to fit the title.
So I threw together this ultra-lightweight piece about the base fantasies of two hyper-intelligent women sitting idly by a lake, thinking that it would be dismissed as a bit of worthless fluff - only to find that since then it's probably got the best reaction from a cross-section of readers of almost anything I've written. Sometimes you can predict what's going to work and what isn't. And sometimes you can be hopelessly wrong. In a good way as well a bad one.

I like being asked to do things. It's so much more civilised than submitting stuff and then waiting on tenterhooks to find out if anyone likes it. So when Jo Mortimer e-mailed me to see if I fancied taking part in the last night of SPARKS in its present form, I had to say yes. (And take a look at that line-up – impressive, eh?)
I like SPARKS, too. I've read there three times in the last year or so, and I've always enjoyed it. It's always fascinating to find out what the photographer has come up with to go with your piece, too.
So if you're in the Brighton area in the evening of February 1st, do come along to Upstairs at Three and Ten. I'll be reading my new-ish piece "Ariadne and Her Lover". The only downside is that having sent this one off to Jo, I realised that it would have been just right to submit to Liars' League for their February "Cock and Bull" theme. One of my targets for 2011 is to get back into LL, so I may have missed an opportunity there. D'oh.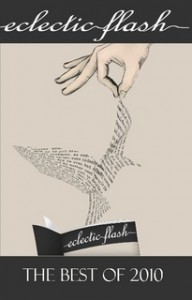 And here's another anthology that's fresh off the press. This one came out at the start of 2011 and collects together the best bits from the first year of the splendid Eclectic Flash. In case you haven't already seen it, their "editors" page is well worth a look – scary bunch, eh? (Nice to see the correct usage of the word "riffle", by the way.)
My contribution is a peculiar little piece entitled "The Language of Angels", roughly half of which is in French. Buy a copy if you fancy hunting for schoolboy errors. Even better than that, it also features work by four of my fellow denizens of The Write Idea: Donna Gagnon, Michelle Louis, Gordon Darroch and Helen Whittaker.
You can order a copy here. Go on, you know you want to.