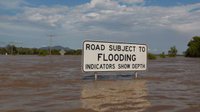 In my last post I said I wasn't going to be submitting much this year, preferring to concentrate on writing full length stuff. So how come I've sent off no less than three pieces in the last couple of days? I don't think it was to demonstrate the power of an unreliable narrator …
One of them at least is for a very good cause. Hot on the heels of "100 Stories for Haiti" and "50 Stories for Pakistan", submissions are now open for "100 Stories for Queensland." Here's the link to the Facebook page for the project and here's where you need to go to submit something. Go on, you know you want to. Even if you don't get accepted (and, frankly, there's every chance they'll throw my effort out) or don't even submit, please buy the book when it comes out.
It's fascinating to see how this came about, by the way. Trevor Belshaw, a veteran of both previous projects, put out a call on Twitter and Facebook by simply asking the question "100 Stories for Queensland?". Jodi Cleghorn, a fellow writer, publisher and (more importantly) Brisbanite responded with "Yes." And from there the momentum just grew and grew. The power of the net, once again.
Meanwhile, I have other things on my mind tonight. I've signed up for NYC Midnight's "Tweet Me a Story" contest again. All you have to do is think up three tweets based on a given word, and you're given five hours to do this in – so no problem, right? Wrong. If you're in the UK, the five hours start at midnight. Wish me luck 🙂