Every year without fail since 2007, I've sent in an entry or two to the Bridport short story prize, essentially regarding the fee as a charitable donation. Given the number of entries involved, I've always thought of the odds of making any kind of impression as being absolutely minimal – a sort of literary, slightly less random equivalent of the National Lottery.
This year, for the hell of it, I sent in a couple of entries for the poetry prize for the first time. And today I heard that one of them, "Choking Hazard – Small Parts", wasn't in the prizes but had made the shortlist. I know from looking at previous years that it's probably quite a long shortlist, but I am still pretty gobsmacked by this. And also, I have to say, really rather chuffed, because one of my writing goals for this year was to get on a Bridport shortlist. I just hadn't expected it to be with a poem.
Today was one of those days when you can believe that almost anything can happen.
Gosh. When I submitted a piece to Murky Depths last year, the auto-reply warned that their response times were anything between a week and nine months, and when nine months duly went past, I assumed that they had lost interest in it. I duly queried them and was surprised, not to say delighted to receive a reply to the effect that if I made a couple of (very sensible) changes, it was very likely to be accepted. So I did and after another agonising wait, I eventually received my acceptance last week.
I'm especially pleased about this, firstly because it's a prestigious print magazine (voted Best Magazine / Periodical in the 2010 British Fantasy Awards) which publishes work by the likes of Robert Rankin, and secondly because I really, really love the piece they've accepted. It's called "Teamwork", and it's an odd, dark and unexpectedly deep story with existential overtones, and I think it's one of the best things I've ever written.
Interesting point for those of you out there who worry about querying long-standing submissions for fear of annoying people. I've done this a few times now (albeit very politely), and I would say that it's resulted in an acceptance just as many times as it's ended up with a rejection.
With this episode, the story enters its final dramatic 20%. Sorry it's late, but stuff intervened. It's quite an important episode, though, with some backstory about Lydia that goes all the way back (obviously) to the prologue. It's almost as if I know where it's all heading, isn't it?
I've got a couple more important things to blog about, but they'll have to wait until another time …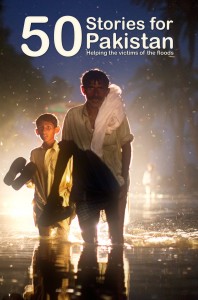 One of the things that I've always felt really bad about is that I never submitted anything for Greg McQueen's 100 Stories for Haiti project. The rather specious reason for this is that I didn't have anything available that would fit the guidelines (it had to be upbeat and under 500 words, and most of my short pieces tend to be a bit gruesome).
So as soon as I heard that Greg was putting together another anthology – this time in aid of the Pakistan flood appeal – I looked a bit harder and realised that I did in fact have just such a piece, Desert Culture. And today I found out that it had made it into the book. I'm really excited about this and I feel honoured to be part of such a worthwhile project.
But be warned. I'll be pestering you to buy loads of copies when they become available. And you will, won't you? Well, I can't think of a better Christmas present.
Just when you were getting all excited about Lord Byron's return to the fray, I suddenly remembered there was someone we hadn't seen for a while. So here she is. Lord B next time. Or perhaps the time after that. I'm just trying to keep you on your toes, you know.
However, all of this pales into insignificance besides the news that Mrs Darcy has received an endorsement from the stern academics of the Graham School of General Studies at the University of Chicago! How cool is that? Her bonnet is all a-flutter, I can tell you.
In other news (yes, there's more), it seems that I am on the longlist for the excellent 50 Stories for Pakistan project. There are 54 on the list, which means that the four who get dropped are going to look awfully lonely. *crosses fingers and everything else*
Yesterday the winners of the Seàn Ò Faolàin prize were announced, along with the previously-announced shortlist and the full longlist. First of all, huge congratulations to Nikita Nelin and Bernie McGill for taking the top two slots – I'm really looking forward to reading their stories, along with those of the other four runners-up.
I already knew that I hadn't made it any further than the shortlist, but had been sworn to secrecy – which made it a little bit odd when everyone was wishing me luck for the next stage. However, I'm extremely happy to be there (and described as "Highly Commended", too), especially having seen some of the other names there and on the longlist.
Incidentally, I should perhaps add that my wife, ever the pragmatist, responded to my cry of "Hey, I"m on another shortlist" with "When are you actually going to win something, then?" I can sort of see her point, because this year I've made it onto the shortlist of three significant short story competitions (the Fish, the Bristol and this one) without actually winning anything.
However, having read this piece the other day by the judge of the Wells Short Story competition (and I'm now rather sorry that I didn't have anything available to send them), I think that maybe getting on a shortlist may be enough after all. The prize money would of course be nice, but it's a longer game I'm playing here.
That's my story, and I'm sticking to it, anyway.
This episode gives the back story of how Mary Bennet met Robert of Mali and is, frankly, an excuse to throw in a few more puns of varying quality. Or, in the case of "'scuse me while I right this skiff", not so much throw in as crowbar in. Ah well. Fans of Lord Byron will be happy to know that he will be returning soon, and I will be stocking up on double entendres in the meantime …
In other news, I was very chuffed to get a mention on Scott Pack's blog as a result of my previous post on the Firestation book swap. If he wasn't already (and I think he was), this most definitely makes Mr Pack a Good Egg.
And finally, I've got a bit of a curveball to throw out to you. A chap called Daniel Clay, who is a proper author with a proper book published, got in touch with my colleagues at the Verulam Writers' Circle to draw attention to the rather extraordinary offer that he's currently making on his blog. He is offering to look at your covering letter, synopsis and first ten pages of your novel FOR FREE.
As it happens, I almost met him once before at the Winchester Writers' Conference in 2008, when I was booked for a one-to-one session with him, but he was taken ill and was unable to attend. However, he did provide me with some very useful critique afterwards, although by that point I'd pretty much shelved the project in question (a high-concept kids' book, since you ask).
This time around, I thought I'd try him out by sending him Mrs Darcy, which stumped him slightly as he wasn't familiar with the original source material (go on, say that it hardly matters). But he did make some helpful comments on the rest of the package, and I believe that he was even more helpful with one of my fellow VWCers. In both cases, he responded very quickly – on the same day in my case.
Anyway, it's up to you. If you fancy it, give it a go before he gets swamped. As to the obvious question as to why he's doing it, my guess is that it's a mix of genuine altruism, a way of spreading his name around and possibly a path towards a future rôle as a paid manuscript doctor. Obviously I provide no guarantees as to his bona fides, so caveat emptor (or whatever the Latin word is for when you're not actually empting anything). But I'd be interested to hear how you get on if you do decide to use him.

When I first went on Twitter, one of the first "publishing industry" types I followed was @meandmybigmouth, aka Scott Pack, publisher of the Friday Project, mainly because I'd actually heard of him (because he'd given my mate Toby Frost a good review on his excellent blog). He turned out to be a good choice to follow, because he's a very entertaining and interactive tweeter and occasionally he comes up with some very good recommendations (I ended up getting a DVD of "Oldboy" because of him – wow). And one of the things that he seemed to be banging on about on a regular basis was the Firestation Book Swap, a literary event that he runs in collaboration with the author Marie Phillips.
So out of curiosity I went along to the latest one, a couple of days ago. I was particularly attracted to this one, because one of the guests was Tom Morton, the man behind the @DrSamuelJohnson Twitter account (and if you're not on Twitter, take a look – I think this account alone makes an unanswerable case for joining Twitter). And what fun it was.
The first thing to clear up is that it isn't actually held in an operational fire station. That would be silly. It's an arts centre in Windsor that presumably once used to be a fire station (although the pole had mysteriously vanished, which was slightly disappointing). Although the event takes place in an auditorium, it's very inclusive and it feels more like a social occasion than a show.
At the start, Scott went round the audience handing out pieces of paper inviting us to scribble down a question for the guests. He actually recognised me from my Twitter avatar and said hello, which was nice. The rest of the evening essentially consisted of a free-ranging chat (too loose to be called an interview, and all the better for it) between Scott and Marie and their two guests (the other one being Tim Coates, an ex-Waterstones head honcho who's written what sounds like a fascinating book about the editor of The Times during the Crimean War), punctuated by breaks for cake (which there was an awful lot of), prize giveaways and swaps.
Ah, the swaps. The idea is that you take along a book that you've finished with with the intention of swapping it with one brought along by another member of the audience. The success of this largely depends on your ability to pitch the book that you're trying to swap, and I don't think I got this quite right. The book I was trying to dispose of was Umberto Eco's "Island of the Day Before", my pitch being essentially that it was by the author of the fantastic "Name of the Rose", was in excellent condition and had a really nice cover. The fact that I hadn't actually read much beyond the first few pages before giving up was very soon rumbled and I ended up taking it back home with me.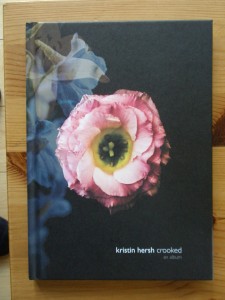 But I did win something in one of the prize giveaways for guessing what was being described by one of Dr Samuel Johnson's definitions, which was a sauna. That sounds wrong. I didn't actually win a sauna. The sauna was the definition. What I won was this splendid artefact.
I have a feeling that this is another artist whose back catalogue I'm going to be shelling out for. And this book is indeed a thing of beauty.
I also came away with signed copies of Dr. Johnson's Dictionary of Modern Life and Marie Phillips' Gods Behaving Badly, which I'm very much looking forward to reading.
All in all, a great evening, marred only by the fact that I unaccountably caught the wrong train at Slough and ended up in Reading instead of Paddington. I blame this on Sarah Salway: I was engrossed in Leading the Dance. If you haven't read this yet, get yourself a copy now and you'll see why.
Ah. I've been a bit worried about this one. When I was originally planning Mrs Darcy, I started to work through the various characters in the original book, trying to decide what was going to happen to them. It struck me that Mary could usefully end up being radicalised and that her musical aspirations might thence lead her to an unexpected and potentially entertaining liaison. So I ended up creating the character of Robert of Mali.
It then struck me that this meant that the only person of colour with a speaking part in the book would have a somewhat restricted vocabulary, drawn entirely from the works of the late, great reggae star with a coincidentally similar name. Which seemed potentially a bit dodgy. But then I thought sod it, that's still more diversity than Jane Austen managed. So here he is. There's more about how he and Mary met in the next episode, with some even worse puns.
I'm a bit late posting about this, having just got back from a very pleasant and largely internet-free long weekend in Cornwall. So you've got just under a day to read this episode before tomorrow's arrives, if and when I get around to writing it. This one opens with a rather startling image and continues in a similar vein. There's a particularly bad science joke in there, although just be thankful I didn't try to shoehorn Maurice Wilkins' name in there too.
In other news, my good friend Oscar Windsor-Smith has blogged about last week's Sparks event, and I will too in due course – although since I've taken so long to do so, I might as well wait until the videos become available. Oh yes, there will be videos. Scary, isn't it?