… in which the ruin of the Bingleys continues is now up. Things are not going well at Northern Rock, but help is at hand. Or is it?

Just in case you thought I'd given up on short stories to concentrate on Regency alien spoofs, I'd like to reassure you that I haven't. And just to prove it, here's the Fish shortlist, announced today. I seem to be on it. No idea how that happened.
… in which we meet a surprising new character, is now up. I think we're going to have some fun with him.
Meanwhile, in the early hours of Monday morning, Mrs Darcy's YouTuberance smashed the 1000 view barrier. In my most recent post about Mrs D, I forgot to mention the last-minute problem I had with Episode Nineteen. Originally the beer that Wickham drinks was going to be called "Old Dangleberry". I thought this was suitably disgusting and rustic-sounding – that was until I had a pint in a London pub a week or so ago and noticed that one of the beers on offer actually had this very name. So I put out a shout to the VWC and got a whole load of suggestions, all quite revolting, and in the end the winner was provided by the very talented Sandra Norval – big thanks to her.
I'm pretty certain that there isn't a beer by that name. Yet. But I'm open to sponsorship deals if any independent brewery out there is interested. And the reason why I haven't mentioned it by name here is that I've just checked and it's a Googlewhack! How cool is that?
Last bit of Mrs Darcy-related news: I've been invited to provide a guest post to this rather splendid blog for next Thursday. Apparently I'll be the first bloke to do this. It's all turning out to be a bit of a strange and wonderful journey, is it not?
Well, that was a hell of a day.
Saturday was the day of the VWC's "Get Writing" conference, now in its fourth year of existence. This time it was held at the University of Hertfordshire, just up the road from me and a place that will always have a special affection in the writing side of my heart (and if you want to know why, check out the Fiction page). Must admit, I've always been amazed at the way this thing has grown, year on year, and it's an object lesson in what can happen if you dare to think big. (Which, incidentally, is why I'm extremely pleased to have Kate Nash as my agent – "Get Writing" was her idea, and in fact she was the guest of honour this year.)
So … what happened, then? Well, we had several talks from various agents, publishers and authors, giving a broad view of the publishing industry for wannabes from almost every possible angle. The most practical advice probably came from the agents and publishers (John Jarrold, Anna Power, Simon Taylor, Marlene johnson and Philip Patterson), although the writers themselves probably just shaded them for entertainment value. Mark Billingham in particular was hilariously indiscreet, using the skills acquired in his previous career as a stand-up comedian. I've heard both Adèle Geras and Imran Ahmad before at VWC-only events and they're both excellent value. It's worth mentioning Imran Ahmad in particular, as his autobiographical book "Unimagined" is in my opinion one of the most important books I've read in the last couple of years. It's a quietly subversive masterpiece of militant moderation, and everyone should read it.
And that wasn't all. Out of all the excellent workshops on offer, I picked Vanessa Gebbie's one on "The Short Road to Success" and it was of course superb. It was lovely to meet Vanessa again, and I picked up several excellent nuggets of advice which I'll use on the off chance that I ever find time to write any short stories again (only kidding – that's one thing I'll never be able to give up).
Last but not least, I had the opportunity to give a three-minute pitch to Simon Taylor of Transworld. This was, of course, deeply scary , although it was at least made more bearable by the fact that something clearly went wrong with the way time was operating in the room, resulting in the pitch actually lasting only thirty seconds. However, I think I managed to get my point across, and he seemed genuinely interested in what I had to say. He could of course just have been polite.
It was also nice to meet some old friends and some new ones, including Helen Beal, who I'd previously only known on Twitter and Lindsey Mountford who I didn't know at all before and who I also now know on Twitter.
Gosh, is that it? If you'd like to hear some more opinions, take a look here and here. I think the general consensus was that it was a rather good day, all in all.
I think last time I saw this scene, there were werewolves involved. Anyway, Wickham has now arrived at Rosings, to be followed very soon (in the very next episode, in fact) by Mrs Darcy herself. The tension is mounting! Well, I can hardly contain myself – can you?
Mrs Darcy's YouTuberance continues to have a strange and rather wonderful life of its own, nearing 900 views at the time of writing. The lovely Becca from the Jane Austen Centre has pronounced it "fantastic and very funny", and JK Evanczuk in the really quite serious Lit Drift has said that it's "one of the weirdest book trailers I've ever seen". My only problem is that whenever I go to YouTube to link to it, I have to make sure that I hit the pause button damn quick so that I don't have to hear myself attempting that ridiculous falsetto.

Here's a classic example of the importance of listening to what people say to you when they reject your work. As you may remember, back in January I was in the finals of the NYC Midnight "Tweet Me a Story" contest, where the key word to be used in our entries was "below". As it happens, none of my entries made it into the top 25, but I did like one of them. So I tweaked it a bit and sent it off to @nanoism, one of the TwitFic outlets that I hadn't (still haven't!) cracked. This is part of the response that I got back from Ben White, Nanoism's editor:
This was a close call … I think JS Graustein over at @picfic might really enjoy this, so you might think of slapping a clever title on it (which would help add that depth) and sending it her way.
Now @picfic was the other major Twitter market that I hadn't cracked, so I of course took his advice. Last night I received my acceptance … from Ben White, who just happened to be covering whilst PicFic's editor was finishing off another project! The story will appear on PicFic some time in April or May, and it's called "Not So Much a Rough Guide".
Meanwhile, I still need to take the other piece of advice that Ben gave me when he rejected it at Nanoism. Which was "send me another" …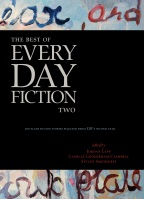 My copy of this anthology of stories from EDF's second year of operation dropped through my letter box the other day, and what a fine, professionally-produced piece of work it is. I've got two stories in there: my modern-day fable "Mirror, Mirror" and my Schroedinger's cat story "Opening the Box". I could list some of the other authors in there that I admire, but that would – frankly – take quite a long time. I am dead chuffed to be in the same table of contents as them.
The introductory pieces by the editors are also well worth a read – particularly the one by Jordan Lapp on finding a business model for fiction on the web. Here's a slightly scary quote:
It seems that, excluding patronage, no one has yet found a profitable business model for short fiction on the web.
And that comes from an editor at the most-read flash fiction magazine on the web. Interestingly, though, he does say that one of their goals for 2010 is to raise their pay rates to semi-pro level instead of token, by the expedient of running a paid-for competition. Good luck to him there, although to be honest I'm personally not that concerned about pay rates at EDF (but don't tell him I said so). The fact that EDF is such a well-read magazine makes it a terrific – and fairly competitive – place to get published in if you want to raise your profile a bit. Every time I've got a piece there, the hit count for this place goes up quite significantly, and for me that's what I'm after right now. The big question, of course, is how to turn that exposure into £££.
Well, no prizes for guessing the main reference in this one, although there's another slightly less obvious one in there too. Now that the first phase of unpleasantness has been concluded in Whitechapel, the action moves inexorably towards Rosings …
I'm really quite chuffed that people seem to be enjoying that daft YouTube video. Last time I looked, it had clocked up nearly 700 views in less than a week, which I think is rather impressive. If any of you out there have a moment or two, I'd really appreciated it if you could maybe suggest it to the likes of Boing Boing and Mashable. It would be really cool to get into one of those.
And there's a non-Mrs Darcy post coming up later on today as well. I was going to post it yesterday, were it not for the fact that my web host lost this place for a few hours last night. Easy thing to do I guess.
After the gruesomeness (a word which curiously doesn't seem to be troubling the spellchecker) of the last two episodes, we are now heading back towards the light, as we hear the tale of the Good Ghost. I'd become quite attached to Mary Ann Nicholls, and it seemed a shame to leave her butchered corpse lying around doing nothing.
And that trailer seems to be hitting the right spot, much to my amazement. Austenblog featured it almost immediately, and I believe that Jane Austen Today are also going to be blogging about it this weekend. You are passing it on to all your friends, aren't you?
(And for all of you out there who are wondering what happened to all the stuff I used to blog about before this Mrs Darcy rubbish started cluttering up the place, I do apologise. The problem is, I haven't been submitting much lately, what with one thing and another …)
I'm beginning to realise that in order to succeed as a writer these days it is necessary (but sadly not sufficient) to lose one's sense of shame. I'm not sure at which point I lost mine, but looking at what I've just done, I can be pretty sure that it's gone. Let me explain.
I had an idea a couple of weeks ago that it would be really cool to put together a YouTube promo video for "Mrs Darcy vs The Aliens". I'd never done anything remotely like it before, but surely it couldn't be that hard, could it? I had a look around for the best cheap video editing tools, before realising that I already had iMovie on my Mac, so I didn't have to spend any money at all. (Thanks, Steve Jobs!)
The next decision was what kind of promo to do. My first thought was one of those mash-ups based on the bunker scene in "Downfall" – in this case, Hitler would be a closet Jane Austen fan, railing about these dreadful mash-ups. I worked out a vague script, found an un-subtitled video on YouTube and downloaded it using KickYouTube. I got as far as adding the first couple of subtitles (and it really is amazingly simple), before it occurred to me that this really was a bit of a tired old meme.
The next plan was to find a version of Pride and Prejudice that had been dubbed into a foreign language, so that I could add my own subtitles to that, but I couldn't find one anywhere. At this point I realised what I had to do. I would have to dub it myself, doing all the voices. So that's what I did, and I'm really pleased that I had to, because it led off into all sorts of weird areas that would never have happened before. Here's the result. Do take a look before the BBC ask me to take it down …
In other news, Mrs Darcy had her first ever proper review today in the web fiction journal ERGOfiction, and I am really pleased with it, for reasons which may become obvious if you take a look at what they said.