I was going to post about the very wonderful VWC Get Writing conference that I attended on Saturday, but the very eloquent Steve Barley has beaten me to it. Read it and weep that you weren't there too.
Ah, the roar of the greasepaint! The smell of the crowd! Yes, I've just heard from Miles Barden that he and Joshua Dickenson are putting together their next show of horror stories, and they are keen for "After Michelangelo" to be part of it again. This time, they'll also be using a piece by my gifted VWC colleague Oscar Windsor-Smith. More details to follow.
But I didn't quite make it into the final batch of stories in The Harrow before they close for a year. However, I'm not too upset, because the rejection ran to over 300 words, and that's the kind of rejection I can take. In fact, they said that they would have asked me to resubmit after editing – were it not for the fact that (as I say) they are shutting up shop for a year. So I'm pretty confident that I'll find another home for that one soon. But it is still a bit of a shame, because I really love the look and feel of The Harrow. So wonderfully academic.
So this is where I'm off to tomorrow. Should be a lot of fun – certainly the last two years have been. And this time around there will be agents there. So I'm currently practising my pitch. And believe me, I need all the practice I can get – I am a lousy salesman.
And to fill up a bit of space, here's a video of one of my favourite singers, Robyn Hitchcock, talking about the album I've been playing all week:
Go and buy a copy. Now. It's gorgeous.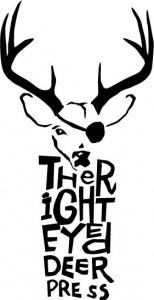 That was quick! Last night I sent my piece "Rebel Without Applause" (about what really happened to James Dean) off to The Right-Eyed Deer (the publishing wing of The Write Idea). I received the acceptance this morning! That's the kind of turn-around that I like, and it brings the 2009 hit count up to … 14.
Well, Task 10 has gone in, so it's just a matter of waiting for the scores. Actually, it's not worth waiting at all, because I'm way off the pace. Part of this is due to missing a round just before Christmas for reasons too boring to go into, but most of it is due to unbelievably poor time management. I have no idea what went wrong this time around, but I seemed to be continually finding myself with nothing written with less than 24 hours to go. Now of course if I were presented with a series of prompts and told to write something in the next hour, I might possibly come up with something. But if you've got two weeks, you like to think you can take a more leisured approach and come up with something really good. And that can be fatal.
This curious little piece is now up at Bewildering Stories. It started life as a winner in the Café Doom Weekly Flash Challenge (where else?), and then grew slightly to become a winner in the weekly SlingInk Frantic Fiction competition, where the picture prompt just happened to fit it like a glove. And now it's out there for the general public, making my first appearance on BS.
One of the intriguing curiosities about Bewildering Stories is that the readers are invited to respond to a challenge set by the editors about the piece that they have just read. I'll give my answers below, but I'll break here in case you want to avoid any spoilers.

One of my favourite stories (OK, I know I say that a lot, but I've got a particular affection for this one), "The Birdman of Farringdon Road", has just been accepted by Litro. I was trying to think of how to describe Litro, when it struck me that it was a kind of monthly literary version of Metro (the free newspaper handed out to London commuters). At this point, I realised (d'uh!) that this is of course exactly why it's called Litro. Sometimes I am very slow.
Anyway, it will be appearing in the March edition, which has the theme of "London's Underbelly". I think I'm going to have to arrange to visit a client in London on that day just to see it cluttering up the Tube. Or even to catch someone reading it. Now there's a thought.
In other news, my very talented VWC chum Jenny Barden has made the shortlist for the extremely prestigious Willesden Herald Competition. This is all the more remarkable for the fact that Jenny does not do short stories. I have a feeling that she may be writing a few more now.

Good lord. Every Day Poets have decided to take "Tasty Teresa", my tale of love, loss and butchery. Which, rather extraordinarily, makes it three acceptances out of three submissions for EDP. Interestingly, my submission ticket for this one was numbered #629, so, given that they've only been running since November, it must mean that they are actually turning quite a few down. I still find poetry pretty baffling, although I must say that I am really enjoying receiving the daily EDP mailout – it's a very eclectic mix of styles, and it makes for fascinating reading. And it's free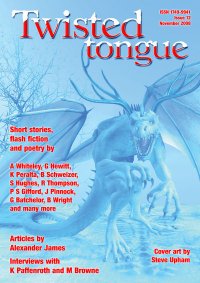 Wow. Isn't that the best magazine cover of all time? Yes, Twisted Tongue 12 has finally arrived, and it's a corker. I've got two pieces in it: a rather dark flash called "Restorative Justice" and a cynical poem about Christmas newsletters called "Between The Lines" (I know it's a bit late for the season, but the editor's not been at all well). You can download the PDF or pay an amazingly reasonable fee for a hardcopy here. Ah, go on go on go on.

Hey, that was quick. Only a couple of days after being accepted, "Mirror, Mirror" is now up at Every Day Fiction. It's slightly lighter and fluffier than my usual fare, although with a certain amount of gratuitous violence towards the end. The piece started life as an entry in the weekly Café Doom Flash Challenge (I may have mentioned that one before

), before growing into a more substantial piece for Task 1 in the current SlingInk Eurofiction competition. Which reminds me: Task 9 is due in on Wednesday, and I haven't written a word yet …