Aug
30
According to my records, I have a grand total of 30 pieces currently submitted to various competitions, anthologies or other markets. Quite a few of these have been out there for some time, and I was beginning to get just a little twitchy … until a few minutes ago, when I heard that Restorative Justice has been accepted by Twisted Tongue. I'd fancied getting into TT for a while, but they were closed to submissions up until the middle of July. However, I made sure that I pounced as soon as I heard that they'd opened again. I'm doubly pleased, because I really like this story, which (like so many others of mine) started life as an entrant in the Café Doom Weekly Flash Challenge, and then grew a little.
Now, what's happening with the other 29?!
(I also had something really, really unexpected happen on Friday. But I'll keep that one under my hat for a little while until I find out if it's going to lead anywhere.)
Aug
18
… is now up at Dog Versus Sandwich. Bit of an odd one, this. Usually, I tend to work from prompts, trying as far as possible to steer clear of the most obvious interpretation, a process which can deliver some interesting and unexpected results. However, this story presented itself to me, unprompted, pretty much in its final state (give or take some very welcome suggestions from my chums at the VWC), during the course of my walk to the station one morning. Which is probably why it's a little different from my usual stuff.
Aug
13
So, how's it all going, then?
We – e – e – ell  …
I did manage to finish my entry for the current round of the Whittaker Prize, and it turned out to be (for me) quite a long one – right up to the 2500 word limit. I have absolutely no idea as to its merit or otherwise, but I won't have long to find out – the judge is scarily quick. I do have a feeling that this is where it all goes pear-shaped. After four rounds, I'm currently in second place, but I fear that this won't be for long, and the long downward plunge is about to start. (And I really don't like the prompts for Round Six.)
Aug
9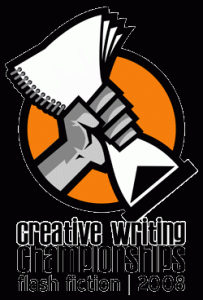 So this is what I've been given this time. Well, it certainly beats writing historical fiction about sewing, that's for sure. Trouble is, it's almost too inviting.
Aug
6
I met Adrian Graham at Liars' League a few weeks back. He's an enthusiast for short fiction, as well as being a talented writer in his own right (I like this story particularly), and his blog's well worth a read. So when he asked me if I was interested in having a short short story posted there (his emphasis), I was very happy to oblige, and I sent him this one, which is one of the shortest ones I've written. I've always been quite fond of it, and I'm pleased to see it out there. So thanks, Adrian!
Aug
3
Over the last few days I think I've established beyond all doubt that I have a definite masochistic streak. Let's consider the evidence:
I'm currently taking part in the Whittaker Prize. This consists of a series of nine writing tasks, spread over eighteen weeks. Each task involves picking one of three given prompts and writing a story (up to 2500 words) over the next two weeks.
I also try to take part every week in the Cafe Doom Flash Challenge. A mere 350 words, this, based on a given one-word prompt.
I also seemed to have signed up for this thing. I have no idea why I have done this. Last time I entered one of their competitions, I was assigned to a heat where the chosen genre was Historical Fiction and the subject was Sewing. Seriously. I regard the fact that I managed to scrape into fifth place in my heat as a major achievement.
I'll probably also be taking part in the monthly 1000-word Phil's Challenge at SlingInk.