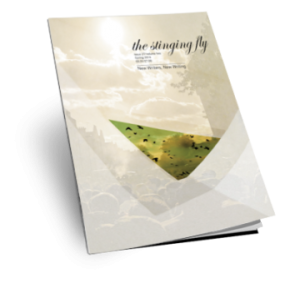 The Spring edition of the Irish literary magazine The Stinging Fly has just been published, and what a lovely thing it is. It's always nice to appear in print, and I'm especially chuffed that my odd little magical realist flash "The Meaning of the Rabbit" has been included in Nuala Ní Chonchúir's flash fiction showcase, along with loads of other cool people's work.
I do hope that last Monday's BristolCon fringe audience appreciate that magical realism reference, by the way.
The excellent Short Review have also put up an interview I did with them about DOT DASH and other stuff. I quote George Saunders in it, which just goes to show how hip I am.
If you're near Bath this Friday, do come along to Story Fridays at 7:30PM in Burdall's Yard, where I will be reading "Nature's Banquet" as part of their "Feral" evening. More – ahem – magical realism.
Finally, I had an urge the other day to start submitting some TwitFic again, and I've just had a couple of acceptances, from Confettifall and Twiction Addiction. They'll both be appearing in April, and I'll give you a nudge when they do.
One thing they don't tell you when you start getting into writing is that whether you like it or not, you're going to end up having to perform your work too. It's an essential part of the marketing and self-promotion process. There is, however, nothing more off-putting than going to a reading and hearing a mumbled, gabbled, incoherent performance, so it's worth devoting some effort into getting it right – even if, like me, the last time you performed on stage was at school. And in my case at least, that was a loooong time ago.
Unfortunately, you can practice all you like at home and in front of friends or your writers' group, perhaps, but the point at which you really start to learn is when you stand up in front of a live audience of strangers and try to convince them that what you've written is worth their attention. So over the last few years I've sought out opportunities to read my work and the odd thing is that I've begun to really enjoy it. There have, of course, been one or two duff efforts – times when I've wished the ground would swallow me up – but they're all learning experiences. But when you get it right, there is nothing quite like the buzz you get from hearing an audience react to something you've written. And of course, if you have merchandise (i.e. books) to sell, the better the performance, the more units you shift.
So here are a couple of recent recordings. The first is from the Open Mic night at The Swan in Wedmore. It's about twelve and a half minutes long:
And here's one from the most recent Acoustic Night Bristol. Much better sound quality, and only a couple of minutes long:
Finally, here's something a bit different. It's a kind of audio story that I put together, and I guess it's my attempt to try to explore the area left vacant by the likes of Ivor Cutler and Vivan Stanshall. If that isn't too presumptuous. It probably is, isn't it? Ah well.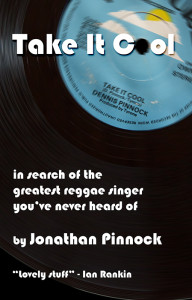 Got a lot of things to blog about at the moment and not enough time to blog in. However, this is most definitely the most important one. TAKE IT COOL has a cover!
What do you think?
I have to say I love it: it's neat, it's eye-catching and it captures the essence of the book.
It was interesting to compare the approaches of 2RP and Salt here. With Salt, you have absolutely no idea what Chris Hamilton-Emery is going to come up with until you get tagged with an image on Facebook. I hasten to add that I've been very pleased indeed with the covers for both my Salt books, but it was still slightly alarming to realise that you have no input whatsoever!
With 2RP, on the other hand, Sam asked me if I had any ideas, and I suggested using the label image. I produced a horrifically amateurish mock-up of how it might look, and sent it over. She passed this to her designer, the very talented Yvonne Benting, who applied the necessary magic and turned it into something that looks like a proper book.
So things are shaping up nicely. All I've got to do now is complete the final edit before passing it back to 2RP. Reading it through again, and seeing that cover, I'm beginning to think it might just work, you know.
Especially with Ian Rankin's little contribution. Or Rankin' Ian, as we should probably start calling him.

It's getting near that time of year when the excellent Get Writing conference begins to loom on the horizon like a looming conference type of thing. This year I'm doing a workshop called "Think You're Funny, Eh?" I'm not entirely sure if humour can be taught, but I am certain that there are a number of relatively simple techniques that can be learnt in order to make humour work better. This is what it says in the programme anyway:
In this workshop, he uses examples from the classics of comic literature (and also, if no-one manages to stop him, his own work) to show you how to locate your reader's funny bone.
If this sounds like the kind of thing that you'd like to attend, here's where you go to book. Apart from my own workshop (obviously), I also strongly recommend that you see if you can get into David Roden's. The one he did last year was absolutely magnificent.
The other thing I'm doing is an appearance at the BristolCon Fringe, on Monday February 17th, along with Scott Lewis and Snorri Kristjansson. No idea what I'll be reading yet, but I guess it will have a sci-fi-ish sort of bent. Which could mean almost anything, frankly. I'd go if I were you.

One of the most important questions that your publisher tends to ask you prior to publication is "Know anyone who can give us a nice cover blurb?" This time around, however, I managed to pre-empt that one. I knew exactly who I wanted, and I was pretty sure I could get him.
Back when I started blogging TAKE IT COOL, I tweeted links to the early episodes to a few celeb types that I follow on Twitter. One of these was Ian Rankin. Hang on, I hear you say, isn't he a crime writer? Ah yes, but I happen to know (from watching his Twitter feed) that he's also a big music fan. And I just had this feeling that TAKE IT COOL might appeal to him. It turns out that it did.
So yesterday I reminded him of this, and then asked him how we'd feel about using "Lovely stuff – Ian Rankin" on the cover. This was his reply. The man is a true gent. The upshot of this is that TAKE IT COOL is going to have a cover blurb from a writer with 30 million sales to his name. How about that?
Another layer of cake icing arrived today, with the announcement appearing in The Bookseller – another first for me. That makes it official, right?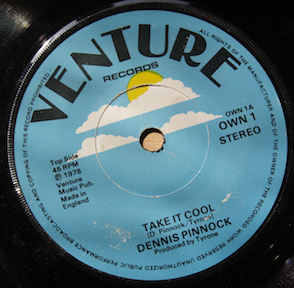 Excuse me for being a little excited.
However.
I am quite unbelievably pleased to announce that my odd little musical/biographical/historical/genealogical not-quite-a-memoir thing, TAKE IT COOL, has found a publisher, in the form of the excellent Two Ravens Press.
As you may be aware, this has not been an easy process. Large numbers of agents and publishers – sixty-odd in all – have had this manuscript sitting in their slushpile. Most of them, I suspect, took one look at the synopsis and ran a mile. I can't really blame them, because it's one of those things that doesn't fit any standard template. However, there were a select few who said they liked the writing and that someone would eventually love it enough to take it on. Even if it wouldn't be them.
But still no-one said yes, and I was beginning to get a bit despondent. So I decided to take the initiative and run the book as a blog, just to see if there was an audience. I wanted to know if I was kidding myself. I did this with my first book, MRS DARCY VERSUS THE ALIENS (although there was a further motive in that case, which was to motivate myself to actually finish the bloody thing), and it did in fact get a publisher just a few weeks before it finished. I'm not even sure if the fact that it was out there for everyone to read had any direct impact on the publishing decision. What I do know is that I wouldn't have had the confidence to continue touting MRS DARCY around if I hadn't known that I did indeed have an audience who were avidly following my blog.
In some ways I was less confident about finding an audience for TAKE IT COOL. There weren't any big cliffhangers (apart from the will-I-won't-I-finally-find-Dennis-Pinnock thing) and there were several disparate threads to the story that made it less compatible with blogging. However, I was extremely gratified to find that I did indeed gather an audience. Not only that, but a handful of the celebs that I pestered to look at it on Twitter gave me encouraging responses. I wasn't deluding myself, after all.
So when brilliant short story writer and Facebook chum David Rose posted that Two Ravens Press were open to submissions, I went in with renewed enthusiasm. Samantha Hawkins, who has recently taken over TRP, responded very quickly and positively and suddenly everything seemed possible again.
This means a hell of a lot to me. TAKE IT COOL is a highly personal project, and one that I've been trying to write, on and off, since 2005. I'd like to think it's one of those things that might develop a bit of word of mouth and spread out a bit further than its original market (whatever that is). And if it helps Dennis sell a few more records, well so much the better.
Oh yes. He's recording again. Didn't you know?
About this time a year ago (or perhaps a little while before that) it struck me that I wasn't reading enough. My to-be-read pile was getting higher and higher and there were still loads of things out there that I felt I really ought to read in whatever time was left to me. So I started reading more, and according to my stats I managed to read 89 90 91 books last year. I didn't keep very good records, so it's entirely possible that one or two of those may have been read in 2012, but I think it's close enough.
Here's the full, completely un-star-rated, list:
| | |
| --- | --- |
| Aldiss, Brian (ed) | A Science Fiction Omnibus |
| Auslander, Shalom | Hope: A Tragedy |
| Boyce, NP | Veronica Britten |
| Bray, Carys | Sweet Home |
| Brown, Dan | Digital Fortress |
| Burroughs, Augusten | Running with Scissors |
| Cain, Susan | Quiet |
| Cameron, Ash | Confessions of an Undercover Cop |
| Carter, Angela | The Bloody Chamber |
| Casselle, Paul | Blue Skies Over Dark Days |
| Chabon, Michael | The Amazing Adventures of Kavalier and Clay |
| Child, Lee | The Visitor |
| Conan Doyle, Arthur | A Study in Scarlet |
| Conan Doyle, Arthur | The Sign of Four |
| Conan Doyle, Arthur | The Adventures of Sherlock Holmes |
| Conan Doyle, Arthur | The Memoirs of Sherlock Holmes |
| Conan Doyle, Arthur | The Return of Sherlock Holmes |
| Defoe, Gideon | The Pirates! In an Adventure with Scientists |
| Defoe, Gideon | The Pirates! In an Adventure with Moby Dick |
| Defoe, Gideon | The Pirates! In an Adventure with Communists |
| Defoe, Gideon | The Pirates! In an Adventure with Napoleon |
| de Witt, Patrick | The Sisters Brothers |
| d'Lacey, Joseph | Blood Fugue |
| d'Lacey, Joseph | Splinters |
| Fisher, Carrie | Wishful Drinking |
| Fleming, Ian | Casino Royale |
| Fleming, Ian | Live and Let Die |
| Fleming, Ian | Moonraker |
| Flynn, Gillian | Gone Girl |
| Fox, Kate | Watching the English |
| French, Mike | Blue Friday |
| Frost, Toby | A Game of Battleships |
| Garfield, Simon | The Error World |
| Glashan, John | John Glashan's World |
| Govinden, Niven | Graffiti My Soul |
| Grimwood, Terry | Soul Masque |
| Hamid, Mohsin | The Reluctant Fundamentalist |
| Harrod, Andy | Living Room Stories |
| Harrod, Andy | Tearing at Thoughts |
| Hartley, David | Thresholds |
| Higgs, JMR | The Brandy of the Damned |
| Hogart, Simon and Monk, Emily | Don't Tell Mum |
| Honoré, Carl | In Praise of Slow |
| Horsley, Ross | My First Dictionary |
| Hunt, Stephen | The Court of the Air |
| Ishiguro, Kazuo | When We Were Orphans |
| James, Christina | In The Family |
| James, Clive | The Dreaming Swimmer |
| Joyce, Laura Ellen | The Museum of Atheism |
| Kane, Paul | Creakers |
| Kerr, Calum | Lost Property |
| King, Claire | The Night Rainbow |
| Lanchester, John | Capital |
| Larsen, Reif | The Selected Works of T S Spivet |
| Lee, Harper | To Kill a Mockingbird |
| Mahmutovic, Adnan | How to Fare Well and Stay Fair |
| Marek, Adam | The Stone Thrower |
| Mason, Amy | The Islanders |
| McGregor, John | This Isn't the Sort of Thing that Happens to Someone Like You |
| McMillan, Ian | Dad, the Donkey's on Fire! |
| Okotie, Simon | Whatever Happened to Harold Absalom? |
| Page, Ra (ed) | Lemistry |
| Parikian, Lev | Waving, Not Drowning |
| Parker, Matt | The Exploding Boy |
| Pendragon, Arthur and Stone, CJ | The Trials of Arthur |
| Ridgway, Keith | Hawthorn & Child |
| Ronson, Jon | Out of the Ordinary |
| Ronson, Jon | Lost at Sea |
| Rowling, JK | The Casual Vacancy |
| Royle, Nicholas (ed) | Murmurations |
| Satrapi, Marianne | Persepolis |
| Saunders, George | Tenth of December |
| Schlosser, Eric | Reefer Madness |
| Singh, Simon | Fermat's Last Theorem |
| Smyth, Richard | Bum Fodder |
| Spiegelman, Art | Maus |
| Stack, Steve | 21st Century Dodos |
| Stack, Steve | Christmas Dodos |
| Tarrant, Padrika | The Knife Drawer |
| Taylor, Jonathan (ed) | Overheard |
| Townsend, Sue | Adrian Mole: The Capuccino Years |
| Townsend, Sue | Adrian Mole and the Weapons of Mass Destruction |
| Weaver, Dave | Jacey's Kingdom |
| Wener, Louise | Goodnight, Steve McQueen |
| Wheen, Francis | How Mumbo-Jumbo Conquered the World |
| Williams, Tony | All the Bananas I've Never Eaten |
| Wodehouse, PG | Carry On, Jeeves |
| Wodehouse, PG | Very Good, Jeeves |
| Wodehouse, PG | Thank You, Jeeves |
| Wodehouse, PG | Right Ho, Jeeves |
| Wodehouse, PG | The Code of the Woosters |
I don't propose to make many recommendations (some of the people here are my friends, for heaven's sake) but there are one or two things that are worth saying.
Series
Why, oh why, have I never read any of the Jeeves and Wooster books before? Utterly sublime. I think "The Code of the Woosters" may well be the funniest book I've ever read. I have most of the rest queued up, and I'm looking forward to continuing with them in 2014.
Gideon Defoe's "Scientists! …" are wonderfully daft, and I've read all but one of them this year.
The Bond books are bloody weird, aren't they? "Casino Royale" reads more like a cry for help than a spy novel. Still, they seem to be getting better, and I'm going to carry on for a while.
I've read most of the Holmes books before, in a fragmented way several decades ago, but it's nice to read through them in sequence. They still hold up pretty well, although hasn't "A Study in Scarlet" got an odd structure? Didn't expect that at all. Suspect Conan Doyle hadn't quite worked out his formula yet.
I hadn't read an Adrian Mole book for years, although I'd picked up a copy of "The Prostrate Years" cheap a while back. I was just about to pick this one up when I realised I needed to catch up with the previous two. "The Capuccino Years" was a bit of a disappointment but "The Weapons of Mass Destruction" is a wonderful return to form, as is "The Prostrate Years", which was my first book of 2014. They're brilliantly balanced between humour and pathos, and it's extraordinary how Townsend makes you care about a character who frankly needs a slap most of the time. I really do hope he's OK.
Things I should have read aeons ago that turned out to be every bit as good as I expected
"To Kill a Mockingbird", obviously. See also Jeeves and Wooster above.
Disappointments
Yes, there were a few. "Capital" was full of clichéd characters with implausible motivations. I really wanted to love "T S Spivet", but it fell apart completely at the end. "Hope: A Tragedy" started so well and had such a brilliantly tasteless premise, but I got highly irritated by the main character by the time I'd finished. Maybe I was supposed to. And I really didn't engage with "The Bloody Chamber", I'm afraid. I really found it a struggle to wade through all those dialogue-free pages. I'll try more Carter in 2014, though. I really want to like her work.
Nice surprises
"The Casual Vacancy" had me riveted. Yes, it takes a while to get going, and yes, some of the adult characters are a bit clichéd, but it's the kids that carry the story and if there's anyone who knows about how to write adolescent characters, it's JKR. Lanchester, take note please. This is how to write a fat, state-of-the-nation novel.
The best thriller I read this year was "The Visitor". Child has a very spare, uncluttered writing style. I like him a lot and will read more of him.
I loved "Hawthorn & Child", despite seriously divided opinions among Twitter folk I follow. It's kind of an anti-detective story. Go into it with no pre-conceptions about what a story should do and you'll learn something. Then again, you may hate it.
"The Sisters Brothers" was pretty magnificent, too, so two scores to Granta Books there.
Oh, and George Saunders is a genius. I didn't know this before, but I do now.
There are probably things I've failed to mention, but feel free to comment, put me right or laugh at my bizarre tastes.
[UPDATE: Just realised that with stupendous irony, I managed to leave out Susan Cain's "Quiet" in my initial list. One of the most important books I read all year, which genuinely gave me a new perspective on life.]
[UPDATE #2: Also realised I forgot John Glashan. One of the greats of cartooning.]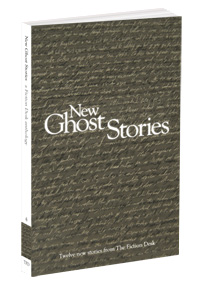 The Fiction Desk's sixth anthology, "New Ghost Stories" has just been released, and what a splendid collection it is. Take a look at the stellar list of contributors, for one thing. I'm really looking forward to reading it myself, and not just because there's one of my stories, "A Whole Bloody Century", in it. Go on, treat yourself or one of your loved ones to a copy now.
Had a nice piece of news at the weekend, in that I emerged (after six gruelling rounds) as the winner of the fiction section of this year's NOT The Whittaker Prize. This competition is the semi-official successor to The Write Idea forum's Whittaker Prize. The contest involved writing a new story every two weeks to a set of prompts. Following this, we all scored each others' entries anonymously and totted up the results. The best thing about it is that I now have half a dozen new stories that I can eventually submit elsewhere. Some of them will need a severe edit, and one or two may end up in the wastepaper basket, but they're all about subjects I would never have dreamed of writing about before.
Finally, I had a really nice rejection this week, from The Letters Page. It was nice for two reasons. Firstly, it was handwritten by the editor himself, none other than Jon McGregor. Secondly, because the writers whose work was accepted included the awesome George Saunders and Kevin Barry. One of those rejections that counts for a thousand lesser acceptances, and a nice end to a year that's been slightly lukewarm at times from the writing point of view.
It's possible that you'll think I'm only doing this because the author provided a nice quote for the cover of Mrs Darcy versus the Aliens (STILL available from all tax-paying and non-tax-paying outlets - and wouldn't a signed copy make a lovely Christmas present?). Or perhaps you think it's because he said some nice things about Dot Dash (amazingly, this is ALSO still available from all tax-paying and non-tax-paying outlets). Or even it's because I was given a free copy because I contributed a couple of ideas to the book?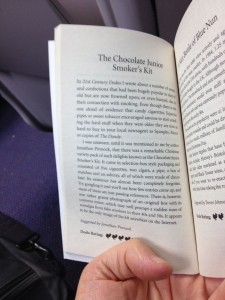 Well, obviously, it's all of these. But it's also because Christmas Dodos – Festive Things on the Verge of Extinction is the perfect stocking filler (assuming, obviously, that the recipient of your generosity already has both Mrs Darcy and Dot Dash). So I'd suggest you order one now – it's available from the usual places. And tell Steve/Scott I recommended it – one of these days I may need another quote or review from him…
I almost forgot to mention that my short story "Cure for Burroughs" is in the new edition of Synaesthesia Magazine. This edition is nominally about science and numbers, although my piece has a pretty tangential relationship to real science, if the truth were told. I quite like it, though.

It's nice to be back at Every Day Fiction. This piece first saw the light of day at Story Fridays in Bath, where I read it in a room full of odd bits of old machinery, a location that seemed curiously appropriate. It's not a particularly deep piece, but I'm quite fond of it.
In other news, Take It Cool continues on its merry way, with its highest audience yet for last Thursday's post. Let's hope that some of the folk who came along for that one stick around for the rest. Today we're exploring some of the hitherto uncharted waters of Dennis Pinnock's discography, with a rather unexpected collaboration. We're about three-quarters of the way through now, so it's still worth joining in, although you might want to start at the most recent Previously… post.