THE TRUTH ABOUT ARCHIE AND PYE was officially launched last night at Cheddar Library and a very good time was had by all. At least, it seemed to be – I spent most of the evening in a bit of a sensory blur. For someone who is (albeit self-diagnosed, but increasingly convinced of it as the years go by) somewhere on the spectrum, these events can be somewhat challenging, but I just about coped, only managing to knock over two glasses of wine during the course of the evening.
Anyway, let's start off with THE CAKE. This is it, in all its awesomeness: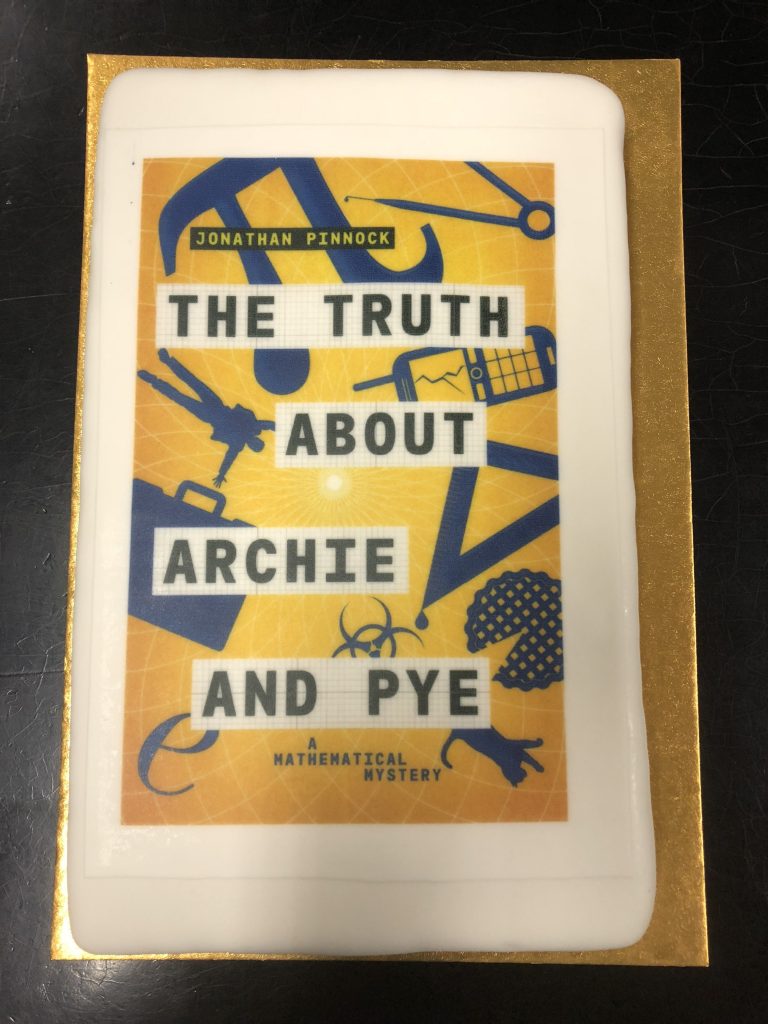 It almost didn't happen, because when I presented the chit to the Asda bakery staff, they took one look at it and said 'What's this?' 'It's a book cover,' I said. 'Ooh, we can't do that. Copyright,' came the reply. 'But it's my book,' I said. 'Look, that's my name there.' A supervisor was sought and several minutes later, the response came that they were prepared to go ahead with it just this once, if I could show them some ID. Good thing my name was on the cover. Still, isn't it amazing? For £16, I don't think you could improve on that as a centrepiece for a book launch, and the process is so straightforward.
The wine purchase was eventful, too. The chatty manager at Majestic Wine asked me what the occasion was, and of course I told her. 'What's the book about?' she asked. I gave her a brief precis as best I could, but when she and her colleague helped me carry everything out to the car, I realised I had a few copies in the back. So I showed her the blurb on the back cover.
The blurb starts like this:
Something doesn't add up about Archie and Pye…

After a disastrous day at work, disillusioned junior PR executive Tom Winscombe finds himself sharing a train carriage and a dodgy Merlot…
at which point she stopped reading and looked at me curiously, and I instantly realised why. Because the wine I'd just bought from her was (you've guessed it) a Merlot. It hadn't even occurred to me. What's weirder is that it was Chilean Merlot, which anyone who's read the book will know that's exactly the type that Tom ends up drinking in Chapter One. Even stranger, the only other wine mentioned in the book is a Sauvignon Blanc. Guess which white I bought from Majestic?
Anyway, call me superstitious, but I think weird coincidences are auspicious.
Back to the launch itself. Here is a picture of some of the people there.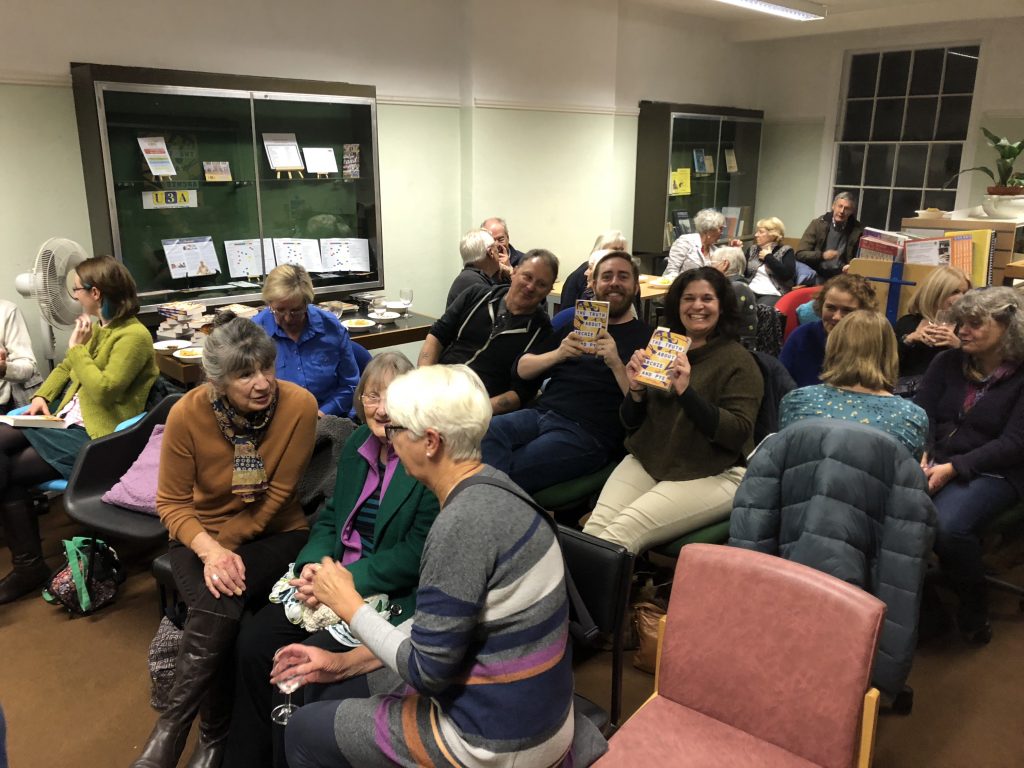 Notice, first of all, on the far left of the picture, none other than my lovely editor Abbie Headon, who drove many miles across inhospitable terrain to be there. It was fantastic to finally meet her, and I was amazingly chuffed that she had taken the trouble to come.
In the middle of the room, there is a cluster of ex-BSU CWMA students, including almost all of Celia Brayfield's first term class who were present when Archie and Pye made their first stumbling appearance: (from L to R) Linda Pinson, Anthony Hewitt, Paddy Edwards and Polly Hall. Emily Koch (author of the stupendously excellent IF I DIE BEFORE I WAKE) was also there, but arrived after the photo was taken. Other BSU alumni there were Morag Shuaib, Dixie Darch (back to the camera) and Julie Targett. I was so pleased that they all managed to come. See you all when Paddy launches the brilliant RUIN'S WAKE next year.
So, now that's all over, I can at last get down to the job of finishing off Book Two. See you on the other side of that.