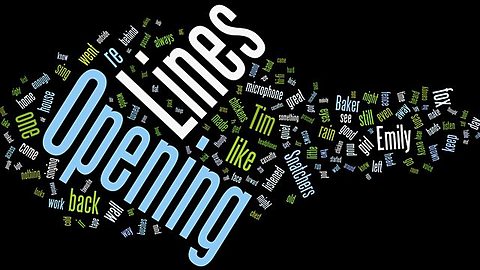 It's that time of the year again, when the BBC open their virtual doors to unsolicited short story submissions from writers new to radio. If you are such a person and have a suitable story to hand (or can put one together in a couple of weeks), you have until February 13th to send it in.
I would thoroughly recommend having a go, by the way, because hearing your work read on national radio by a proper actor is, frankly, bloody wonderful. Even hearing the announcer saying your name is pretty fantastic.
However, the odd thing about Opening Lines is that it doesn't seem to provide much of an opening into the BBC. I used to wonder if it was just me who didn't get invited back (I thought I'd behaved myself, but you never can tell what other people really think), but it turns out that very few of us have been.
I really must emphasise that I'm not in the least bit ungrateful. Opening Lines was a wonderful thing to put on my CV, and I even got paid for it. I'm also quite sure that it helped me towards getting Dot Dash published. Indeed, if you look at the careers of a lot of other OL alumni, it doesn't seem to have done any of them any harm either – most notably 2014's Claire Fuller, who was recently identified as one of the new faces of fiction in the Guardian, no less. But it does seem a little odd that the BBC themselves appear to lose interest.
I recently Googled the names of all the 38 writers whose stories have been broadcast in OL since 2005, or Series 7 (I couldn't find any data on the earlier years), along with the word BBC. One or two of them proved tricky owing to search pollution (particularly the one who happened to share the name of an ex-Speaker of the House of Commons), but the only ones I could identify as definitely having had further work commissioned were:
Zoran Zuvkovic (2005), who had a further short story broadcast two years after his OL appearance; however, he turned out to have had 11 full-length works of fiction and 5 works of non-fiction published before OL, so I'm not sure he really counts as an emerging voice,
Ian Dudley (2006), who had a further short story broadcast the year after OL,
Kachi A Ozumba (2007), who had a short story commissioned for The Verb three years after his OL appearance; as this was also after an acclaimed novel had been published, I'm not sure if OL can really be said to have been a factor.
(If I've missed anyone out, please do let me know.)
But as for the remaining 35 of us, it looks like we'll have to be content with being one hit wonders. Still, there are worse things to be, and I will at least always have this to remember it by: