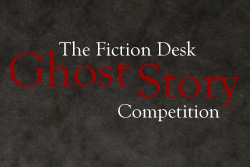 I was very pleased to find out that my sort-of-or-is-it-really-ghost-story "A Whole Bloody Century" has been shortlisted for The Fiction Desk's first annual ghost story competition. Especially so since it now looks as if all the shortlisted stories are also going to be included in an anthology, and not just the winners as previously planned.
"A Hundred Bloody Years" has been kicking around for quite some time. – as long ago as 2009, under its old title "Unquiet", it was highly commended in a JBWB competition – but up until now, I've never been 100% happy with the delivery of the big reveal at the end. I think I've finally sorted it now, though, and I'm really looking forward to seeing it in print. The Fiction Desk do produce some excellent anthologies.
Meanwhile, TAKE IT COOL continues on its merry way. In this episode, "The Wrong Corner of the Triangle", I start to dig into my own family history and come up with something completely unexpected. Hope you're all still enjoying it. And if you haven't tried it yet, there's still plenty of time to catch up before the next one appears on Monday.