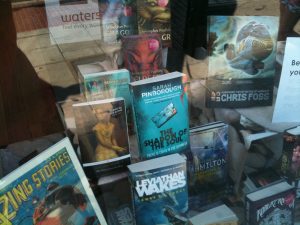 A very quick post on my return from an exhausting but entertaining FantasyCon to link to a couple of blog tour extras. First of all, this comprehensive and rather splendid feature by Sandra Norval appeared on the Fantasy Faction site on Friday.
And secondly, I made an appearance on the awesomely talented Sarah Salway's blog on Saturday. Sarah is a wonderful writer and I have her to blame for me accidentally going all the way to Reading instead of Paddington on my way back from a Firestation Bookswap once because I was so totally absorbed in reading her fabulous book of short stories, "Leading the Dance" (which, incidentally, is now available again, so you have no excuse any more for not possessing a copy).
And that picture is of the shop window of Waterstone's in Brighton. Many thanks to the lovely Sara Crowley for making it happen.