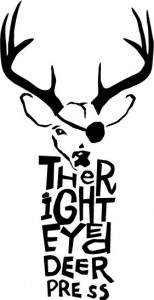 After far too long an absence, TheRightEyedDeer has re-emerged, with a classy new website and a fab cover for Issue 5. The latest edition has loads of excellent stuff from the fine upstanding denizens of The Write Idea forum. There are also interviews by the excellent Doug Pugh with a couple of writers, both of whom by a happy coincidence happen to share the hottest new publisher on the block, Proxima.
I have to say that of the two, Charles Christian is a damn sight more succinct as an interviewee than me. Even I looked at some of my answers and muttered TL;DR to myself. Your best bet is probably to read every third word of mine and pretend that I'm an avant-garde poet instead. But whatever you do, take a look at the rest of the zine, OK?
And I still haven't done that post about the Get Writing conference, have I? Patience, my dears, patience.