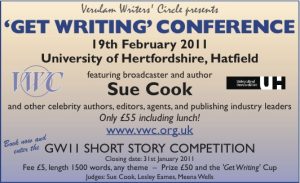 Tickets went on sale for Get Writing 2011 yesterday, and if it's anything like as good as last year's event (and to be honest it's looking even better) it will be an absolutely terrific occasion. Loads of excellent speakers, instructive workshops and – most importantly – the opportunity to pitch your work to a top-flight agent or editor.
If you don't believe me (because, after all, I am slightly biased, being a member of the writers' circle that's organising it), read this account from one of last year's attendees.
Here's where you need to go to book. What more can I say? Get in there, and get in there fast, because it will sell out!
In other news, I'm heading down to Brighton tonight in the company of my good chum Oscar Windsor-Smith to read once more at Sparks. I'm going to be reading "Desert Culture" (as featured in the "50 Stories for Pakistan" anthology) and "Advice re Elephants". Come along if you're in the area – Sparks is always a great night out and an excellent way of driving the winter blues away.