It's all go today. To coincide with the opening of entries for the Willesden Herald New Short Stories Competition, I hereby announce that the winner of the great anthology giveaway, out of no less than 15 entries, picked out of a hat at random by international celebrity cookery blogger Rachel Pinnock, is…
Drum roll, please
Is…
Keep drumming, goddamnit
Is…
Come on, come on
DAN PURDUE!
So step forward, Dan, and claim your prize. If you want to e-mail me your address, I'll pass it on to Steve. Many thanks to everyone who took the trouble to join in. I may well do the same for Mrs Darcy in the next day or so, so watch this space…
Sorry, blog. It's just… well, I'm not sure, really. Let me try to explain.
Weird business, being a writer. Weirder still, being a writer-who's-about-to-have-two-books-published. Part of me is desperate to get the books out there so that I can point to them and say, "Look! I'm a proper writer now!" and part of me is terrified lest they are badly received or (worse) ignored altogether.
But until then, like I said back in this post, I'm in limbo, trying to work out what to do next. Project X, incidentally, staggered on to 3000 words, at which point I decided that I didn't really fancy spending a substantial part of my remaining life in its company. So at the start of this week, I axed it – and almost immediately a completely new concept appeared out of the blue and proceeded to occupy the vacated space in my head. I threw together the first 1000 words yesterday and read it out to my writers' circle last night, who seemed to like it too. I think I could have a lot of fun with this one.
Meanwhile, Project Y continues on its merry way and has now reached the end of the letter A. Project Z also emerged, in the shape of Wickhampedia. Hmmm. About time I wrote a few more entries for that, too. So as you can see, my writing life is wobbling about in several directions at the moment (and I didn't even mention Project WhatevercomesafterZ, which grabbed my attention for an afternoon at the beginning of the month before being slapped down again).
Anyway, here are a few other things to divert you if you've a moment or two to spare. On Tuesday I went to a fascinating talk from several old-school SF legends at the British Library; read Oscar Windsor-Smith's splendidly offbeat account of the event here.
Also worthy of scrutiny are my chum Sandra Norval's excellent recent posts on cyber-networking in Fantasy Faction (here and here).
And its just struck me I haven't mentioned Pike! Have I mentioned Pike yet? I don't think I have, which is unforgivable. My mate K J Bennett has bravely decided to follow Mrs Darcy's lead and is now serialising his wonderful novel Pike's Quest here. Do please take a look: it's hilariously daft.
Finally, I should also let you know that the super-snazzy new Ether app was officially launched today, so go here to download it if you haven't done so already, and then go and buy some of the fab stories on there (preferably one of my three, of course). Perfect to read on the train when you get stuck outside Basingstoke owing to points failure.
OK, blog. Happy now?
Good. I won't leave it so long next time. Promise.

Well, today started nicely with an acceptance from Every Day Poets for my parody "Now We Are (Practising Safe) Sex". A.A.Milne's corpse should probably get ready to spin now.
In other news, I received my signed copy of Nicola Morgan's "Write to be Published" today and it looks terrific. Especially page 246. Page 246 is wonderful. In fact I would go as far as to say that page 246 of "Write to be Published" is the best page of writing advice ever written. I certainly can't stop looking at it. Buy the book here. You won't regret it.

The Sixth Annual Café Doom Writing Competition came to a close today. It's quite a feat of endurance for the participants because all the entrants have to read everyone else's entries and then pick their top three. This year there were 50 in all, with a maximum length of 5000 words, making a potential 250K of words to be read in a fortnight.
In fact, it turned out to be a breeze to do the actual reading part because in most cases you could decide pretty early on if a story was going anywhere and the ones that did go somewhere were a joy to read. Actually writing something new for the competition turned to be a bit more challenging, what with Mrs Darcy and the Slingink Scribbling Slam both going strong at the time, so I ended up re-visiting a story from 2007. This was "Symbiosis", the everyday story of the relationship between a young woman and her intestinal worm, which I'd originally written for a Writing Magazine competition on the subject of "Putting on the Inches". No, I have no idea what I was thinking either. Anyway, I'd always intended to go back to it and make the ending a bit more gross, so it seemed the ideal opportunity.
As things turned out, I was quite pleased that the piece made 5th place in the popular vote and was thus shortlisted. However, that was as far as it went. I suspect that the fact that there was another worm-related piece last year (which I'd completely forgotten about) may have gone against it, along with the fact that it was very English in tone (there can't be that many horror stories around that reference Greggs, can there?) The presence of several better stories in the shortlist may also have had something to do with it, of course. Either way, I now have another piece that is ready to send out into the world when I get round to it – along with last year's flop and 2008′s shortlistee.
Meanwhile, "M is for Monster" has picked up a couple of nice Amazon reviews. Obviously, this is my favourite bit of the first review:
As short as it is grotesquely satisfying, Pinnock's darkly comical tale is delivered in a staggered fashion, setting down the back-story and plot whilst Tom's final minutes are played out. The finale hits the reader with the full force of a good dollop of splatterpunk, concluding this downbeat little tale with complete and utter horror-enthusiastic perfection.
Splatterpunk. I like that.
Next – something that I completely forgot to mention a while back. My online chum Geoff Nelder got in touch with me asking if I fancied joining him and Bec Zugor (amongst others) in contributing some ultra-short pieces to go with a book of Sci-Fi art called "The Sixty" being produced by Andy Bigwood, two-time winner of the BSFA award for best artwork. When I saw the pictures, I leapt at the chance, picking this one to write a piece for (called "Pioneer"). I in turn invited my VWC mates Oscar Windsor-Smith and Dave Weaver to join the team and I'm really looking forward to seeing what everyone comes up with. Should be quite some book.
Finally, stop whatever you're doing and take a look at this extraordinary piece of video art by Richard O'Callaghan based on Tania Hershman's wonderful story, "The White Road". Wow. Just wow.
Toby Frost has done it again! A year on from last year's splendidly festive Space Captain Smith Christmas special, "When Slay Bells Ring", he's just brought out "The Celery and the Ivy". Here's the blurb:
Toby Frost has put aside his iMelodiatron to decree:

By popular demand it has been declared that the universe of Space Captain Smith must get even more exciting, so we are proud to present The Celery and the Ivy, in which Isambard Smith, Polly Carveth, Rhianna Mitchell and Suruk the Slayer set out to bring Christmas cheer to a remote research station.

With Suruk seeking to feast on Stephen, Carveth yearning for equine company and Rhianna wanting to get her hands on Smith's nut roast, how will the sole inhabitant of a biological research station take to his visitors?

Find out by downloading The Celery and the Ivy, by Toby Frost – and then feel free to pass it on to all your chums, especially if they are yet to discover the wonderful world of Space Captain Smith.
I think the only thing wrong with this is the idea that there is anyone out there who is yet to discover the wonderful world of Space Captain Smith. Surely everyone on the planet is a fan? At least, that's the way it would be if there were any justice in the world.
So what are you waiting for? Download it here. Oh, did I say it was free? Well it is. So no excuses whatsoever, then. Pass it on.
I've been away and otherwise busy over the last two or three weeks – hence the rather sporadic posting. So here are a few random sweepings from the floor …
1) On Tuesday night this week, I took part in the NYC Midnight "Tweet Me a Story" competition. Basically, I got a word at midnight UK time and then had five hours (yeah right, I said midnight UK time) to write three twitter stories using it. The word for group 19 was "attack", which could have been a lot worse. Anyway, I threw my three together in half an hour. I find out next Tuesday if any of them are going to go forward to the next stage of voting.
2) I've just sent my story off to Jim Wisneski's 'Twelve Days of Christmas" project; I'm one of the ones doing "Eight Maids a Milking". It's a rather odd piece altogether. I'll let you know when it appears.
3) I've decided that the perfect in-flight movie is "GI Joe – The Rise of Cobra". Why? Because it's full of action (read "guns and explosions"), has an idiotic plot and (crucially) you don't need to be able to hear any of the dialogue in order to follow it. There is no excuse for watching it outside a plane, however.
4) Weirdly, two out of the five writers shortlisted for the National Short Story Award (Sara Maitland and Jane Rogers) were judges in competitions where I won prizes this year. Following this logic, if Zoë Heller wishes to make an impression on the NSSA next year, she knows what to do. OK, Zoë?
5) By the way, well done to both of them for getting onto the shortlist, and especially to Sara Maitland for getting the runner-up prize. I read her collection "Far North" earlier this year, and I can strongly recommend it – especially the title story, which is quite extraordinary.
In case anyone out there's feeling a bit, you know, icky after watching this week's Question Time, here's something that I picked up from Vanessa Gebbie's blog that will go some way towards cleansing the image of Nick Griffin's ugly fat face from your mind. It's a talk given by Chimamanda Adichie at TED on the dangers of the single story. If you haven't seen it already, I really suggest clearing 20 minutes of your day to give it your attention. Trust me: you will feel better after this.
Talking of Lawrence of Arabia (well, we were two posts ago – work with me here), my father recently had to move out of his house and I've been sorting through some of his old books. In the middle of this I came across an old two-volume hardback edition of Lawrence's "Seven Pillars of Wisdom". As it happens, I've never read this (although I've seen the film, of course), but I think I want to now. Because the preface contains this wonderful exchange between the editor and the man himself: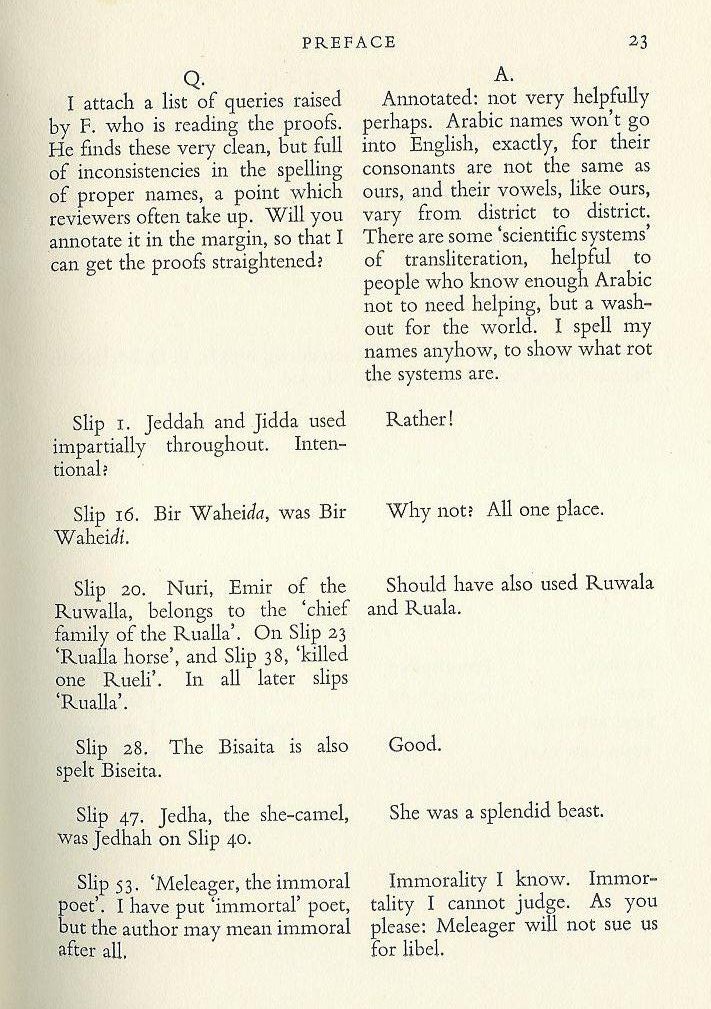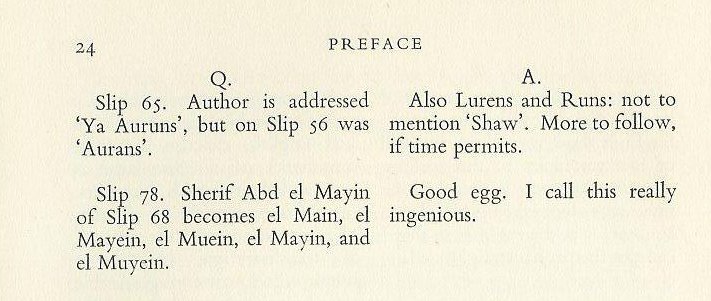 Hands up who else could hear Peter O'Toole reading that. It's brilliant, isn't it?
I had a light bulb moment today.
I'm finding that my new computer has had some unexpected effects on my on-line life. One of these is that I've found that Safari has a way of managing RSS feeds that is just that bit neater than Internet Explorer, with the result that I've been collecting RSS feeds with wild abandon over the last couple of weeks. I'm now following far more blogs than I used to, and as a consequence I've come across loads of interesting new stuff. I came across the one that I want to share with you today via Tania Hershman's blog, and it's a fascinating piece about the state of short story publishing, and a lot of excellent points may be found therein, along with the associated comment stream.
But it set me thinking: why are short story collections the cinderellas of the industry? I've often thought (and I'm clearly not the only one) that in the era of MTV attention spans, short stories really ought to be aggressively marketed as the saviours of the publishing world. I've been reading a whole load of short story collections lately (mainly as a result of trying to support Salt Publishing's extraordinarily successful Just One Book campaign), and it is quite cool to be able to absorb an entire story (or two) in the duration of a commute into London.
One thing did strike me, though. Short story collections are – of necessity – patchy. If they were entirely consistent, they would be dull. A good collection should show a writer trying out all sorts of different things. Some of them will work, and some of them won't. A case in point: some time ago at If Shakespeare …, my mate Ian Cundell recommended a collection by Evan Hunter (aka Ed McBain) entitled "Running from Legs and other stories". In particular, he raved about a story entitled "Terminal Misunderstanding". As it happened, I liked it, but I didn't think there was anything special about it. However, I thought that the story that came next in the book, "The Sharers", in which a black man is aggressively patronised by a white man who insists on sharing his ride to work, was absolutely wonderful.
Where did that week go, then? I've been a bit quiet for the past few days because my main computer (hey, I'm a software developer in real life – I'm allowed to have loads of them) finally ground to a halt and I took the opportunity to do what I've always wanted to do and buy myself an iMac. I did this after working onsite at a client recently and noticing that they do all their development on iMacs – Windows and all. (I know people have told me this before, but I didn't really believe it until I saw it.) And my God, is it a sexy beast! Finally, a user interface that's been designed by someone who actually seems to use an interface every now and then. Not only that, but once I'd installed Parallels, it does indeed run Windows stuff alongside. Even better, it should also do the same for my Linux stuff once I've installed that as well. (And now that I come to think about it, Solaris 10 as well maybe – now that's really scary.)
The only problem is that I've had to extract all my stuff from that clunky old PC and bring it across, including the mail, which is an absolute nightmare. So that's why I haven't updated this place for a few days. Normal service will resume shortly. Along with stuff about writing instead of techie porn.