It's getting near that time of year when the excellent Get Writing conference begins to loom on the horizon like a looming conference type of thing. This year I'm doing a workshop called "Think You're Funny, Eh?" I'm not entirely sure if humour can be taught, but I am certain that there are a number of relatively simple techniques that can be learnt in order to make humour work better. This is what it says in the programme anyway:
In this workshop, he uses examples from the classics of comic literature (and also, if no-one manages to stop him, his own work) to show you how to locate your reader's funny bone.
If this sounds like the kind of thing that you'd like to attend, here's where you go to book. Apart from my own workshop (obviously), I also strongly recommend that you see if you can get into David Roden's. The one he did last year was absolutely magnificent.
The other thing I'm doing is an appearance at the BristolCon Fringe, on Monday February 17th, along with Scott Lewis and Snorri Kristjansson. No idea what I'll be reading yet, but I guess it will have a sci-fi-ish sort of bent. Which could mean almost anything, frankly. I'd go if I were you.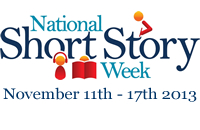 Well, this is nice. DOT DASH has been chosen as one of five recommended short story collections for this year's National Short Story Week. I've no idea what this is likely to mean in terms of sales (I suspect not a lot, as short story collections are never big sellers), but it can't be bad for the old profile.
Quite coincidentally, the first review of MRS DARCY VERSUS THE ALIENS for a while (well, it is over two years since the book came out) popped up on Goodreads the other day as well, and fortunately, it was a good one. A bit of detective work also revealed that she'd urged all her Twitter followers to read it. So obviously I'm expecting THOUSANDS of new sales. I still have dreams of some celeb type stumbling across it by accident and hailing it as an overlooked comic classic, but unfortunately they tend to be the sort of dreams in which this is followed by me being chased naked through Brent Cross by a giant mutant jellyfish. You too, eh? I hate those dreams.
And of course TAKE IT COOL is still going, and in yesterday's episode, the cliffhanger from episode fifteen is resolved…

Wow. What a day. Unlike previous years, when the Get Writing conference was just down the road, attending this year's event involved getting up at 6AM before hitting the motorways for three hours. Such is the price one has to pay for being surrounded by fields.
It was wonderful to see all the old Verulam Writers' Circle bunch again. I do miss them. (See bit above about fields etc.)
Anyway, I managed to get through my workshop without too much mishap, and – more importantly – without running out of things to say. No idea if anyone got anything out of it or whether it was perceived as an incoherent and self-indulgent ramble. The group seemed to join in well, though, which is usually a good sign, and I did manage to conclude by showing the notorious MRS DARCY YouTube trailer. OK, I may have tipped over into self-indulgence at that point, although I'm sure there was a good reason for it at the time.
Ann Cleeves was an excellent keynote speaker, being exceptionally modest about the extent to which luck had played a part in her current success. She did, however, omit to mention the other side of the coin, which – and I'm sure this must be the case – is that luck can only work for you if (a) you work hard to create the opportunity for luck to strike and (b) are fully prepared to seize the luck by the scruff of the neck when it presents itself. She was also very approachable and we had an interesting chat about dialogue attribution in the foyer.
I also managed to sneak into David Roden's screenwriting workshop, which was a revelation. It was a condensed version of a four-hour lecture, illustrated with clips from all manner of television shows, and even for a fiction writer like myself, it was an important reminder of several key things that I'd either forgotten or failed to learn. Absolute gold dust.
I even succeeded in selling a few copies of both MRS DARCY and DOT DASH, including one to a chap who wasn't in the conference at all, but was sitting at our table outside the bar afterwards. Now that's marketing.
There are loads of pictures of the event appearing on the Get Writing and Verulam Writers' Circle Facebook pages. Go and take a look and kick yourself if you weren't there.

Yes, it's Get Writing time again soon! Hope you've all booked your tickets for April 20th, because you haven't got much time left. I'll be doing a workshop on the important subject of "How to Stand Out from the Crowd". Here's the blurb:
It isn't enough to be a good writer. A successful writer has to learn how to stand out from the crowd. Jonathan Pinnock draws on his experience of getting both his first novel and his first short story collection picked up for publication in rapid succession to offer advice on how to get yourself noticed. He covers such topics as how to attract the attention of competition judges, how to be ubiquitous without being really annoying and how to make the best use of social media to build an audience.
I'm also going to be one of the co-judges for this year's competition, which has a closing date of this Sunday, March 31st. So you have just five more days in which to get your entry in. Inspire me! Scare me! Intrigue me! And all that. I'm really looking forward to reading them all.
In other news, there's an ace two-page interview with me in the latest edition of the excellent What The Dickens magazine, along with other folk like my old VWC chum Julie Mayhew, Rebecca Front and Olivia Colman (yes, really!) Cool company, eh?
And don't forget to come along tonight to Short Stories Aloud if you happen to be anywhere near Oxford. Me, Jon McGregor and Ernest Hemingway. And cake.
Is it really over a fortnight since I last blogged? I guess it must be. Someone said to be on Twitter today that I'd been a bit quiet lately. I really must get back to blogging a bit more regularly as I have a number of reviews piling up waiting to appear, along with some really cool interviews.
Anyway, the reviews of "Dot Dash" have continued to trickle in and they're still extremely positive. The enigmatic womagwriter certainly seems impressed, ending her brief review with:
they are beautifully written and I thoroughly enjoyed reading them.
Curiosity Killed the Bookworm is even more positive, giving it five stars and remarking that
It's one of the best short story collections I've read and one I think I will go back to repeatedly.
Many thanks to both bloggers for those generous comments.
I'd also like to give a quick mention for this blog post by my good friend Ian Cundell, which is mainly about the brilliant Julie Mayhew's debut novel, "Red Ink". There is a reason why all three of us (and I'm sure there are others) included Ian in the acknowledgements for our respective first novels, because a lot of our success in getting published is down to the curious combination of grumpy critique and unbridled enthusiasm that he brings to the process. I should add (as I've said before) that he really ought to get his finger out and write a bit more too, because he's no slouch himself.
I'll be saying a bit more about what I'll be doing at Get Writing soon here. Once I've got everything else out of the way, of course…
Is it a week since my last post? Well, obviously it is. There are reasons for this, none of which, sadly, have anything to do with writing. Anyway, last Sunday, the always excellent Jim Murdoch put up a startlingly thorough review of "Dot Dash" – so thorough in fact that I haven't quite dared to read it all yet. However, the good news is that he starts his summary with:
This is a fine collection of short stories and well-balanced
so perhaps I should screw up my courage and give the review the close reading that it clearly deserves. There are, as I write, seven comments under the piece as well and I'm probably being extremely ill mannered by not joining in the discussion.
This was followed up by a wonderful review by crime writer (and fellow Salt author) Christina James of "Mrs Darcy versus the Aliens", timed to coincide with the 200th anniversary of the publication of "Pride and Prejudice". It's always nice when a title that's over a year old gets a bit of renewed attention, especially from someone who so obviously gets it.
What else? Oh yes, my poem "Bloody Italians" (the one that was Highly Commended in the Fire River Poets competition) has now gone up on their website. Click the "Highly Commended" button to read it.
And finally, bookings have opened for this year's "Get Writing" conference. I'll be saying a bit more about my workshop in due course, but in the meantime, here's where you need to go to sign up.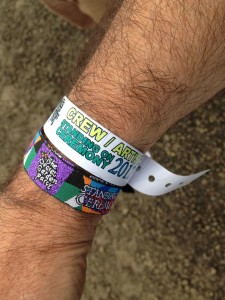 So that's another one ticked off, then. I can now say that I have actually performed at a festival, even if it didn't turn out quite as planned. When I was called up as a last-minute sub, the intention was that I would take part in two events at this year's Secret Garden Party. The first would be the Literary Death Match slot on Thursday evening, reading one of my own pieces, "Canine Mathematics". The second would be as a reader for Liars' League on Friday evening, reading "10 Steps from Nangarhar", by Helen Dring.
Which would have been fine if we hadn't spent a considerable part of Thursday afternoon firstly in a queue of traffic crawling towards the festival site, secondly in a slightly smaller queue of traffic awaiting artist accreditation (I think they were performing some kind of complex DNA analysis to establish our bona fides) and then finally scouring the site to find the actual venue (the programme takes an admirably laid-back approach to describing the topography of the site, which is great if you're wanting to come across unexpected new experiences, but bloody awful if you're trying to find out where you're actually performing).
So we – that is Katy Darby, Liars' League supremo and author of the utterly excellent Gothic romance, "The Whores' Asylum", Max Berendt, actor, voiceover artiste and all-round good egg, and myself – missed Literary Death Match altogether. Still, we had a pleasant enough evening and Max offered to let me share his tent, even after I'd warned him of my propensity to snore a lot and fart a bit as well. In the event, I avoided the former by not actually sleeping a wink, owing to the general sonic fug surrounding the site (made up of equal parts doofa-doofa-doofa bass throb, disembodied voices taking it in turns to jabber away the whole night and enough rain to float a fleet of arks). I also avoided the latter, because my bowels took one look at the toilet facilities after just half of Day One and obligingly decided to suspend operations for the duration.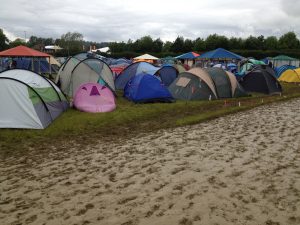 This is the splendidly gender-stereotyped Liars' League corner of the campsite, with Katy in the pink tent and Max and myself in the blue one. Oh, and that is mud, in case you were wondering. More of that later.
Next day, Katy very generously suggested that since I'd come all that way, I should at least have the opportunity to read one of my own stories during the Liars' League spot, alongside my other reading of "10 Steps…", Katy herself reading an extract from "The Whores' Asylum" and Max reading James Smythe's splendid "The Honourable Thing". However, this now meant that I would be reading two pieces, whereas the professional actor in the team, Max, would only be reading one. So I handed "10 Steps…" over to Max in order to concentrate on "Canine Mathematics".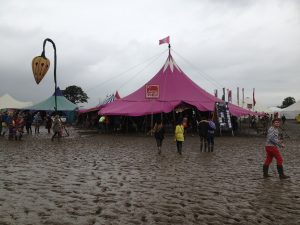 This is the venue, by the way. Along with a whole load more mud. I should say that I am a survivor of the notorious 2007 WOMAD/WOMUD Festival (so I had indeed packed my wellies), but this was on a truly industrial scale.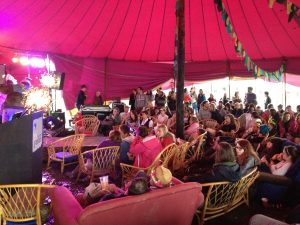 It looks nicer inside, doesn't it? Anyway, it was fun reading here, especially after being rehearsed by Katy, who has a lot of experience in coaching more professional readers than myself for LL. In particular, I was persuaded to attempt a Brummie accent for the cat in the story, and I think I almost managed to pull it off. I think it went down OK, although you couldn't hear any of the audience reaction from the stage. Either way, I can now most definitely say that I have performed at a festival.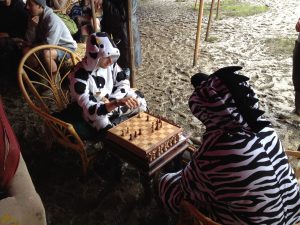 This, however, is my favourite image from SGP. Nice combination of lunacy and serious intent, don't you think?
Is it really a week since my last post? Yes, it looks like it is. Ho hum. Well, the good news is that the mysterious Project Y is getting very close to the magic 10000 words and I'm actually beginning to feel quite excited about it. No clues yet as to what it's all about though. Sorry. Meanwhile, I had a piece  published in The View From Here this week about that utterly wonderful film The Artist and what we writers can learn from it.
The next thing that happened this week was that I was interviewed by that excellent chap Charles Christian for his new online magazine The Urban Fantasist. As interviews go, I think it's one of my better ones, so do take a look. And bookmark that site – looks well worth following.
But the most exciting thing of course was Get Writing 2012, which took place yesterday. It was particularly exciting for me because I had the opportunity to do my first-ever workshop. Strictly speaking, I did one three years ago, on entering competitions, but as only a couple of delegates went to it (until a few of my VWC chums very loyally came along to bolster the numbers) I don't think it really counts. Yesterday's was entitled "Weird and Wonderful" and was all about unlocking creativity, basically by setting the brain problems to solve. From where I was sitting (or standing, mostly) it seemed to go well, and the group was extremely responsive. I'd like to do more of this kind of thing: it's a lot of fun.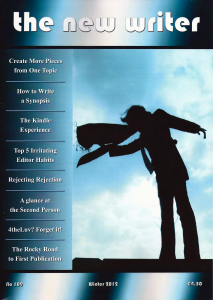 Very quick post because I'm recovering from a severe bout of man flu. My poem "Cyprus Delight", which was highly commended in last year's New Writer competition, is in the very latest edition of the magazine, on page 49. It's always nice to see something in print, especially a poem.
The other good thing that's happened in the last few days is that my workshop at the Get Writing 2012 conference has sold out. I'm really pleased about this because last time I did one, back in 2008, I had an audience of two plus some chums from the Verulam Writers' Circle who took pity on me. Suppose I'd better get going on preparing my workshop then. But first I have a talk to Harrow Writers to do this Thursday – if you're in the area, do drop in.

This could be fun. As part of the publicity drive for the forthcoming Get Writing 2012 conference, this year's organiser, Sandra Norval, has put together a virtual advent calendar featuring blog posts by the workshop leaders, panellists and editorial types taking part. So I thought it seemed an ideal opportunity to do the first ever commercial special episode of Mrs Darcy versus the Aliens, "Mrs Darcy and the Perspiring Novelist".
Mr and Mrs Darcy are also available to promote other products such as no-win-no-fee litigation, haemorrhoid cream and mechanically-reclaimed meat products. Drop me an e-mail and I'll see what I can do. My fees are pretty reasonable.
And you are coming to the conference, aren't you? Still a few place available on my workshop, but they're going fast.