Jul
25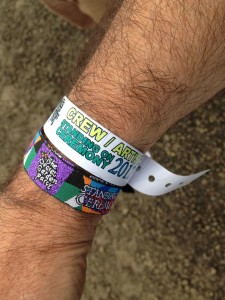 So that's another one ticked off, then. I can now say that I have actually performed at a festival, even if it didn't turn out quite as planned. When I was called up as a last-minute sub, the intention was that I would take part in two events at this year's Secret Garden Party. The first would be the Literary Death Match slot on Thursday evening, reading one of my own pieces, "Canine Mathematics". The second would be as a reader for Liars' League on Friday evening, reading "10 Steps from Nangarhar", by Helen Dring.
Which would have been fine if we hadn't spent a considerable part of Thursday afternoon firstly in a queue of traffic crawling towards the festival site, secondly in a slightly smaller queue of traffic awaiting artist accreditation (I think they were performing some kind of complex DNA analysis to establish our bona fides) and then finally scouring the site to find the actual venue (the programme takes an admirably laid-back approach to describing the topography of the site, which is great if you're wanting to come across unexpected new experiences, but bloody awful if you're trying to find out where you're actually performing).
So we – that is Katy Darby, Liars' League supremo and author of the utterly excellent Gothic romance, "The Whores' Asylum", Max Berendt, actor, voiceover artiste and all-round good egg, and myself – missed Literary Death Match altogether. Still, we had a pleasant enough evening and Max offered to let me share his tent, even after I'd warned him of my propensity to snore a lot and fart a bit as well. In the event, I avoided the former by not actually sleeping a wink, owing to the general sonic fug surrounding the site (made up of equal parts doofa-doofa-doofa bass throb, disembodied voices taking it in turns to jabber away the whole night and enough rain to float a fleet of arks). I also avoided the latter, because my bowels took one look at the toilet facilities after just half of Day One and obligingly decided to suspend operations for the duration.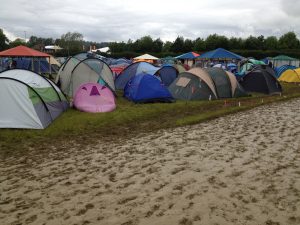 This is the splendidly gender-stereotyped Liars' League corner of the campsite, with Katy in the pink tent and Max and myself in the blue one. Oh, and that is mud, in case you were wondering. More of that later.
Next day, Katy very generously suggested that since I'd come all that way, I should at least have the opportunity to read one of my own stories during the Liars' League spot, alongside my other reading of "10 Steps…", Katy herself reading an extract from "The Whores' Asylum" and Max reading James Smythe's splendid "The Honourable Thing". However, this now meant that I would be reading two pieces, whereas the professional actor in the team, Max, would only be reading one. So I handed "10 Steps…" over to Max in order to concentrate on "Canine Mathematics".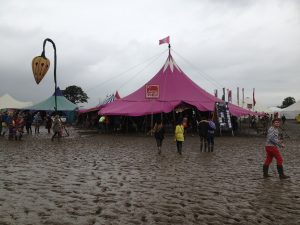 This is the venue, by the way. Along with a whole load more mud. I should say that I am a survivor of the notorious 2007 WOMAD/WOMUD Festival (so I had indeed packed my wellies), but this was on a truly industrial scale.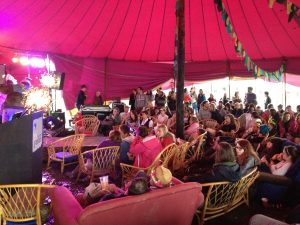 It looks nicer inside, doesn't it? Anyway, it was fun reading here, especially after being rehearsed by Katy, who has a lot of experience in coaching more professional readers than myself for LL. In particular, I was persuaded to attempt a Brummie accent for the cat in the story, and I think I almost managed to pull it off. I think it went down OK, although you couldn't hear any of the audience reaction from the stage. Either way, I can now most definitely say that I have performed at a festival.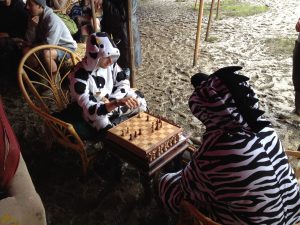 This, however, is my favourite image from SGP. Nice combination of lunacy and serious intent, don't you think?
Jul
17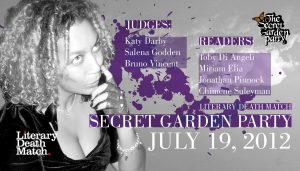 Well, this is amazingly cool. Actually, I'm not sure which is cooler, reading at Literary Death Match or reading at The Secret Garden Party. Either way, I seem to have somehow found my way onto the bill as a last-minute substitute. No idea what it's going to be like, but if you happen to be in the area of The Secret Forum at around 5:30 PM on Thursday, do come and cheer me on.
(BTW If anyone involved with next year's Glastonbury Festival happens to be reading this, I'm only a few miles away these days. I can be there in a matter of minutes. Just saying.)
In other unrelated news, broadband seems to have finally reached us in deepest Somerset, so you may be hearing a little more from me from now on. It's up to you as to whether you consider this a good thing, of course.
Jul
10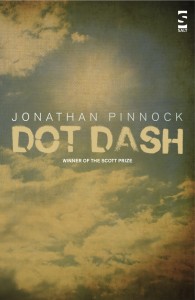 Well, did you miss me? In case you've been wondering what's been going on with this blog, we've been in the process of moving house – the first time for over fifteen years, and I think I can state with a fair degree of confidence that the old cliche about it being one of the most stressful things that can happen to you is true.
Still, the dust is settling now and it's all looking pretty good. As is the cover of my forthcoming collection "Dot Dash", which emerged from The Cover Factory just over a week ago. I absolutely love this image, especially as it contains a very subtle allusion to the first full-length story in the book. You'll be seeing a lot more of it over the next few months.
Loads more to blog about in due course, but that'll do for now.