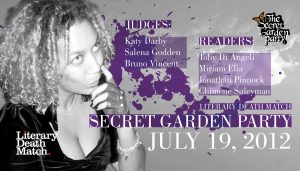 Well, this is amazingly cool. Actually, I'm not sure which is cooler, reading at Literary Death Match or reading at The Secret Garden Party. Either way, I seem to have somehow found my way onto the bill as a last-minute substitute. No idea what it's going to be like, but if you happen to be in the area of The Secret Forum at around 5:30 PM on Thursday, do come and cheer me on.
(BTW If anyone involved with next year's Glastonbury Festival happens to be reading this, I'm only a few miles away these days. I can be there in a matter of minutes. Just saying.)
In other unrelated news, broadband seems to have finally reached us in deepest Somerset, so you may be hearing a little more from me from now on. It's up to you as to whether you consider this a good thing, of course.