Feb
17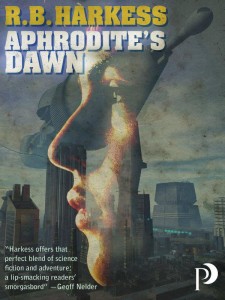 Scuse me…
Mind if I barge through here?
Hi. The name's Harkess. R B Harkess. I'm a writer. That's why I'm here.
I saw JP's blog tour for the awesome 'Mrs Darcy versus the Aliens' [Why thank you, Mr H - JP] and was so impressed by it I thought I would do one myself. And as he is with the same publisher as I am, I figured he couldn't really say no if I tapped him for a spot [This is true. I'm a total pushover - JP].
So, time for the plug. I have a bright, shiny story to sell. It's a Young Adult – wait, come back, I promise no sparkly vampires or love-torn paranormals – where was I? Ah yes.
It's a YA science fiction story, full of adventure, and science, and stuff. And not just for boys, either. We have girl heroes just as important as the boy heroes. Suitable for all. And my first ever novel, too. Published as an e-book (see how we keep the science-y theme going there with the modern delivery technology?). Now that's got to make it worth having a look [Definitely - JP].
Anyhow, mustn't hang around. Taken up enough of your valuable time. Check out the book at Amazon, or at Proxima, and drop in to my website at www.rbharkess.co.uk and tell me what you thought of it.
Now, if I can just squeeze past to get to the door…?
Feb
13
Is it really a week since my last post? Yes, it looks like it is. Ho hum. Well, the good news is that the mysterious Project Y is getting very close to the magic 10000 words and I'm actually beginning to feel quite excited about it. No clues yet as to what it's all about though. Sorry. Meanwhile, I had a piece  published in The View From Here this week about that utterly wonderful film The Artist and what we writers can learn from it.
The next thing that happened this week was that I was interviewed by that excellent chap Charles Christian for his new online magazine The Urban Fantasist. As interviews go, I think it's one of my better ones, so do take a look. And bookmark that site – looks well worth following.
But the most exciting thing of course was Get Writing 2012, which took place yesterday. It was particularly exciting for me because I had the opportunity to do my first-ever workshop. Strictly speaking, I did one three years ago, on entering competitions, but as only a couple of delegates went to it (until a few of my VWC chums very loyally came along to bolster the numbers) I don't think it really counts. Yesterday's was entitled "Weird and Wonderful" and was all about unlocking creativity, basically by setting the brain problems to solve. From where I was sitting (or standing, mostly) it seemed to go well, and the group was extremely responsive. I'd like to do more of this kind of thing: it's a lot of fun.
Feb
5
I've been a bit quiet, both here and on Twitter/Facebook this last week, mainly because I've been trying to get Book #3 off the ground (Book #2 being October's short story collection, which I will be boring you senseless about in due course). As with all these things, it's a question of finding a project that seems worthwhile committing a sizeable portion of my writing time to – which is exactly the same problem that faced me before I got properly stuck into Mrs Darcy.
Anyway, last year I did have quite a neat idea for a new novel – a kind of literary sci-fi-ish sort of thing – and I duly started writing it. Unfortunately, what with all the running around (actual and virtual) promoting Mrs Darcy, I got interrupted, with the result that when I came back to it towards the end of last year, I found that I'd lost momentum.
So I did what any normal writer would do and reanimated a completely different project instead. This is a non-fiction thing (no clues yet, sorry) that I started work on several years ago and then dropped because I couldn't see how to pull it all together. What's interesting is that, having completed a novel now, I've got a much clearer idea of how to structure a narrative and the new version is (to my mind, at least) several thousand orders of magnitude better.
Ironically, having got stuck back into this project, I then found that the other one suddenly unblocked itself, so it looks like I'm going to be working on both simultaneously for the time being. I'm quite cool with this, because I can use each one as a distraction from the other – provided, that is, I don't come up with a third project to take my eye off the ball, such as a sequel to Mrs Darcy.
Incidentally, if anyone out there has read Mrs Darcy and desperately wants a sequel, this is what you need to do:
1) Make sure you've "Liked" Mrs Darcy's Facebook page.
2) Tell ALL your friends to go out and (a) buy it and (b) "Like" the Facebook page.
3) Give it an utterly brilliant a searingly honest review on Amazon.
And speaking of reviews, I've been catching up with my reading lately, and I really must get around to putting up some reviews myself. Wow, there aren't half some wonderful books out there…