I thought it might be fun to do a Hallowe'en Special for Mrs Darcy this year, so here it is. I'd like to think this contains the first use of the word "pesky" in an Austen-related context. Any resemblance to persons (or indeed, airlines) living or dead is of course entirely coincidental.
In other news, here's an interview with me by Amber Stilts of the very wonderful Niteblade magazine.
What? You didn't know? Dear me. Well in that case, here's another bit of YouTuberance for you, courtesy of Ms SableCaught. If you're quick, you might just manage to grab a free copy of Mrs Darcy versus the Aliens…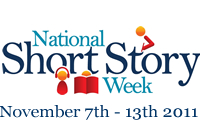 Back in early September I spent a fascinating hour or so crammed into a tiny studio in a basement somewhere off Baker Street recording a programme for National Short Story Week, along with such short story luminaries as Emily Bullock, Stuart Evers and Linda Leatherbarrow. The interviewer was none other than Sue Cook, who expertly guided us through our conversation.
I haven't dared listen to it all the way through yet, but here it is in case you're interested. If (as is likely) I sound like a complete git, please do keep it to yourself:
One of the things they don't tell you when you're trying to get a book published (or – to be fair – it's one of the things they do tell you but you blithely ignore) is how difficult it is to grab the world's attention, even when your book has a decent-sized initial print run and has found its way into a fair proportion of the nation's bookstores and you've got a massively eye-catching cover.
So I'm pleased to announce that there have been a number of victories in that area in the last few days. First of all, I managed to get myself interviewed by not one but two local papers – first the St Albans & Harpenden Review and then The Herts Advertiser (no online link to the story). Impressively, both papers seemed to get the facts pretty much spot on, so it can definitely be said that the noble art of journalism is alive and well in the provinces at least.
The reviews on Amazon are also trickling in nicely. Inevitably at this stage they are from people I know to a greater or lesser extent online, although I should add that I have only met two of them in real life, and then only once each. In fact, I've only come to know Jane Travers at all since I started serialising Mrs Darcy, so I am particularly chuffed that she likes it. And what I'm really pleased about is the extent to which every single one of the reviewers "gets" Mrs Darcy.
However, any writer who wants to take himself seriously isn't writing for his family or his friends and acquaintances. It's all about complete strangers. And on Sunday, my first complete stranger tweeted me to say how much she was enjoying the book. Then it turned out she had a review channel on YouTube:
Which is all pretty amazing. All I need now are a few more thousand complete strangers, and my life will be complete. So if you know a complete stranger, do urge them to buy the book.
Meanwhile, we have a few entries for the Tweet Treats prize giveaway, but NOTHING LIKE ENOUGH. Come on, people of the internets, I am disappointed in you! *stern face*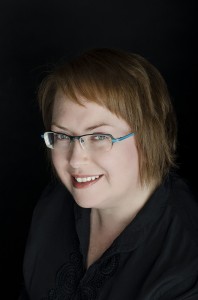 It's interview time again, folks, and today's lucky victim is the lovely Jane Travers, who you may recall gave me a grilling about "Mrs Darcy versus the Aliens" a few weeks back. As it happens, she's now on her own blog tour to promote a rather remarkable recipe book she's put together called "Tweet Treats". I'll let her explain what it's all about in a minute, but whatever you do, stick around to the end of the post, because there's a GIVEAWAY. Oh yes.
Explain the concept of the book in less than 140 characters.
Oh now, that's just nefarious, mean and dastardly. I won't do it, I tell you! Oh alright then.
"Tweet Treats" are short, simple twitter recipes for real people. The recipes come from ordinary people and celebs, all royalties go to MSF. (That was 140 characters exactly! God I'm good.)
(MSF = Médecins Sans Frontières, by the way, but you people probably knew that already)
Which came first: the idea of the book or the desire to do something for charity?
The idea for the book. I guess I'm not that naturally altruistic! The idea really hit me out of the blue, but as soon as it was formed I knew that it had to be for charity. I'm a good girl, I am.
Why MSF in particular?
'Cos they're like, awesome and stuff. What, that's not enough for you?
MSF do incredible work and I have huge respect for them as an organisation, but also they are a global charity. I knew I would get recipes from all over the world so wanted to choose a charity that would be equally relevant in every contributing country. I also wanted to choose an organisation that was unaffiliated with any religious or political organisation, and MSF fit the bill precisely. Plus, at the time I came up with the idea, the earthquake in Haiti was still very much at the forefront of people's minds, and MSF were on the ground there providing medical aid.
(Agreed. MSF are a fab organisation.)
Was there a point at which you began to realise that the project might work?
Haven't gotten there yet. Seriously, I keep expecting something to go horribly wrong, for the publisher to tell me the book isn't selling, for people to complain about the recipes, etc. But I  am really proud to have brought it this far, to hold a published book of recipes in my hand that has my name on the spine. Maybe it will work. Will it work? It might work…
How long have you been on Twitter?
About 50,000 tweets too long. And if you tell me that I could have written 8 novels with that number of words, I'll smack you one.
(I didn't say anything. Honest.)
What would you say to someone who hasn't tried Twitter yet or who has tried it and given up?
Loser.
What do you mean that's not politically correct? Oh alright then, I'll try harder. Spoilsport.
Twitter is the most social of social media, where you can become one of a large community of people with shared interests and experiences. Because of the brevity of tweets (140 characters) there's no room for waffle, so people are forced to be brief and interesting.
Actually I think there should be a law passed stating that no-one can speak in longer than 140 character bursts, too.
What do you mean that's overkill?
Have you tried every single recipe in the book?
Pshaw! No. Have you seen how many there are? The great thing is that I keep trying new ones from the book and adding to my own recipe repertoire. Today, for example, I tried Butternut Squash Soup from page 67 and it was nom! Given that I was a complete soup-phobe before this, that's good going for me.
What's your favourite cheese?
Parmesan. I eat great snowdrifts of it on top of pasta or risotto…. Mmmmm….
(That question was specially for any Firestation Bookswap regulars reading this, by the way. Cheese is a very important thing to them.)
Which celebrity would you have really liked to get a recipe from but failed to for whatever reason?
Stephen Fry, only because he's like the patriarch of Twitter. Unfortunately though, despite best efforts, I guess his timeline was too busy and he just never saw the requests. It was a huge coup for me to get my most coveted celebrity though, Neil Gaiman (@neilhimself). I read recently that he's now the single most influential tweeter out there. So having a recipe from him is nice.
What's your next project?
Something that will actually make ME some money, I hope! Everything I've had published so far has been for charity. I'm really not that nice a person, you know. Show me the money, I say!
But if you must have details, I'm working on a YA paranormal romance which I hope will be a trilogy, finishing a women's fiction and have a few other things in the pipeline too. Looking forward to having some time to work on them!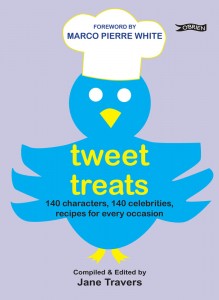 Many thanks for some terrific answers there, Jane, and masses of luck with the book! And now for the important bit: THE GIVEAWAY! All you need to do in order to win a copy of "Tweet Treats" add a comment below, saying in NO MORE THAN 140 CHARACTERS why you think you should have one. The most entertaining and creative answer added in the next week will get a free copy sent to them, wherever they happen to be in the world.
Well, what are you waiting for?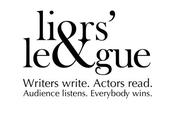 So much going on lately I haven't had time yet to put up a link to the story I had read for the Fear and Loathing event at Liars' League a couple of weeks back. It's been a while since I last had a piece read there (although not for want of trying – the competition is quite fierce), and things had changed somewhat since the last time. The venue is a lot bigger for one thing, and the audience much larger than the old days upstairs at The Wheatsheaf - although that might possibly have been because a new Stephen King story was on the bill…
Amongst the others on the top-notch bill were fellow VWCer Julie Mayhew and Proxima label-mate Niall Boyce (small world, eh?). It was also nice to finally meet Twitter chums Tim Aldrich and Sumit Paul-Choudhury, who were both in the audience.
Anyway, here's my piece, "Rare Meat", expertly read by Greg Page (text here):

The first thing to say is that unless you've been to one of these events, this post won't make a lot of sense without reference to this one. So go and take a look at that and come back when you've finished. There may be a short test…
…although on this occasion I'm going to let you off, because I imagine you're desperate to hear how it went. No?
To be honest, it all went by in a bit of a blur. So rather than a blow-by-blow account of the night, here are a few random impressions:
Remember the sofa from Black Books that ate one of the customers? The one at the Firestation Arts Centre is one of its ancestors.
Those questions from the audience are SERIOUSLY random. My favourite Icelandic cheese? Caravan or curry?
Have to say that whoever thought up the paper dart manufacturing contest between John Harding and myself was a genius. Even if, as Scott said, both our efforts were shit.
I REALLY need to work on filling the silences when I can't think of an answer to a question. And why oh why couldn't I think of a name of a SINGLE horror film that I'd liked apart from Alien, after that one was unreasonably disqualified for being sci-fi horror? (Yes, I was that bloke muttering "Psycho" to himself over and over again walking back from the station at midnight.)
Scott Pack is a top bloke and his family are all lovely. Last night was in fact the first time that both Martha (10) and Ethan (13) had been allowed to come along to a grown-up swap and they behaved impeccably (including – if my assumptions are correct – coming up with a couple of extremely erudite, if slightly weird, audience questions themselves).
Marie Phillips is lovely and complete unaffected by the fact that she has a Hollywood film coming out based on her book and is therefore a TOTAL SUPERSTAR.
John Harding is a lovely bloke and not just because he wrote the awesomely brilliant "Florence and Giles" and also (to my stunned amazement) wrote this about "Mrs Darcy versus the Aliens".
It was a decent-sized audience – 40 to 50 at a rough estimate. I signed several copies of Mrs Darcy, some of which were bought on the night. And I also signed a few more for Waterstone's stock. I met several tweeps for the first time and one or two whom I'm now in twitter contact with.
All in all, a good do.

I'm slowly coming to the conclusion that I'm nothing more than a shallow attention-seeker. On the negative side, this is not necessarily a truth that a bloke of my moderately advanced years likes to come to (I was hoping for a bit more gravitas by now, frankly), but on the plus side, it does at least align itself very well with my nascent writing career. Because every now and then one is called upon to read something one has written in public, and this tends to work better when one is enjoying it.
Which is one of the reasons why I jumped at the opportunity to nip down to Bristol yesterday to attend the launch event for the 2012 short story competition. One of the other reasons was of course that the BSSP is rapidly becoming one of the top short story prizes in the country so I was very honoured indeed to be asked. Also, Joe Melia, who pretty much is the BSSP, is a top bloke and it was great to see him again. Oh, and did I mention that none other than Tania Hershman was also on the bill?
The event seemed to go very well – there was certainly a good-sized audience and some excellent readings. Emily Bullock (nice to see her again too!) started the evening by reading an extract from this year's prizewinning story, "My Girl", a wonderfully visceral piece of writing. She was followed by Alan Toyne, who read an extract from his shortlisted story from the first year of the BSSP, "Tuesday Night", a very wittily-observed description of a male bonding ritual. Then I did my bit – I'd decided to read a couple of whole stories rather than extracts, so I went for "Canine Mathematics" and "Advice re Elephants", which seemed to go down OK. Then Tania wrapped up proceedings with four utterly wonderful flashes – I knew (and loved) a couple of them already and the other two were equally beguiling.
Then we all mingled for a while and drank a glass or two. It was lovely to see Sarah Hilary and Nastasya Parker again, who were both in the audience, and it was also great to meet Twitter chum Chris Wakling, whose latest book "What I Did" I've just ordered. Oh, and Foyles had also ordered in a dozen or so copies of Mrs Darcy, half of which went on the night, which I don't think is too bad considering it wasn't her event at all. I also signed the other half, so if there's anyone in Bristol who's after a copy with the tentacle signature, get down to Cabot Place now.
And the fun continues tomorrow night, where I'm going to be sitting alongside the awesomely-talented John Harding (whose "Florence and Giles" may well be the best book I've read this year) on the Firestation Book Swap sofa. Do come along – it should be a good evening. To whet your appetite, here's my pre-swap interview with the lovely Emma Buckley of Beat Magazine.
Mrs D's official launch took place alongside the rest of the Proxima imprint at the Brighton FantasyCon a couple of weeks ago, but I wanted to have a local one too. So I arranged an unofficial one for last night at Waterstone's in St Albans and what a fun time we all had. Lots of old friends turned up (including one or two unexpected ones) and a lot of wine was consumed, along with some tasty canapés from the wonderful Madeleines and Marmalade (she's taking orders for Christmas, you know).
It's customary to read a bit from the offending book on these occasions, and last night was no exception. I may have had a glass or two by the time I did this:
(Thanks to Ian Cundell for the camerawork, by the way.)
I did have a slightly sore head this morning, so it's more than a little surprising that the phone interview I conducted with a lady from the St Albans Review turned out to be pretty accurate. I think I was a bit more forthcoming with the lady from the Herts Advertiser who called me later on in the day, so that one may turn out to be a little more detailed when it appears.
In other news, Scott Pack has blogged about next week's Firestation Book Swap. You are all coming along, aren't you?
And now I'm preparing for my Skype session tonight with the Chichester Readers. I have absolutely no idea what  this is going to be like.
Well then. I'm inordinately chuffed to be able to announce that I'm going to be judging the short stories this year for The New Writer. The closing date is November 30th, so that gives you plenty of time to write something utterly brilliant for me. Now I guess you may be wondering what kind of thing I'm looking for, but I'm afraid the massively unhelpful answer is that I won't know until I see it.
But… I did once write a post for another occasion when I was looking for submissions and I think it may be time to trot that one out again. So… *drum roll* … here's a repeat appearance for Swiss Toni's Guide to Writing Short Stories. That should give you a bit of a clue as to what I'm looking for.
In other news, I had a fab time at Liars' League last night – fantastic audience (wow, it's grown since the last time I went), some wonderful stories and an absolutely spot on performance of my piece by Greg Page. I'll post the video when it's available.