Whilst I've been doing this tour, I've been constantly amazed by how inventive my hosts have been in the ways they have differentiated themselves from everyone else (yesterday's visit to Lord Likely being a prime example). And today's stop on the tour is no exception, as we visit the none other than Tania Hershman. Tania is one of those people that I was in awe of when I first started trying to make a name for myself in the short story world – and if you haven't read her collection "The White Road", well, just go and buy it now, OK?
Now the thing about Tania is that she comes from a scientific background and so it's no surprise that her approach to "Mrs Darcy versus the Aliens" reflects that. Take a look – it's rather fascinating (and she says some nice things about the book too). Tania and I will actually be sharing a platform together in the not-too-distant future, by the way, at the launch of the 2012 Bristol Short Story Prize - should be a lot of fun.
Meanwhile, following Mrs Darcy's appearance with Lord Likely, some of the Steampunk community have picked up on the book (US and UK) and there have been a number of interested comments on Twitter (my favourite pair being this one, followed immediately by this one). And Jessica Patient has given the book a very nice review, although once again my writing career appears to be shackled to that of Gavin James Bower. Well, he gets his own Wikipedia page, so I can't really complain.

Well, I have a treat for you today and that's no mistake. Mrs Darcy is visiting none other than Lord Likely, the priapic brainchild of the genius known as Andy Fanton. Andy's day job is an artist, creating comic strips for The Dandy amongst other things, which makes him massively cool (and would have seriously impressed my son a few years back when he was a regular reader). He is also an utterly hilarious writer and if you haven't encountered Lord Likely before, I urge you to do so.
Anyway, for today's blog tour stop, he and I concocted a special episode between us entitled – not surprisingly – Mrs Darcy versus the Aliens versus Lord Likely. Actually, Andy did most of the work – I just inserted a few paragraphs in the middle. I think the end result is rather spiffy, don't you? I particularly like this line (one of Andy's):
"First the tentacles," I squeaked, "and now my testicles."
Genius.
In other news, Bec Zugor has issued a rather amusing addendum to her interview with Mrs Darcy the other day. And I forgot to mention a new publication of mine, in issue 7 of The Right-Eyed Deer. This is a short piece entitled "Value for Money". On reading it back, I was slightly worried about my use of the phrase "feral kids", as it's become a bit of an unpleasant Daily Mail cliché lately. Then I remembered it was set in a garden centre, so these are middle-class feral kids. Which makes it all right.
OK, sit down. We've got a lot to get through today. First of all, today's official blog tour stop was courtesy of the multi-talented Gale Martin, who I first encountered as a fellow competitor in the Whittaker Prize at The Write Idea forum. Gale is an accomplished mezzo-soprano and opera fan as well as a writer, and she's about to have her first novel – set in the world of opera – published by Booktrope. Anyway, Gale and I chat about writing serials, getting noticed and … blowholes.
Today we also have a little bonus. Something odd is happening on Amazon in the UK, in that "Mrs Darcy versus the Aliens" is "frequently bought together" with this completely unrelated book. Now I vaguely know the author of the other book, Gavin James Bower, on Twitter and he messaged me to suggest that we ought to make something of it. So we got in touch with Helen J Beal, whose fault it all was (because we're both being featured in her book group in the next couple of months – hence the skewed buying patterns).
Helen then put together a massively complicated three-stage three-way competitive interview, the rules of which we both managed to misinterpret in different ways. I think this actually played to my advantage, but honours in the end were fairly divided between the two of us. This may well be the future of book promotion and if Helen wants to be the referee for my forthcoming duel with P D James then the job is hers. (For the record, Gavin seems to be a top bloke and I might actually buy his book because the word on the street is that it's pretty good.)
Speaking of P D James, I am still awaiting the reply from her corner. I think she may be running scared.
I can, however, announce that I have added two more highly prestigious dates to the Never Ending Blog Tour: Sarah Salway on Saturday 1st October and Scott Pack on Monday 3rd. Scott will also be here on Saturday in the guise of Steve Stack, author of "20th Century Dodos" (just out!), on his blog tour.
Oh, and apparently I'm on the bill for the next Liars' League event, Fear and Loathing, along with VWC chum Julie Mayhew and Proxima label-mate Niall Boyce, amongst others. Apparently, there's also a new piece by some bloke called Stephen King. Anyone know if he's any good?
Today it's Mrs Darcy's turn to be interviewed, by the lovely Bec Zugor, apparently whilst doing Bec's ironing. I think this is something of a first for both Mrs D and myself. Bec is a gifted horror writer who I first bumped into at Café Doom, and we have subsequently appeared in a few anthologies together such as the ever-awesome "M is for Monster".
Today's tour host is the extremely talented Martha Williams, who is currently basking in the glory of being one of the six shortlistees in the prestigious Seán Ó Faoláin short story competition. It's a very comprehensive interview, in the course of which she also says several nice things about the book, which I hadn't really expected. So many thanks indeed to Martha – I'm well chuffed

In other news, no word back yet from PD James, but rest assured that I will let you know just as soon as there are any developments. And it's now looking as if the blog tour is going to stretch into October, as I've had a couple of late offers that I would be a lunatic to refuse. Watch this space…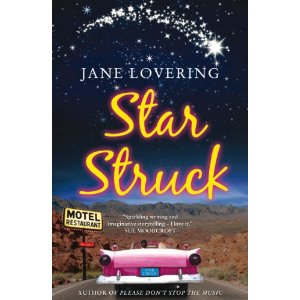 Today's a bit of a first, because on Day 24 of the Never Ending Blog Tour™, I'm visiting Jane Lovering's blog at the VERY SAME TIME as she visits mine. This may well cause some kind of violation of the laws of physics (eat your heart out, CERN) but we're going to try it anyway.
Jane's latest book, which happened to come out on the very same day as "Mrs Darcy", is called "Star Struck" and I must admit I approached it with a certain amount of trepidation, because it is after all a romance. I am a bloke and Blokes Do Not Read Romance (although with the advent of the Kindle, more and more are apparently). However, I needn't have worried, because it's a terrific story, romance or no romance.
"Star Struck" is the story of Skye, one-time actress and sci-fi obsessive, and Jack, show runner for her favourite series, "Fallen Skies". Both are damaged goods, but during the course of what sounds like a pretty dreadful (if all too convincing) convention weekend in Nevada, they meet and – no, we're not doing spoilers here, thank you. You'll have to read it to find out what happens.
It's actually quite a dark story in places, but it's constantly leavened by Ms Lovering's engaging wordplay. I particularly liked the reference to a drugged Skye being dragged along a hotel corridor "like room service for a shy serial killer". And later on there's a beautifully sad couple of lines: "I could just feel the faint valium-induced haze pulling down across my mind. Nothing much, a whisper of net-curtain between me and the prurient world."
To summarise then, if you're looking for a romantic story with emotional depth and engaging characters in a decidedly unconventional setting, I would definitely recommend this one. Although there is one teensy-weensy problem, which happens to be the first thing I asked Jane about when she dropped in…
There's just one thing that bothered me about "Star Struck": the hunky, smouldering sci-fi writer. There are two adjectives there that don't seem to compute. Or am I wrong? Name your top 5 SFWILFs, please.
Hunky sci fi writer is almost the definition of 'oxymoron' isn't it? Therefore, I should like to present for your delectation – Toby Whithouse, Joss Whedon (I know, small and gingerish but I'd do him…) Hal Duncan, Neil Gaiman and Alan Garner (if I'd got to him thirty years ago). Enough? Because I could go on, you know… or maybe it's just that my taste in men is a little questionable.
If you were given an unlimited budget to purchase anything from the Forbidden Planet online catalogue, what would you go for?
Forbidden Planet, with an unlimited budget? Do they sell chocolate? Sigh, no, I already know the answer to that one. I've lived without a FPlan for so long that I forget the sheer joy of walking through the door and being greeted by all those lovely geeky boys inside… at least, I think they were greeting me, their mouths moved and they blinked a lot. What would I buy? Probably the limited edition hardcover version of 'Neverwhere' – the story I'd most like to see buffed up and re-presented to the public. Plus, you know, Neil Gaiman…see above.
Star Trek or Star Wars?
Star Trek. Every time. Preferably DS9 (which is still Star Trek in my opinion), but otherwise TNG. Original series is far too Alpha Male for me. And there's far too much hair in Star Wars.
33 1/3, 45 or 78?
33 1/3. Because it's more numbers. Numbers scare me, but I see their purpose. It's to KILL US ALL.
John, Paul, George or Ringo?
John, Paul, George and Ringo? Those are all Popes, aren't they? Can I vote for Heraclas of Alexandria?
Branston or Marmite?
Marmite. Because Branston looks like sick.
What is your favourite dinosaur and why?
Favourite dinosaur has to be Baryonyx. Mostly because it looks like someone took half a dozen unrelated animals, cut off the useful bits, stitched them together and allowed them to gallivant around the world eating fish. A bit like Rick Stein.
Finally, what question have you never been asked that you wish you had and what would the answer be?
And the question I wish I'd been asked? 'Do you and Johnny Depp really have to make so much noise when you're having sex?" And the answer, I shall leave you to guess…
Brilliant answers there, I think, apart from being hopelessly wrong about Star Wars. She does at least redeem herself by being right on the money about Branston. "Star Struck" is available online at all the usual places and is also on promotion in WHSmith Travel. Go and get yourself a copy now. And many thanks to Jane for dropping in!
Now let's go and see what she's said about me, eh?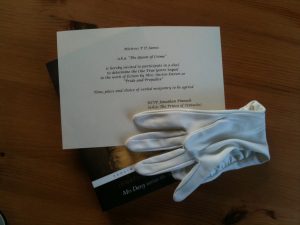 Today started with the alarming news that none other than Baroness PD James has jumped on the Pride and Prejudice sequel bandwagon. Sensing an opportunity for some cheap publicity Outraged at this turn of events, I have duly issued the challenge shown in the picture via her agent. I was initially urged by some of my Twitter chums to propose a cage fight, but I fear that may be are some namby-pamby do-gooders who will baulk at the prospect of a nonagenarian engaging in the noble sport of Mixed Martial Arts. Such is the world we live in. Still, I await her response with interest.
Meanwhile, back in the real world, today's blog tour stop is a cookery blog called Madeleines and Marmalade, the online home of one Rachel Pinnock, who may or may not be related to me. We discuss cake and aliens. Actually, there's not nearly enough about cake to my mind.
Finally, in an exciting day all round, I can also now announce that I will be attending the launch of the 2012 Bristol Short Story Prize and I will be reading something there. As this is a serious literary event, I will not be reading from Mrs Darcy versus the Aliens, although it will be in sale in the Bristol branch of Foyles, which is pretty cool.
Today's host is none other than my very good mate Oscar Windsor-Smith. Oscar is a highly talented short story writer who has had stuff published in all sorts of places and he's also one of the few people on this tour that I actually knew first in real life, being yet another member of the very wonderful Verulam Writers' Circle. I had a feeling that he'd come up with something a bit different for his stop on the tour, and lo and behold he has. Pity about that photo, though. Unless I really do look like that… oh.
Today I find myself amid the pastel hues of the Festival of Romance. I'm not entirely sure what I'm doing there, but they seem friendly enough. The festival itself takes place on the 21st and 22nd of October and if you're interested in that sort of thing (and why shouldn't you be?), the details are all here.
Today I drop in on the lovely Danielle Posner-Sykes' Scrivener's Progress blog. I've only just made Danielle's acquaintance as she's a relatively recent joiner of the Verulam Writers' Circle. (Did I ever tell you it's the best writers' circle in the whole wide world? Well it is.) Anyway, today we talk about the pressures of life at the top and how I cope with my sudden fame and fortune.
For a moment there, at least one of you believed me. Yeah. I'm looking at you.