Jul
29
… and counting. But somehow I'm going to have to get through August first, which is going to be the tricky bit. So I'm going to apologise in advance to anyone who finds me in a more than usually twitchy mood over the next few weeks. Still, it's not as if there isn't plenty to be getting on with, because this is where the guerilla marketing has to kick into gear.
First of all, those of you who follow me on Twitter and/or are friends with me on Facebook will know that I put the call out earlier on this week for volunteers to host me or my alter ego (or indeed both) during Mrs Darcy's World Blog Tour in September. The response was magnificent and the programme is shaping up very nicely indeed. However, there are a few slots left, so if anyone fancies joining in the fun, either leave a comment or drop me a line on the e-mail address to your left. The format is entirely up to you – the more unusual the better, because that way we won't have 30 versions of the same interview, one after the other.
Secondly, I've been adding a few more entries to Wickhampedia lately, including one on Mrs Darcy versus the Aliens itself, a rather unpleasant one on Regency food and one on Jane Austen's favourite cover artist. Just a few more and then I think it will be time to really start spreading the word about it.
Finally, somewhat unexpectedly, Mrs Darcy has been nominated for the Guardian's Not the Booker Prize. Now wouldn't that be a coup, eh?
Jul
19

Aaaaaaaaand the second acceptance of the day comes courtesy of the very wonderful The View from Here, which is another cool place that I haven't been in before. Rather annoyingly, I've got in there just after it ceased as a print publication, but never mind.
The piece in question is called "The Unsleepers" and it's about … actually, I'm not entirely sure. Still, I'll let you know when it appears and you can make up your minds yourselves.
Jul
19

… have just accepted my flash "Special Relativity", an odd little piece about sibling rivalry, Einstein and the lies we tell our kids. It will be published in their next edition, which should be appearing very soon. I'll let you know when it does.
In other news, the outrage about the BBC's decision to cut down on short stories has made The Independent. Terrific work by Susie Maguire and Ian Skillicorn there. It's nice to have been able to play a small part in spreading the word. However, it's not over by any means and we need to keep up the pressure. There's an online petition now and if you haven't signed it already, I really would urge you to do so.
Jul
17
Apologies for the peremptory nature of the post title, but quick action is required here. It emerged today (although the press release announcing it is dated a week and a bit ago) that the BBC (who had the stupendous good taste to broadcast my story "The Amazing Arnolfini and His Wife" last year) are reducing the number of short stories broadcast on Radio 4 from 3 per week down to 1. I cannot begin to fathom why they are doing this, but whatever the reasons, it's not good for short stories.
Did I hear you say "We're not gonna take it"? I thought I did. Good. So here's what we're going to do. This is the text of an e-mail I received this evening from Susie Maguire (aka @wrathofgod on Twitter). Please read it and act on it, as soon as ever possible:
The new Controller of Radio 4, Gwyneth Williams, will be a guest on FEEDBACK on BBC Radio 4 next week. How very timely.

Would you add your name to a letter/question to ask her?

Would you pass on this email to other writers who care about the health of the short story…?

The more of us, & the better known the writers who sign it, the more likely it is to have some effect.

If so, please find below a short, polite question, proposed by Ian of http://www.nationalshortstoryweek.org.uk

Reminder: info on her decision to cut the short story's presence on Radio 4 outlined here  http://www.bbc.co.uk/pressoffice/pressreleases/stories/2011/07_july/10/radio4.shtml

If you'd like to add your signature, please email YES to

ian AT shortstoryweek DOT org DOT uk

& cc to me: info AT susiemaguire DOT co DOT uk

NB – It would be really helpful if you could reply within 24 hours so that the question can be lodged as soon as possible. This is by no means the *only* action interested parties can take, but it's a start, and I hope you might add your weight to it with this (and further suggestions are welcomed)

thanks

Susie

*******************

Proposed question:

We were surprised and disappointed to learn of the decision to reduce the short story output on Radio 4 to once a week from next spring. Radio 4 has been a great champion of the short story for many years. It is one of very few places in the UK where both new and established writers can have their short stories broadcast to a large audience, and where radio listeners can enjoy readings of the short story form. This move comes at a time when interest in the short story is growing, but paid opportunities for short story writers are still scarce. Could Gwyneth Williams please explain:

1) what has led her to make this decision?

2) whether the short stories on Radio 4 extra will be new commissions or repeats of existing recordings?

3) how this decision fits with the BBC's sponsorship of the National Short Story Award (and indeed if this will continue?)
I know I can rely on you. Thank you. You're all wonderful. Except possibly you. But I'll even like you if you act on this one.
Jul
14
In the immortal words of Jimmy Jones, you need good timin'.
When I sent my entry in for the Scott Prize to Salt Publishing at the beginning of last October, I had no idea whatsoever that Salt were about to launch Proxima Books and even less idea that barely a month later I would be signing a contract for Proxima to publish Mrs Darcy versus the Aliens. By the time the Scott Prize announcement came around, the release date for Mrs Darcy was already set for September 1st which made things look a bit complicated, given that all three Scott Prize winners were due to be launched during National Short Story Week – November 7th to 13th.
Something had to give. So yesterday the decision was taken for publication of Dot Dash (my short story collection) to be put back to 2012. I'm obviously slightly disappointed about this, because my first love is short stories and I'm desperate to find out what the world thinks about this collection. But I can also see that from a marketing point of view, bringing two very different books from the same author out at almost the same time would be insane.
So 2011 is now going to be solely the year of Mrs Darcy, whilst 2012 is going to be the year of Dot Dash. Unless of course everyone suddenly starts clamouring for that sequel to Mrs Darcy, in which case life gets very complicated indeed. But in a good way.
Meanwhile, Scott Pack is reviewing stories from the 2010 Bristol Short Story Prize anthology, and today he's given a four-star review to one of mine, "rZr and Napoleon". Like the other story of mine that bagged a four-star review from him (he has such good taste), it will of course appear in Dot Dash in 2012. But if you want to read it in the meantime, I strongly recommend getting hold of a copy of that anthology – it really is very good indeed.
Jul
13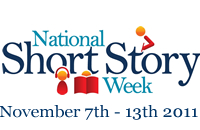 Last week I was asked if I fancied being this month's guest editor for the National Short Story Week web site and I must have hesitated for – ooh – at least a couple of seconds before saying yes. Anyway, the resulting piece is now up on the site – do go and have a look. It turns into a bit of a rant in the end, albeit a very polite one.
In other news, I'm on Google+ if you're into that kind of thing. To be honest, I'm not madly excited about it at the moment. The "circles" concept strikes me as exactly the thing that a geek would come up with as being really cool, but I'm not sure I really see people making great use of it. Sure, in theory it enables you to post different stuff for different groups of people to see, but I have two problems with this.
Firstly, if a tech-savvy US senator can accidentally post a picture of his todger to his Twitter stream instead of a DM, then sure as hell other people are going to screw up which Google+ circle they're posting their "look at me I'm so wasted LOL" pictures to. At least on FB and Twitter you know that everyone's watching.
Secondly, I actually quite like the blurring that occurs in these places. You find out that people you've had one kind of interaction with have a whole other side to them and sometimes that's very interesting. Sometimes it's weird, too, but there you go. Ho hum. I'm probably just resisting change as usual. We'll see.
Jul
4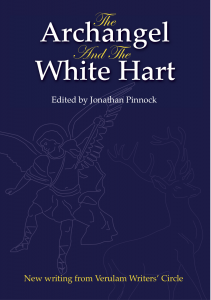 We  thought it was about time we officially launched our very wonderful VWC anthology, The Archangel and the White Hart (remember, that's the one that I edited and has been featured twice on Scott Pack's spiffy Me and My Short Stories blog).
So this Thursday, July 7th, at 7PM, if you're in the vicinity of Waterstone's in St Albans, drop in and say hello. If you speak nicely, you may even get a glass of wine thrust into your hand. You may be asked to buy a copy of the book in return of course, but it is very good, so it's a pretty good deal if you ask me. There may also be readings and stuff.
Not only that, but I have a feeling that I haven't actually mentioned anything here about the forthcoming launch of Mrs Darcy versus the Aliens yet, so I'd better rectify that. The book itself comes out at the beginning of September, but the launch takes place at this year's FantasyCon in Brighton. In fact, it's not just Mrs Darcy that's being launched, but Proxima itself, so it should be quite a party.
Speaking of which, have you been following the development of the Proxima covers? Every single one of them is absolutely stunning. And SF covers have been known to be a bit naff, haven't they?
In other news, I've reactivated the blog over at Mrs Darcy's dedicated site (although I've moved it so you'll need to change your RSS feed) to make it easier to keep people informed about what's going on there. Wickhampedia continues along its merry way. I really have no idea where it's going, to be honest, but I'm sure it knows what to do.