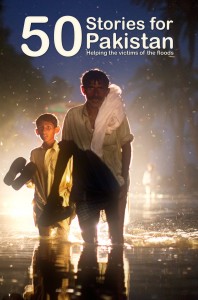 … is now ON SALE! Do you need me to say anything more about it? Go and buy a copy now. Buy 10. Buy 20. Buy 50.
And if anyone fancies hearing me read my contribution, "Desert Culture", come on down to Sparks 11, Upstairs at Three and Ten, Steine Street, Brighton next Tuesday, November 2nd at 8PM.
In this episode, we find out what the light in the sky above Glastonbury is and what connection it has to Sir Humphry Davy. From this point on in the story, we are hurtling inexorably towards a terrifying and dramatic climax wherein everything is revealed and all the loose ends are tied up – apart from the ones that are left hanging there for the sequel. I know this, because I have just finished writing it. Yes, you read that correctly. This afternoon, I actually wrote the words "The End".
Feeling really quite emotional.
Bit of serendipity today. As a result of following some new people on Twitter (I think mainly because they're also in the "50 Stories for Pakistan" anthology, although I could be wrong), I picked up on another charity anthology, this time being produced by the people behind The Pages Magazine. All royalties for this one are going to the National Autistic Society Early Bird Plus Programme, which seems like an excellent cause.
The tricky bit about this particular anthology is that it's aimed at kids – specifically 8- to 12-year-old kids – and I don't write stories for kids any more (I did once, but that was a long time ago). However, I did happen to have a dozen very silly poems for kids that were lying around not doing much, so I sent them in this afternoon. A couple of hours or so later, I received my acceptance for all twelve. Woo hoo!
It's always nice finally to find a home for something (especially stuff that was written getting on for 20 years ago), but to find a nice home for it is even better. The anthology is coming out in time for Christmas, and I'll let you know when it becomes available.
Great excitement in the Mrs Darcy camp! Not only is the story hurtling towards its dramatic conclusion (although things are looking bad for the female prisoner of Rosings, and not just through lack of cake), but Mrs D has had her first in-depth review, courtesy of the lovely Kelly Yanke Deltener, who reviews Jane Austen sequels for Examiner.com. Not only that, but to my eyes at least, it's not a bad review either. There's also a rather bizarre interview with me, conducted by Mrs Bennet on Ms Deltener's behalf.
Believe me, my year of Mrs Darcy has been a strange journey indeed, and it isn't over by any means.

The third instalment of my PicFic love story went live on Friday, and here it is. A certain amount of neediness creeping in, I fear.
Wha' happened? OK, so we missed an episode this Wednesday, and I also forgot to say anything about last Saturday's episode. Any particular reason? Not really. Life got in the way, that's all. However, seeing as we are getting close to the end of the first book in the series (see what I did there?), I'm now going to knuckle down and finish it all off over the next few days. So no more breaks in service, right up until we finish with the Epilogue that follows Episode 100 some time in December. Excited? Well, I certainly am.
In the meantime, here's Episode 86 in case anyone out there hasn't read it yet. Lots of weather, basically.

The second part of my PicFic love story went live yesterday. It's called "Week 1″ and we have moved on from flirting over the meat counter to being, quite frankly, a bit soppy.
… in which Elizabeth and Wickham discuss post-modernism, Lord Byron talks about his stupendous balls and Colin the Carrier Pigeon makes a welcome reappearance. It's all go, you know.

This is rather exciting. Some time ago I heard about Ether Books Ltd., a new venture being set up to deliver short stories to mobile devices via a custom app. I was more than a little impressed by the list of authors that they had signed up, including the likes of Alexander McCall-Smith, Hilary Mantel and Sara Maitland, but I also noticed that they also seemed to be reaching out to up and coming types as well. So I approached them with my CV and after a short while they came back and gave me a contract for three stories: "Convalescence", "The Birdman of Farringdon Road" and "The Amazing Arnolfini and His Wife".
So I am more than a little chuffed to be able to tell you that "Convalescence" went live today and can be yours on your iPhone or other mobile device for the princely sum of 59p. If you have an iPhone, here's a link to the app on the iTunes store. If you have something else, throw it away and get an iPhone I assume you can find the app on your manufacturer's equivalent. For the moment, you can find "Convalescence" in the "What's Hot?" section of the app. Hope you like it.
And if you feel inspired to submit to Ether yourself, they are now soliciting submissions. I know at least one author, Trevor Belshaw, who has very quickly got a contract via this route. I have no idea if this is the future of publishing or not, but it's surely worth dipping a toe into, don't you think?
[UPDATE: Having checked their site, it looks like that the Ether app is currently only available on the iPhone. But my contract does mention other platforms

]
We interrupt proceedings chez Lord Byron – just as the coq is about to be served – to take you right back to Bath for some slightly important developments …