I found out yesterday that I'd been shortlisted in the poetry section of the the inaugural Slingink Prize for "Imitation of a Suicide".
I have to admit that I was in two minds whether or not to stay in this contest after it was announced that there weren't enough entrants to fund the prize money – and in fact my initial reaction was to withdraw. But then I felt bad because both judges agreed to stay on anyway and I was also impressed by the way that the entry fees were refunded immediately so I decided to stay in. And I'm now glad that I did.
In the interests of full disclosure, I should also say that I failed to make the shortlist in the fiction section altogether. But that's the way it goes with competitions; to paraphrase the excellent words of the judge, Sally Quilford: you win some, you lose some. Huge congrats to everyone who made it, though.
For reasons which are way too boring to go into, there wasn't an episode this Wednesday. However, this doesn't matter too much as we have a small amount of slack in the schedule, given that the total projected length is 100 episodes, plus prologue and epilogue – which means that we can afford to skip a couple of appointments and still stay within a year.
Anyway, in today's episode, Elizabeth and Wickham make their past hordes of drunken zombies to Darcy's hotel and we learn a little of his progress towards a cure. There is an enema hose involved.
By the way, plans are afoot to produce a third and probably final YouTuberance. The broad outlines of a script are being prepared even as I write. So to speak.

So that's that, then. "The Amazing Arnolfini" duly disappeared from the iPlayer on Wednesday and is now history. And what a peculiar experience the whole thing was, too, first of all hearing the announcer reading my name and then listening to my own words coming out of a radio. I found it was completely impossible to sit down and I ended up pacing up and down the office like a caged lion.
As I hinted in my last post on the subject, I had a serious feeling of hubris about the whole venture, too. Who was I to be thinking I deserved to have my work broadcast to the nation? Whilst it was on, this manifested itself in me continually wanting to change the piece, wishing I'd done one last edit. Here are a few things that occurred to me:
Why Arnolfini, for God's sake? The story was originally called "The Great Gandolfini and His Wife" and the reason I changed it was because someone pointed out to me that it made them think of overweight American actors rather than tightrope walkers. Fair enough, but Arnolfini was a bit of a lazy choice with too many irrelevant overtones. Or maybe I was being over-sensitive because it wasn't long since I'd been at the Arnolfini Centre in Bristol?
I let an "Eventually" through. Everyone writer has their word-that-always-creeps-in, and mine is "Eventually". I completely missed it. I was so annoyed about that.
There seemed to be far too many words. "The Amazing Arnolfini" is actually quite an early story of mine, dating back to November 2007, and I think I've tightened up my style a bit since then. I kept thinking "Oh, stop showing off your bloody research and get on with it!"
Maybe it's just another demonstration of the fact that a story's never truly finished. And maybe it doesn't matter quite so much if a story takes its time to get going when it's on the radio – it'll still keep moving forward as long as the actor keeps reading it.
But setting all that aside, it was an extraordinary experience and I felt amazingly privileged to have an actor of Laurel Lefkow's calibre reading the story – and it was wonderful to see the wave of comments from my friends on Facebook and Twitter when it finished. The only sad thing is that neither of my parents were alive to hear it. My mother died a long time ago, but my father died earlier on this year. He would have been 94 this week in fact and I wish he could have heard the broadcast, if only because it might just have convinced him that I wasn't completely wasting my time on this writing lark.
For some unaccountable reason, the splendid Charles Christian of the equally splendid Ink, Sweat and Tears chose last week to interview me for IS&T's series asking "What Makes Writers Tick?" Here's the result, which may or may not be illuminating.
So ends a rather momentous week. I suspect that life will be a little anti-climactic for a while, although I did hear something rather interesting on Friday; however, I don't want to say anything about it yet until the final details have been sorted out. One thing that I can tell you about is that I'm going to be a guest on the lovely Alison Bacon's blog early in September. I'll give you a prod about that nearer the time.
In the meantime, if you haven't heard "The Amazing Arnolfini and His Wife" yet, you've got until next Wednesday to hear it via Listen Again. Here's the link. I was extremely chuffed that Tania Hershman (whose brilliant book "The White Road" recently went into its 15th impression – you have got it already haven't you?) chose it as one of her stories of the week on Twitter today.
In this episode we (thankfully) take our leave of Miss Austen, but not before we experience a curious little Hitchcockian cameo. Back to the main story next time, folks.

I made my first appearance in Nanoism today with this little offering. I think I'm right in saying that this was my seventh attempt to break into this particular market, which just goes to show that the small ones are not always the easy ones. This was another one that arose out of the NYC Midnight "Tweet Me a Story" competition – the final in fact, where the keyword was "below".
And in other news, the sage staggers on. In today's episode, we find out the awful truth about Miss Austen's writing career, and Wickham makes a helpful suggestion. I'm quite proud of one of the gags in it.

So here's the big question: at a quarter of an hour after 15:30 tomorrow, when "The Amazing Arnolfini and His Wife" finishes, will there be a collective "meh" from several hundred thousand listeners? More importantly, what will everyone I've been bleating on about it to think? I've tweeted about it, I've Facebook'd about it, I've Linked In about it and I've Friends Reunited about it. I've banged on about it on every writers' forum that I'm on.
I've managed to get myself on the front page of my old school website, and I've even got myself on the front page of my old college alumni site – to put this into perspective, the last writer alumnus they had on there was one China Miéville, and the last person from my year on there was Martin Weale, CBE (hi, Martin!). I'm also on the Bristol Short Story Prize site. Closer to home, our lovely ex-neighbour who used to babysit for our kids has apparently got half her church congregation primed and ready to listen in. What are they going to think?
And what do several hundred thousand people saying "meh" together sound like?
So if you want to watch someone slowly being reduced to a gibbering wreck as the hour approaches tomorrow, follow me on Twitter. It could be quite entertaining. But not necessarily in a good way.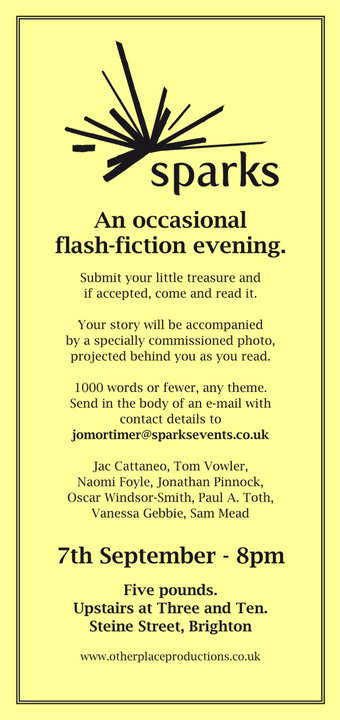 Gosh, that looks fun – think I might get on Thameslink, zip down to Brighton and go.
Had a certain amount of fun trying to post this on Twitter on Friday night. I noticed a tweet from Jo Mortimer who runs Sparks asking for help in posting it, so I suggested TwitPic.
Then I thought I might as well do it myself and took the image from Facebook. Unfortunately, I took the thumbnail, rather than the full image, with the result that what I posted looked like this.
I think that's what's usually referred to as a Spinal Tap moment.
It struck me that we hadn't had any aliens for a few episodes, so here's a quick interlude featuring Lady Catherine and her opposite number on Mars. Probably the last time I can get away with this particular gag, so enjoy it while you can.
Incidentally, it struck me whilst I was writing this episode that there's probably an opening for an automatic alien anatomy generator. All you need is something that will come up with one of each of the following:
location | function | structure
Which is basically how I came up with "perianal thrust bladder". Another writing tip there from JP. I should be charging for this stuff, you know.