"Misunderstandings" appears today in Tuesday Shorts. This is a classic case of re-formatting and recycling an idea that I was pretty certain was good until I finally found a place where it would fit. The rest of this post is a bit spoiler-ish, so I'll make a break here in case you want to read the piece first (it's very short).
Ah, this is more like it. From the website of the New End Theatre, Hampstead, London: 
Obstacle Productions presents
A WINTER'S CHILL
Including work written and inspired by Edgar Allan Poe, M. R. James, Janet Baldey and Jonathan Pinnock

Performed by Miles Barden and Josh Dickenson

The spine-tingling horror of M. R. James combined with the mysterious monstrosity of Edgar Allan Poe to quicken your blood and addle your mind. In the depth of winter and the full dark of night these legends of terror alongside two entirely new, contemporary tales will be narrated in classic style by two connoisseurs of the art of storytelling. Experience the delight of true, full-blooded, psychological terror. Allow yourself to feel the shock of the supernatural and the unknown, and the fear of things that only lurk in the dark.

Suitable for ages 12 and above

 

Sunday 28 to Monday 29 December 2008

Sunday and Monday at 7:30pm

Tickets £10
 So click away people!
I really should be working on my entry for Eurofiction Task 4 right now, but for some reason although I reckon I've got the germ of a decent idea, I can't get down to actually writing the thing. I think it may be the shock of getting a fairly good score for my Task 3 entry, which was scribbled down in less than an hour in our hotel room in HK. What is really weird is that the piece I came up with wouldn't look out of place in Take A Break. And just when I thought I was getting the hang of dark and literary. I'm also getting this curious feeling that somewhere, just out of reach, is the novel that I really want to be writing right now. So I'm wondering if I should perhaps take a break (as it were) from all this prompted stuff to find out what it might be.
Apart from that, there ain't much going on apart from a few rejections, none of which came as a big surprise, so I'll leave you with some links to some other stuff:
Enjoy.
Finally, a thought after watching "Einstein and Eddington" last night. Phrases that are unlikely to enter the critical lexicon (#1 in a series): "Another typically understated performance by Andy Serkis."
Ooh, take a look at this. Well, I'm excited – aren't you?
… from a week and a bit in Hong Kong. Whilst I was away I managed to get to the shortlist for the Café Doom competition, with a final placing of seventh. I'm quite pleased about this, because the story I submitted, "The Future of Photography", was a rather unpleasant sweary and violent first-person, present-tense piece, thus committing several sins in one go. I'm not entirely sure what to do with it now, but I think it probably deserves another outing somewhere. The winning story, "The Rules" by Jaelithe Ingold, managed to be extremely elegant as well as taking a big gamble with the form – watch out for that one when it appears in Necrotic Tissue.
Might post a few pics of HK when I'm marginally less jet-lagged. Fab place.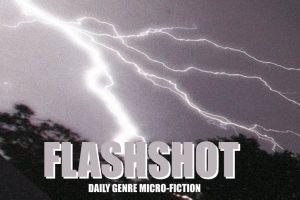 Just heard that "Internal Affairs" has just been accepted by Flashshot. All 87 words of it. I think the author bio accompanying it is slightly longer than the actual piece.
Sometimes when you look across the pond, you despair. And then sometimes when you look, you are filled with awe. This is one of those times.
Twenty-five years ago, I went on a trip around the States using Greyhound buses (Paul Simon, you have a lot to answer for). I ended up in Washington just at the time when a big march was being organised to commemorate the 20th anniversary of Martin Luther King's march on Washington, when he made his "I have a dream" speech. It was an inspiring occasion, and I wonder how many of those present dared to dream that one day a black man would make it into the White House.
Here are some pictures: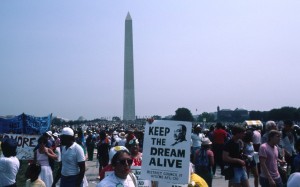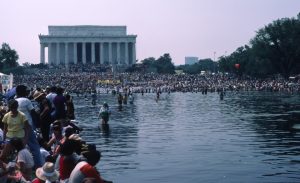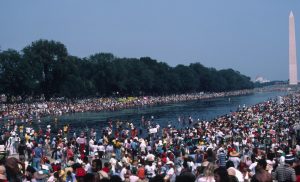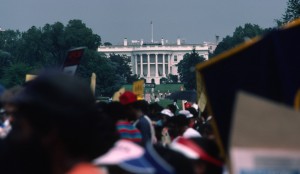 People sometimes ask me where I find out about all these weird and wonderful markets. Obviously, Duotrope is an excellent resource for this, but in the short time that I've been submitting stuff, I've found that the most useful technique is reading other writers' blogs, or to put it another way, stalking. And it was by stalking Catherine J. Gardner (sorry, Cate!) that I found out that Fifty-Two Stitches was opening for business on November 1st. So on Saturday I duly sent them a couple of my favourite flashes, one of which, "Anniversary Feast", they accepted today. Fifty-Two Stitches is an interesting concept: a new horror flash will be posted there every week for the whole of 2009, at the end of which an anthology is published. (Oh, do I need to add that "Anniversary Feast" is another graduate of the Café Doom weekly flash challenge? But you've probably guessed that.)
Just heard that Donna'n'Doug, the lovely people who run The Write Idea, have decided to expand the Whittaker Prize anthology to include all the pieces that came second in each round. Which means that my story "Dislocation" (which came second in the first round) has found a publisher. This is probably the nearest I've got to writing a conventional love story, and I'm rather proud of it. It'll be nice to see it in something with an ISBN on the cover.

The first couple of poems posted on Every Day Poets have been rather sublime. Of course, we all know where it goes after that. Enjoy.