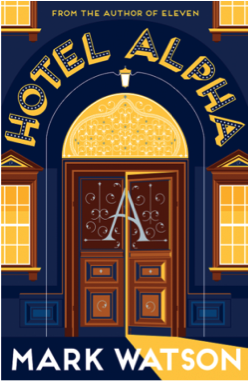 Those of you who have dipped into either Wickhampedia or – more recently – Dashipedia will realise that I'm a big fan of the idea that the content of a book can – and indeed should – spread a long way beyond the borders of the original physical source. And that's why I was especially intrigued to hear of Mark Watson's new novel which just happens to be published today.
Here's what Mark has to say about this, in the afterword to his new novel HOTEL ALPHA:
Hotel Alpha is designed to be read in two stages. There is the novel which you have just finished and, I hope, enjoyed – unless you're one of those people who always flick to the back first. Then there are one hundred extra stories, which appear on a website: www.hotelalphastories.com. […] The extra stories span the same time period as the novel. They shine an alternative light on the plot, show the hidden links between some of its main events, solve mysteries, and give voice to some of the thousands of minor characters and dramas which make up the life of the Hotel Alpha while the main story is playing out. They can be read in any order and in any quantity. Or, of course, you can ignore them altogether – it's entirely up to you.

Everyone knows that human stories are always bigger and more complex than they appear – the relationships and connections between us all are infinite, and a book can only do so much. The Internet, though, removes the physical limitations of the novel, opening up possibilities that have never before existed for readers and writers. We can now choose how much of a story we want to tell, and how much of it we want to know: in theory we can keep going forever. The one hundred extra stories of Hotel Alpha don't quite go that far, and you as a reader probably have other plans for the rest of your life. But it's a start . . .
Sounds cool, right? And just for you lucky people, here is one of those stories, right here on my blog. Read on…
Story 82: All Over the Hotel

Top ten reasons for sleeplessness in the Hotel Alpha, occurring in guests between 1965 and 2005:

1. General, unfocused sense of unease.

2. Noise from another room, or from the atrium.

3. Worries connected to work, finances, etc.

4. Worries related to romantic relationships, including marriage.

5. Woken up by strange dream or by unknown circumstances and unable to relax back into sleep.

6. Thinking too hard about need to sleep, paradoxically making goal unattainable.

7. Misjudgement of food or alcohol consumption leading to disturbed physical equilibrium.

8. Miscalculation of fatigue levels leading to too-early bedtime.

9. Body's instinctive dread of relinquishing consciousness, as sleep too close a sensation to ultimate negation of death, against which human instinct automatically rebels.

10. Dripping tap.

Ten reasons for sleeplessness that have occurred just once in the Hotel Alpha between 1965 and 2005:

1. Allergy to detergent used to wash sheets, causing succession of 46 sneezes in two minutes, causing state of wakefulness impossible to shake off.

2. Fear of dark which cannot be admitted to new girlfriend.

3. Visitation of ghost, presumably in a dream.

4. Gout.

5. Hypochondria leading to conviction about imminent illness.

6. Partner's wetting of bed.

7. Obsessive desire to solve riddle about getting a goat and some other items from one side of a river to the other.

8. Nostalgia for homeland, Transnistria, a part of Moldova which asserts its independence.

9. Person next door laughing indecently loud, and all through night, at rerun of 1970s sitcom On The Buses.

10. Once killed a man.
I really like that.
For more information, here's a press release that tells you all about HOTEL ALPHA and here's where you can find the other 99 stories. And here's the obligatory link to the book on Amazon. I'm rather looking forward to reading it.