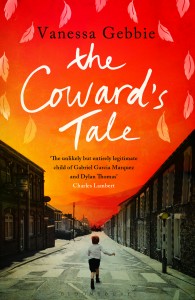 OK, I have another treat for you today, so settle down and make yourselves comfortable. This week saw the paperback launch of the debut novel by the stonkingly talented Vanessa Gebbie. I read this book when it first came out in hardback and I absolutely loved it. I think I described it a the time as a gorgeous, warm, patchwork quilt of a book – or something like that. It's full of wonderful characters, humour and pathos, and the most wonderful ending you could wish for. It's very strongly recommended, and deserves to win loads of prizes. (And isn't that the most fantastic cover?)
Anyway, Vanessa's here to answer a few questions about it, so I'll let her do the talking. Also, if you leave a comment below, I'll put you in the draw for a copy of it that I just happen to have lying around here. Can't say fairer than that.
What was the most difficult challenge you had to face when moving from writing short stories to writing a novel?
I didn't and don't see any difference at all. I just wrote. That is not meant to be a trite answer – but what 'is' the difference, apart from wordcount,  time, more grey hairs? I didnt think too much about  what I was doing, to be honest. I didn't stop writing everything else, and think, right, now I am writing a novel and life must stop until it is done. I carried on writing whatever came – and that ended up as the Tales of all the men in the town, plus whatever else went into the novel, plus a mass of other work all begun, processed and completed over the same timescale.
I didn't even have the novel all in one folder, one file, whatever. It was scattered in fragments, as it was written, all over the computer, the laptop, various memory-sticks. It wasn't until I went to Ireland in January 2010 to get the first complete draft done, that I brought it all together. I remember being astounded at the wordcount – expected it to be about 70k – great if it was pushing 75 – and it was just shy of 100.
The biggest challenge was the revision stage, really.  That was the hardest bit! To have the breadth of vision to see the entire manscript as one – to consolidate everything, especially voice. To make sure all those details married properly – it is quite a thing, creating a whole town, over two timescales. The generation tables, (Maggie Gee's idea) were a great help – not just for the reader, as it runs out, but for me, too!
I noticed an old friend make an appearance in The Coward's Tale – Tommo Price from your Bridport Prize-winning story "I Can Squash the King, Tommo". Also, Baker Bowen seems to be closely related to Edwin Tregear from your Fish Short Story Competition prize-winner "The Return of the Baker, Edwin Tregear". When you were writing the original stories, did you have any inclination that they might one day become part of a bigger narrative?
And you can go even further back, to Spring 2005 at JBWB, where this won.
Looking back, that story wouldn't leave me. It is based on a very real incident – the death of a 7 year old boy called Robert Diplock, on a railway line near Lewes in Sussex, in the 1960s. I didn't know him then – but later, I got to know his mother Rita very well – she was one of the best women who ever lived and I loved her dearly.  She was a staunch Catholic, and believed firmly that it was all for the best, even though she was an older mother, and had no more children. We used to have fascinating debates about the afterlife – and that is what the tale of Tommo is about really, isnt it?  [The book is in fact dedicated to Robert Diplock – JP]
When she was dying, she wasn't concerned in the slightest. "I'm really happy, I'm seeing Robert tomorrow," she said, the last time I saw her, that last evening a couple of years back, in hospital, me trying to brush her words aside … "Don't be silly, Rita. I'll bring you some fresh pyjams in the morning. Anything else you want?"
"No, dear," she said. I don't need anything at all."
She died that night.
They started the whole novel, really, blessem. In my study I have Robert's last painting done at school – a castle with a vast flag flying. And a few of his toy cars, and his chair.
Recycling is good. Sometimes, a piece of work or an idea, a character, a motif, belongs somewhere other than, or in addition to, the original home it had.
The motif of a baker being unable to make bread (such a fundamental thing) was something that fascinated me enough to want to work on it twice.  A few pieces in 'The Coward' were written way before the novel was even thought of, but were fragments I'd never completed but kept. I'd get to the edge of a creative cliff and think, ah! I know what's down there –
It's a bit of a writers' morality tale really. Don't throw those snippets out! [I agree! – JP]
It seems a bit perverse to focus on this but I have to say that "The Coward's Tale" has the most satisfying ending of any book I've read for a long time. Still makes me well up a bit thinking of it, actually. Without giving anything away, was that final image always there or did it emerge during the writing process?
Let's just say the final image was always there – but not at the end. And maybe with different characters in the tableau, too. And perhaps it jumped about a bit and said, 'Ahoy, I am an ending.  You cannot follow me with anything, except 'The End'.'  And perhaps, after a lot of jumping up and down, I listened and rearranged things a bit. Or a lot.
Continuing on from the previous question, I've read an awful lot of novels by well-known writers that promise so much and then fail to deliver at the end. Would it be fair to suggest that as a prolific short story writer, even though this is your debut novel, you've had a bit more experience than the average novelist in crafting endings?
Possibly. I've certainly written a lot of stories, and they all have endings (ahem). Some are obviously better than others, craftwise. The ending of a short story has to be and do so many things, doesnt it? One thing it absolutely must do is lift the story slightly – no matter how sad – you have to make the reader take a deep breath, then let it out slowly – with a sense of satisfaction, closure, the memory buttons buzzing away because if it 'is' a good ending, they won't forget it.
I know what you mean about novels – so often a really fabulous read is let down because the writer has just tied all the threads up and forgotten to do anything else.
'What do you mean, 'anything else?' I can hear people yelling.
I don't think an ending is only (if at all) about gathering up the threads. It is about making sure that the music of the merry-go-round keeps echoing even after the machine has stopped. There has to be life, somewhere, that carries on after that ending.
See? [Yes, most definitely – JP]
I've noticed elsewhere that you're already working on the next novel. 
Yes – a whole lot of words in storage! It's called 'Kit'. For the moment.
Do I take it that that's where you see your career going, or will you still be writing the short stuff? 
Oh lord yes. I'm just finishing two short stories for a BBC radio commission [Hurrah – JP] – well, they asked for one, but I did two – they can choose, then I've got a spare. Then there's Ed's Wife and Other Creatures, a themed flash collection I'm hoping to publish that this year, helped by a great illustrator.
And what about other forms? I know you've had some success as a poet – will we see a slim volume one of these days?
Had a few publications, and I love this journey of discovery. Just finished a poetry course with Pascale Petit at Tate Modern, and she is so great as a tutor – I'm really responding well to her style of encouragement. Am off to Ty Newydd with her as tutor in the summer – and Daljit Nagra as well – lucky me! I'm just fascinated… Id love to have a collection some day.
Do you have any other writing ambitions?
Yes. To keep going, doing new things!
What's your favourite brand of toffee?
Callard and Bowser! They've gorn, sadly. Gorn to the great sweet shop in the sky. [And a damn shame too – JP]
Many thanks to Vanessa for some fascinating answers. Now, over to you. Leave a comment below, and I'll put you in the draw for that free copy. Unless you've already read it, you'd be mad not to. It is an utterly wonderful book. Alternatively, if you'd rather just go ahead and buy it, here's the Amazon link. You can find Vanessa's blog here.