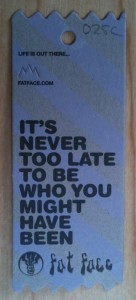 Apologies for clothes shop homespun philosophy, but it did seem appropriate – because this has been rather a long time in coming. I did come within striking distance of getting published back in the early 90s, when I was writing books for my kids, but other stuff got in the way and I didn't have anything like the same support network – online and offline – as I have today. And I did get a book published in 1998 (yes, that really is me on the cover), but despite some valiant attempts to shoehorn a few jokes into it, in the end it was a book on software development and to the best of my knowledge there's only ever been one funny book on software and that wasn't written by me (it's very good, though).
So this is a rather special day for me. The only sad thing is that neither of my parents are around to see it. My mum died a long, long time ago, but I'm sure she would have been proud (if a little disapproving of some of the gags). My dad died only last year, just before the two things – having a story broadcast on the BBC and having a book in the shops – that might just have convinced him that I wasn't wasting my time. Ah well. So it goes.
Anyway, enough mawkishness. Here's a special episode I've written to mark publication day, in which Mrs Darcy finds herself inside one of my favourite cult films. Spot the Hitchcockian cameo.
And go out and buy the bloody book, will you?
Please?