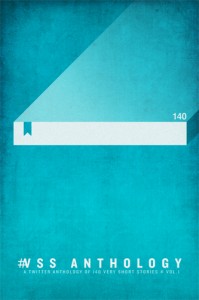 Just remembered I haven't blogged about this yet. Not long after I went on Twitter, I came across a call for submissions to an anthology of very short stories, where "very short" meant short enough to fit in a tweet – in other words less than 140 characters. Such stories tend to be published on Twitter with a hashtag of #vss – hence the name of the anthology. Don't know what a hashtag is? Ah … some other time maybe.
The anthology was initiated by Brent Millis, who tweets as @idiotandroid, and it was duly published earlier on this month as a free download (in a bewildering variety of formats) from Smashwords, here. The cover was designed by Piotr Kowalczyk, otherwise known as @namenick, and there's a full list of authors on his blog, here.
It's an entertaining read. It's inevitably hit and miss, but the hits more than outweigh the misses and some of the hits are absolute bullseyes. Oh, and I almost forgot to mention that I've got four stories in there myself.