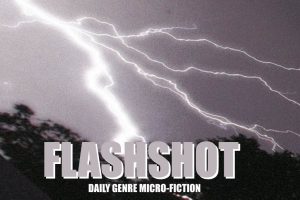 My 87-worder "Internal Affairs" is today's story at Flashshot, so for the next 24 hours or less it can be viewed here, and then for another nine days here. Believe it or not, this piece, short as it is, was actually changed as a result of critiquing by my fellow members of the VWC. The original punchline was:
My doctor withdrew his fingers, took off the latex gloves and looked at me.

"Have you been hanging out with those magicians again?" he said.
which isn't anywhere near as good. So many thanks to the very talented Dave Weaver for the new, improved version. Dave is another of those members of the VWC who insists on keeping his light under a bushell, and should be submitting a lot more stuff. However, you can find one of his stories, "Finding Uncle", here. It's rather good.