Aug
31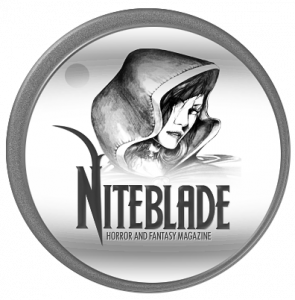 Writers are – let's make no bones about this – an odd bunch. No surprises there – we all know that. Moreover, what is particularly fascinating about writers as a group is the sheer diversity of their oddness.
However, there is one particular subgroup that I can't get my head around, and it's the writers who read out their work to a group and then put it away in a drawer for ever. The ones who, when you say to them "Hey, that was really good – why don't you try to get it published somewhere?" say, "Oh, I've no idea where I could send it to" or "There's nowhere to get anything published these days, is there?"
I have met a surprising number of these people.
The fact is that – thanks to places like Niteblade – there has never been a better time to get your work out there. Yes, I know you can self-publish, either for free on your own blog or on Kindle if you're feeling more ambitious, but unless your amazingly talented AND amazingly lucky, you're not going to build up much of a reputation that way.
Small magazines like Niteblade play an absolutely crucial role in bridging the gap between complete anonymity and getting your work in front of the general public. First of all, if you manage to get something published by them, you are getting anonymous validation by a complete stranger – someone who has absolutely no interest in you as a person and is prepared to assess your writing on its merits, and – crucially – someone who has seen an AWFUL lot of writing (and that last adjective is moveable, incidentally). Secondly, if you don't happen to make it through to being published, you'll get your first experience of dealing with rejection, and in some ways that's the most important lesson to learn if you're ever going to get anywhere.
Almost a year ago I wrote a guest post on the blog of Niteblade's editor, the lovely Rhonda Parrish, as part of my tour to launch my first book "Mrs Darcy versus the Aliens", and it amplifies a lot of what I've said above. One of the things I said then was that a lot of these small magazines fold after a short time (I was particularly sad to see the end of Dog vs Sandwich, if only because it had to be the daftest name ever for a publication), but some of them keep on going. And some of them, like Niteblade, even get to see their fifth anniversary. So go and take a look. Buy a copy. Submit to them. Keep those small presses turning over.
Happy Fifth Anniversary, Niteblade!
(You can find the previous link on this blog train at Amber Stults' blog, and the next one will be back at Niteblade's site itself.)
Aug
28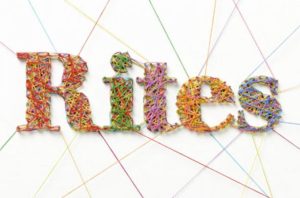 Back in June I was asked by the tiny imprint Route Publishing if I'd like a copy of this book. The premise sounded intriguing and I do like a freebie so of course I said yes. I'm so glad I did, because it's one of the best things I've read this year.
"Rites" is the debut novel by Sophie Colombeau and was the first-ever winner of the Next Great Novelist award, which "strives to unearth the most talented and promising novelist under the age of 30." It's the story of how four fourteen-year-old kids resolve one summer to lose their collective virginity and how it all goes horribly wrong.
The story is told in retrospect, mainly by the protagonists themselves, taking turns to speak to an unseen interviewer. There are also occasional contributions from their parents and other adults, hardly any of whom come out of the thing well. This device gives Coulombeau the scope to explore the way in which each of the people involved has developed their own narrative of what actually happened. I wouldn't exactly call them unreliable narrators in the classic sense of the term, but each of them clearly has their own personal agenda.
The characters are all skilfully delineated and the pacing is damn nearly perfect. It's an old cliché, but I genuinely did find it very hard to put the book down at times. In the end, what really raises the book to a level way above the norm is the way in which Coulombeau resists the temptation to moralise or draw any kind of conclusion, leaving it to the quartet themselves to show how the event has influenced their subsequent lives and relationships, for better or worse. I read it several weeks ago and I'm still thinking about it now, wondering what really happened.
Very highly recommended.
Aug
20
This is a bit awkward, for two reasons. First of all, I read this book (which – full disclosure – was given to me by Myrmidon) ages ago, and I really should have got around to reviewing it before now. However, I have spent most of the last few months either preparing to move house, moving house or trying to reconstruct my life following a house move, so I hope that I won't be judged too harshly. Anyway, now that life is returning to something approaching normality, I intend to get my act together with this blog too. This isn't the only book that's waiting to be reviewed, after all.
The second reason for awkwardness is that while I've been dithering, this book has – like Tan Twan Eng's previous book, of which more anon – gone and got itself onto the Booker longlist. Which is all fine and dandy, except for the fact that my lovely publishers, Salt – for the first time ever – also have a book on that list, Alison Moore's "The Lighthouse". I've been a fan of Alison Moore ever since I read her brilliantly atmospheric Nightjar chapbook, "When The Door Closed, It Was Dark" (which subsequently also appeared in Salt's "Best of British Short Stories 2011″), although I unaccountably managed to pass over not one but two of her stories when I was judging (anonymously, of course) the recent The New Writer Prose competition. These things happen (there were, after all, a lot of excellent stories vying for my attention – and I do incidentally recommend that you grab yourself a copy of the most recent edition of The New Writer, where all the best stories and poems are reproduced in all their glory), but it does somewhat compound my slight feeling of disloyalty at featuring a rival book on my blog.
Anyway, enough of all that. What about Tan Twan Eng?
I first came across his work when he came to talk to our writers' circle round about the time of his first book, "The Gift of Rain". I bought a copy and was absolutely blown away by it. Here's a post I wrote about it for the circle's blog. The only thing that perhaps let the book down was an interlude set in the Malaysian jungle towards the end of the book that didn't quite work for me. However, that niggle aside, it's an remarkable book – extraordinary for a debut – and one that still lingers on in the memory five years on. I'm still entranced by those fireflies.
Ever since then I've been wondering when he was going to produce a follow-up, so I was really excited when I received this, although I must confess I opened it with some trepidation as to whether he'd still got it. The good news is that he most definitely has. This is another tale with a morally ambiguous protagonist, Teoh Yun Ling, a Malaysian lawyer who was somehow the sole survivor of a brutal Japanese prisoner of war camp. Her survival is given extra poignancy by the fact that her elder sister was one of the ones who perished in the same camp, and Yun Ling is determined to honour her memory by designing a Japanese garden for her. To this end she becomes an apprentice to the mysterious Nakamura Aritomo, who was once the gardener to the Emperor of Japan but is now living in exile in the Cameron Highlands in Malaysia. This is how she ends up working in the Garden of Evening Mists of the title.
Like "The Gift of Rain", the action takes place in different time periods, and this time there are three: the second world war, the time of the Malayan Emergency of the 1960s and the present day. There is a rich and varied cast of characters and a complex storyline that links them all together. As with his first book, there is a wonderful sense of place and a sensuous use of language, and in many ways it is a more ambitious book as well as being more consistently plotted. My only concern is that – perhaps because of the complexity and subtlety of the plot – it doesn't seem to be lingering on in the memory as much as "The Gift of Rain". But perhaps that's my fault, and not the author's. It's certainly a worthy contender for the Booker and – setting other considerations aside – it would be really cool to see him go one stage further this time.