… is now published. I'm not 100% sure what it's about, but I think it has something to do with competitive relationships, trust, emasculation and The Games People Play. But maybe not.
In other news, Mrs Darcy now has her own page on the Salt website. And that is one deeply scary picture of the author, is it not?
I had to go out for a couple of hours this afternoon and came back to find that Facebook had gone a bit ape with its notifications. It turned out that the reason for this was I'd been tagged in an announcement by Salt's Chris Hamilton-Emery to the effect that WHSmith Travel had selected Mrs Darcy versus the Aliens for promotion in September on the basis that it had "massive potential."
Wow.
Now I'd like to think that this had something to do with the fact that I'd buttonholed their chief buyer at the Get Writing conference back in February. However, I suspect that it's more to do with the fact that Salt, Proxima and their sales team have been as good as their word and have got 100% behind the book. As you may imagine, I am stupendously excited about this.
As a keen student of the works of Malcolm Gladwell, I've been watching for tipping points along Mrs Darcy's way – and there have already been a few. But I'm just wondering if this may be the most significant one yet.
Sorry, blog. It's just… well, I'm not sure, really. Let me try to explain.
Weird business, being a writer. Weirder still, being a writer-who's-about-to-have-two-books-published. Part of me is desperate to get the books out there so that I can point to them and say, "Look! I'm a proper writer now!" and part of me is terrified lest they are badly received or (worse) ignored altogether.
But until then, like I said back in this post, I'm in limbo, trying to work out what to do next. Project X, incidentally, staggered on to 3000 words, at which point I decided that I didn't really fancy spending a substantial part of my remaining life in its company. So at the start of this week, I axed it – and almost immediately a completely new concept appeared out of the blue and proceeded to occupy the vacated space in my head. I threw together the first 1000 words yesterday and read it out to my writers' circle last night, who seemed to like it too. I think I could have a lot of fun with this one.
Meanwhile, Project Y continues on its merry way and has now reached the end of the letter A. Project Z also emerged, in the shape of Wickhampedia. Hmmm. About time I wrote a few more entries for that, too. So as you can see, my writing life is wobbling about in several directions at the moment (and I didn't even mention Project WhatevercomesafterZ, which grabbed my attention for an afternoon at the beginning of the month before being slapped down again).
Anyway, here are a few other things to divert you if you've a moment or two to spare. On Tuesday I went to a fascinating talk from several old-school SF legends at the British Library; read Oscar Windsor-Smith's splendidly offbeat account of the event here.
Also worthy of scrutiny are my chum Sandra Norval's excellent recent posts on cyber-networking in Fantasy Faction (here and here).
And its just struck me I haven't mentioned Pike! Have I mentioned Pike yet? I don't think I have, which is unforgivable. My mate K J Bennett has bravely decided to follow Mrs Darcy's lead and is now serialising his wonderful novel Pike's Quest here. Do please take a look: it's hilariously daft.
Finally, I should also let you know that the super-snazzy new Ether app was officially launched today, so go here to download it if you haven't done so already, and then go and buy some of the fab stories on there (preferably one of my three, of course). Perfect to read on the train when you get stuck outside Basingstoke owing to points failure.
OK, blog. Happy now?
Good. I won't leave it so long next time. Promise.
It's possible that regular readers of this blog may have gained the impression that the course of my writing life runs like a smooth, well-oiled machine, untroubled by such petty problems as rejection, frustration or failure. However, nothing could be further from the truth: I get rejections and failures all the time. There are some publications that have almost certainly added me to their spam list, given the number of things I have abortively sent them. However, I do like to think that the fact that this doesn't bother me (and it really doesn't) has something to do with whatever impression of success that I manage to project.
Some of my favourite stories have travelled the world so much they have special T shirts printed, showing everywhere they have visited on their long journey, and I am delighted to announce that one such story, "Dinner with Sylvia" has at last found a home – and a good one at that – at The Battered Suitcase. I wrote this story for a VWC competition back in 2004 and I have been sending it out, off and on, ever since I started submitting stuff to the outside world in 2007. So I'm particularly pleased to see this one finally flee the nest, because it deserves a wider audience. Well, I think it does, anyway.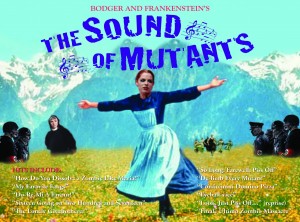 Wickhampedia continues on its merry way through the hinterland of Mrs Darcy versus the Aliens, and today we reach the only musical ever based on one of Jane Austen's works. Who knew?
I think it's fair to say that Dave Weaver has excelled himself with the artwork for this one. Quite remarkable. Especially considering that the commissioning process consisted of me dropping a vague hint in the pub after a VWC meeting.
I've also been asked to point out that the "Mother Abscess" gag was in fact originally my daughter's, although I am now waiting in trepidation for my son to pop up and claim it for himself. Of such things are ruinous family feuds made.

Well, today started nicely with an acceptance from Every Day Poets for my parody "Now We Are (Practising Safe) Sex". A.A.Milne's corpse should probably get ready to spin now.
In other news, I received my signed copy of Nicola Morgan's "Write to be Published" today and it looks terrific. Especially page 246. Page 246 is wonderful. In fact I would go as far as to say that page 246 of "Write to be Published" is the best page of writing advice ever written. I certainly can't stop looking at it. Buy the book here. You won't regret it.

After the Scott Prize results were announced, I thought it might be nice to get in touch with a few people who encouraged me along the way. Pretty much the first stop on the journey was the University of Hertfordshire, because winning third prize in their creative writing award in 2007 was THE critical event that set me off on my present path.
What I hadn't expected was that they would invite me to come along to this year's award ceremony. Now I'm never one to turn down an invitation for free food and drink (and it's just down the road anyway), so I quickly accepted. The award has changed a bit since the first one in 2007, in that instead of an open international competition, it's now aimed at writers aged between 14 and 19 from the East of England. But I have to say that the writing in evidence tonight was no less impressive for that and if even a fraction of these kids stick with it, the future of British literature is in safe hands. It must have been very difficult indeed for the two judges, Emily Mackie and Marcus Sedgwick, to decide who should go home with the prizes.
The ceremony itself was a very slick affair with actors reading out extracts of the shortlisted entries, which I thought was an excellent idea. I've said before here that for an author there's nothing quite like hearing someone who knows what they're doing reading your work, and the actors involved tonight did them proud – kudos to Matt Broad, Syreeta Kumar and Jacqueline Roberts. There were some highly impressive entries in both the shortest short story category (4 – 100 words) and the short story category (up to 2000 words). It wouldn't be fair to single out any individual writers but I was interested to note that there was more than one entrant who turned up in both categories, which I thought was particularly impressive.
So many thanks to Janet Matthews and Stephanie Grainger for inviting me along – I had a terrific time and it was lovely meeting everyone.
And if any of the entrants happen to stumble on this post, I'll give you one simple piece of advice: don't give up on writing, because it sure as hell won't give up on you. Whatever you do, don't take as long as I have to get around to doing anything about it.
Finally, if any of the parents happen to stumble on this, you should be very proud indeed – and if I ever hear that you haven't encouraged your kids every single step of the way on their creative writing journey, I shall be very, VERY cross. OK?
… is of course not being talked about. So it was really nice to see my story "Teamwork" being singled out for praise in SFCrowsNest's review of Murky Depths 16. Many thanks to Gareth D Hunt for the kind words.
It was also nice to see Scott Pack dipping into "The Archangel and the White Hart" once again for his Me and My Short Stories blog – this time to review Richard Bruckdorfer's terrific story, "Will o'the Wisp". So that's two stories from our anthology that have been highlighted, and I have to say I'm dead chuffed.
Meanwhile, Wickhampedia continues to expand, most recently with entries on the kk'Ekk language and Austen's third novel, "The North Abbey Hanging."
Some time ago, my good mate Oscar Windsor-Smith tagged me with this, for which I feel deeply honoured. He also gave strict instructions that I should reveal seven hitherto unsuspected things about myself and then tag a further seven hapless victims myself. I was just about to respond to this when I saw what Claire King had done and decided that anything I said would look very insignificant beside appearing on the Crystal Maze.
But then I felt like a party pooper, so I've decided to go ahead and make a fool of myself, although one out of two will have to do, I'm afraid, 'cos I really hate pestering people. Anyway here are those seven things:
I used to have a soft toy dog called Dismal Desmond. (What ever happened to him, I wonder?)
I once had to be taken screaming out of a showing of "Swiss Family Robinson". Hey, that was one scary movie. There was some kind of big cat involved, if I remember correctly.
I got thrown out of the school chess club for playing suicide chess. Oh come on, it's much more fun.
The first computer program I ever wrote calculated the volumes of spheres for radii 1 to 10. It was written in FOCAL and worked first time. (FOCAL? Trust me, you don't want to know.)
I once gave a performance of the rondo from Mozart's 4th horn concerto on a 14' length of garden hose with a trombone mouthpiece in one end and a plastic funnel at the other. It was almost but not quite recognisable.
At university, I was secretary of the Dampers Club, a society for people who had fallen in the river off punts. I had fallen in within 5 minutes of first setting foot in a punt.
I met Mrs P in a prom queue. We were the last two people allowed in, because the Albert Hall was full. Good gig if I remember right, although we did spend most of the evening eyeing each other up.
I think that will do for now, don't you?