Just heard that my poem "The Muse and the Mojo" has made it into the second Every Day Poets anthology. Apart from the fact that it only seems yesterday when I heard about the first EDP anthology (has another year gone by already?!), I'm really chuffed about this. Here's the poem in case anyone's interested in a sneak preview.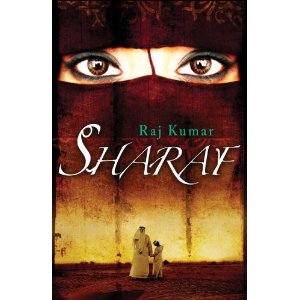 You've got to admire Myrmidon's sense of timing. With the Middle East kicking off left, right and centre, there could hardly be a better time to bring out a novel set in Saudi Arabia, currently sitting nervously at the far end of a long line of wobbling dominos.
I've long had a soft spot for Myrmidon, and not just because they are the publishers of my mate Toby Frost's wonderful "Space Captain Smith" trilogy. One of my all-time favourite contemporary novels is "The Gift of Rain" by Tan Twan Eng – one of the most heartbreaking stories ever committed to paper. So I have to say that I was well-disposed to Raj Kumar's "Sharaf" from the start.
This is the story of Maryam, the daughter of a Saudi Major General, who has been promised to the son of an old comrade of her father's in return for saving his life many years ago during a border skirmish. Unfortunately, this turns out to be a spectacularly infelicitous match for a number of reasons which are gradually revealed during the course of the book.
This premise is briskly set up during the first chapter, in the course of which we are also introduced to most of the key secondary characters. During this initial part of the story, Kumar has a mildly annoying way of over-explaining Saudi customs to the reader rather than letting them speak for themselves, but he soon leaves this behind and from then on the story moves on at cracking pace. "Sharaf", by the way, means "honour", and one thing you can be sure of is that when words like honour get bandied around, people tend to behave badly.
The main plot concerns Maryam's illicit affair with Joe, her nephew's American dentist. To make matters more dangerous still, he's actually her nephew's Jewish American dentist. As this risky liaison develops, we see other parts of the story through other characters' eyes, gaining some startling glimpses into aspects of Saudi society that one might not have previously suspected. I'm assuming that this is all based on fact as Kumar was based in Saudi for some time, although I'm guessing that he may not be looking to go back there for a while.
This isn't a book with great literary ambitions, but it's a well-told romantic tale with thriller accoutrements and it builds towards a satisfying if ever so slightly preposterous climax. I would certainly recommend it as something to take to the beach this summer, especially if you fancy learning a bit about the mysterious desert kingdom that we rely on for the fuel in our cars. And speaking of cars, I'd like to end with one of my favourite YouTube clips, revealing another unexpected side of Saudi.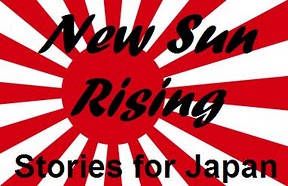 I'm guessing this one won't need much explanation. "New Sun Rising – Stories for Japan" is looking for submissions. The indefatigable Greg McQueen, who was behind the Haiti and Pakistan books is once again the driving force. So what are you waiting for? Stop reading this and get writing, chaps and chapesses. Guidelines here.

If Saturday's fiction offering was all about flies, today's subject is elephants. The excellent Metazen are playing host to my piece "Advice re Elephants" which made it to the shortlist of the Seán Ó Faoláin award last year. Out of everything I've ever written, I think this is one of my favourite stories. And I love the picture that Metazen have chosen to go with it.
In other news, Mrs Darcy versus the Aliens is now available for pre-order from both Amazon and Waterstones, which is all terribly exciting. Now if I were you, I'd stock up on some of those other books by the same author that they're offering, because when I'm a worldwide celebrity they'll be worth a fortune. Just saying. Then again, I should perhaps warn you that on the whole they have fewer jokes in them than Mrs Darcy.
As regular readers of this blog will no doubt be aware, I take myself very seriously as a writer. I eschew the base delights of genre fiction and I stubbornly resist any attempts to introduce any notion of humour into my work, preferring to focus my efforts towards the production of high literature.
However, I do not always succeed in this.
I like The New Writer. Specifically I like their poetry prizes. Their fiction prize is a closed book to me, but last year I managed to be a finalist in both their poetry collection and single poetry competitions. This year I went one better and I was highly commended in the single poem category for my piece about the "Green Line" in Nicosia, "Cyprus Delight".
So, as one of the top ten poems in the competition, "Cyprus Delight" will now receive the ultimate accolade of print publication. Which is all rather exciting.
I still find poetry completely baffling. I dabble in it (I hate that phrase, but it's true) because I enjoy it and I like to think that my experiments in the discipline with choosing the right word and getting the rhythm right etc. inform my fiction writing. But despite clocking up a few moderate successes like this one, I still feel a total fraud because I read very little poetry – partly because there's very little that I feel completely comfortable with, but mostly because I'm lazy and ignorant. Actually, I could probably do with some pointers as to who I should read, and any suggestions would be most welcome.
In other news, my interview with Vanessa Gebbie went live on Salt Publishing's blog yesterday. I hope I managed to do her justice, despite me not having much of a clue about interviewing. It was fun to do, though.
And I had a very swift acceptance yesterday from Escape Velocity for my piece "Symbiosis", a tender story about the love of a young girl for her medicinal parasitic tapeworm. This will appear in their forthcoming anthology.
Finally … just take a look at the cover for Murky Depths 16. And then take a look at the wonderful artwork for my story, "Teamwork", by Caroline Parkinson. And then go and place your order …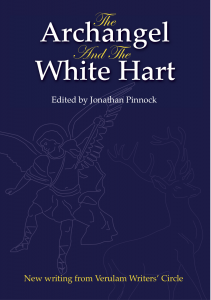 … from no less a person than Scott Pack. I'm really pleased about this, because it's a great little story by Ian Cundell (although I think his other one in the anthology, "Woolgathering", is even better) and he needs to pull his finger out and write a few more like it. And if Mr Pack's endorsement isn't enough encouragement to do so, I don't know what is.
Oh, and if you fancy buying the book to read both of those (along with a whole load of other good stuff including pieces by two – I said TWO! – of the Scott Prize shortlistees) go here and click the big "Buy Now" button. You know you want to.
For no particular reason, the day job has gone a bit bonkers at the moment, which means that most of the carefully crafted posts that I had planned have been elbowed out in favour of this general ramble about stuff.
First of all, I really had planned to say something about the splendid "Get Writing" conference a couple of weekends ago, but everyone else who went seems to have overtaken me and written about it already, so it hardly seems worth it now. One thing that I will say was that possible the most interesting talk of the day came from Matt Bates, who is the fiction buyer for WHSmith Travel. I hadn't heard anyone from the buying end of things talk before, and it was quite an eye-opener.
Basically he said that the single most important criterion for deciding whether or not a book makes it into one of his stores is the cover (the second most important criterion is how informative and interesting the blurb on the back is, by the way). The moment I heard this, I made it my mission for the rest of the day to get one of my postcards printed with Mrs Darcy's cover into his hands – something that I actually achieved within ten minutes of his talk ending. The good news is that he really liked it. But then, who wouldn't?
I happened to be in Bath last weekend, so I took a few of the postcards there with me, giving a couple to the young lad on the till in the Jane Austen Centre ("Awesome!"), one to Waterstones and one to another bookshop who reacted by saying they'd heard that the "first one" was being made into a film. Hmmm. Although does it really matter if I get confused with P&P&Z? I need to practice how I react to this

Today I had a fabbo day pretending to be a real author for a while by attending a lunchtime reception for new joiners at the Society of Authors and an evening launch party for Ed Siegle's "Invisibles", which looks as if it's going to be a superb read. At the latter it was also nice to meet Alison MacLeod, who was one of the other authors involved in the National Short Story Week "Consequences" stunt. My combined intake of wine across the two events was quite high. I could get used to this.
Finally, when I got back this evening, I found that a particularly daft piece of mine (I know I've said that before, but, trust me, this one is dafter than average) is going to be published by The Pygmy Giant at the weekend. I've also been invited to contribute to another publication, but I'll keep that one a little mysterious for the time being.
And I nearly forgot. My piece "Perfect Moment" was apparently one of OneFortyFiction's most popular stories in February. Here it is again, in case you missed it.
So the STIRRED POeT competition over at The Write Idea is over for another year. After a complete failure to chart in any of the six rounds last year, I actually managed to come 3rd in one this year and win another – which means that two of my poems are going to make it into the anthology. Yay!
(Actually, I did just about scrape into the very first STIRRED POeT anthology a couple of years back with my poem "This is How We Deal with Illegal Aliens in Alaska" – a satirical description of an encounter between Sarah Palin and a flying saucer. Here are a couple of stanzas which will give you a flavour of the thing:
He said, "I bring you peace and karma,
to the land of God-like Barack Obama!"
Well, I didn't know what to make of that,
'cos sure as hell, God's no Democrat,
and I thought I saw something under his robes
that looked like one of them anal probes,
so I picked up my rifle and blew off his head.
He writhed a bit, then he dropped down dead.
And so on.)
Anyway, this time around my two contributions are, respectively, "The Longueurs of Après-Midi" (a meditation on life, the universe and surrealist polo) and "A Lover's Alphabet" (a humorous sonnet containing some Bad Words). I'll give you details on how to purchase the anthology as and when.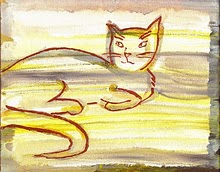 I'd forgotten all about this one. Depending on your point of view, you can see this poem as either a piece of trenchant political allegory or a straightforward little piece of rhyme about a fat cat.
Take your pick. I'm happy either way, because I got paid $5 for it

Which, in poetry terms, probably puts me in the fat cat earning bracket …