… is now published at Gloom Cupboard. This is quite possibly one of the silliest stories I've ever written. It started off as a flash during the 2007 Children in Need event, based on the prompt "I have sent you an ear". I then expanded it a bit for last year's VWC President's Competition, where I think I'm right in saying it came second. I do rather like the characters Sergeant Constable and Constable Sargent, and I have a feeling that they may return at some point.
In other news, I'm rather chuffed that "Hidden Shallows" has been chosen to kick off Every Day Fiction's third year. September's line-up actually looks rather impressive, featuring work by (amongst others) Sarah Hilary, Joel Willans, Krystyna Smallman, Aaron Polson, Cate Gardner and Oonagh Joslin. Quote from the editors:
All in all, it's a power-packed month, as you might well expect since it opens with Jonathan Pinnock and closes with Oonah V Joslin.
Gulp.

I've got another post up at Every Day Fiction's blog, Flash Fiction Chronicles, today. It's all about how problems with your plot can lead you to interesting and fruitful places.
Oh, and many thanks to Stu Sharp for his kind blog post here (thank you, Google Alerts). I'm very happy to return the compliment and direct you to his extremely entertaining blog, which I've just added to my RSS list.
The rather enigmatic literary e-zine Gloom Cupboard ("Our guidelines are deliberately vague because we have nothing worthwhile to say") have accepted a daft piece of mine called "'Ello, 'Ello, What's All This Ear, Then?" And if that somewhat cumbersome title has whet your appetite, you won't have to wait long to read it, because it's coming out next week. More about it then.

My tribute to the bravery of librarians everywhere is now up at Every Day Poets. For those of you who are interested in this sort of thing, the inspiration was the weekly Café Doom Flash Challenge, and the word of the week was "Silence".
Talking of Lawrence of Arabia (well, we were two posts ago – work with me here), my father recently had to move out of his house and I've been sorting through some of his old books. In the middle of this I came across an old two-volume hardback edition of Lawrence's "Seven Pillars of Wisdom". As it happens, I've never read this (although I've seen the film, of course), but I think I want to now. Because the preface contains this wonderful exchange between the editor and the man himself: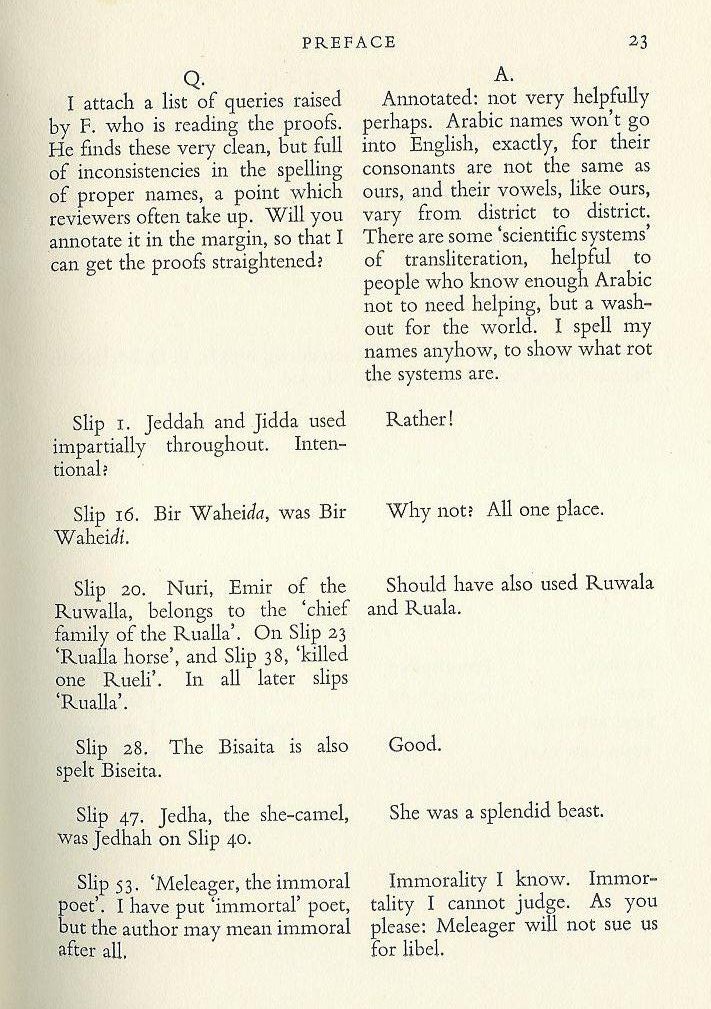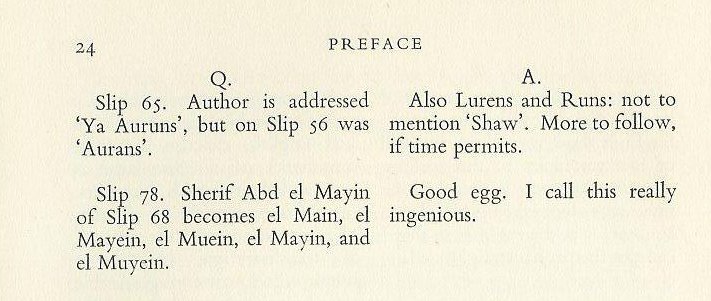 Hands up who else could hear Peter O'Toole reading that. It's brilliant, isn't it?

… I've finally joined Twitter. So follow me here. If that's your thing.
[EDITED TO ADD: And after just over an hour of me being on Twitter, it goes offline. Coincidence? I DON'T THINK SO.]
Well, there's an arresting title for a story, eh? And it's now up at Residential Aliens. A curious little vignette of misguided religious obsession. Or something like that. I do like the camel they've used to illustrate it, by the way. I actually rode on one in Jordan last year, not far from where they shot "Lawrence of Arabia", and it was spectacularly uncomfortable. Wonder if I can get that past the taxman as research?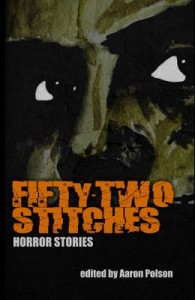 The Fifty-Two Stitches Anthology isn't even out yet, but it's just had its first review, and it's a good 'un. Approximately 5.77% of the stories in it are mine, and loads of the others are by people that I know on the 'net, so I'm rather pleased about this. Looking forward to getting my hands on my copy of this one, too.

Remember when I said that I'd been assigned "Preferred Author Status" at EDF? It was bound to happen, but it wasn't long after this that I got my first rejection from them. I can understand why – it was a bit of a borderline piece – but the timing of it did amuse me. Still, a rejection from a market you like is always good in the sense that it tells you that they don't accept just anything they get chucked at them. And the best thing to do when that happens, of course, is send them something else.
And that something has just been accepted, with a surprisingly glowing critique from the editors. It's a piece called "Hidden Shallows", which had a slightly odd genesis. Some time ago, I decided that if I ever succeeded in publishing a collection of stories myself (well, you've got to dream, haven't you?), I'd like to call it "Hidden Shallows and Other Stories" – because deep down, the biggest fear I have about the stuff that I write is that it isn't quite as clever as it looks, and I thought that I might as well tackle that worry head-on.
So I've been casting around for a while for a story that could have that title. As it happened, one of the available prompts for Task 9 of this year's Eurofiction competition was "Write a story set near water" – which was, in the circumstances, an open goal. People seem to like the resulting piece, but it's light and fluffy and different from almost everything else I've written, so I'll be intrigued to see what EDF's readership make of it.
Following on from yesterday's fastest-ever acceptance, here is that haiga, now published for all to see at Ink, Sweat and Tears. The photo was actually taken at Brighton, nearly twenty-five years ago, not long after I'd met the adorable Mrs P. Olympus OM-1, Kodachrome 25, some aperture or other.