Jul
31
Hmmm. I've always quite fancied entering one of the quarterly JBWB competitions, and I finally got around to it just over a month or so ago. Actually, I think I can state with a fair amount of certainty that it was indeed a month ago, because that's exactly when the deadline for entry was. Why do I keep doing this?
Jul
28
Well, my first foray into Every Day Fiction is now up on their site, and I am dreading the comments. It is, after all, a rather puerile piece. But sometimes that's not necessarily a bad thing. If you happen to be passing, do please rate it and/or leave a comment.
Jul
27
The more I think about it, in my writing life I feel a bit like the manager of an ophanage. Under my care I have a house full of stories that I'd really like to find a good home for. Some of them I'm sure are really lovely, and deserve to be placed somewhere special. Some of them have their flaws, but I still love them and I really want to find them somewhere to go to. So every few weeks I send them out into the world, to see if some kind family will take them in. And sometimes, the family writes back to me to say that, whilst they are probably very nice, they don't feel that they can see a future for them together. So I scold them and see if there is some way that I can somehow improve them so that they make a better impression next time. And then sometimes I get a lovely letter back saying that they would really like to take them in and look after them.
Jul
26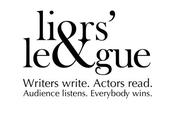 Yes, my piece that was read at this month's Liars' League, The Patience of a Saint, is now up on the League's site. Not only that, it's on their podcast. Which is nice. Do take a listen (probably best not to do so at work, or when the little ones are around, because some of the language is a little ripe).
I was particularly pleased to get this one accepted (after two near misses in the preceding months) for two reasons. Firstly, it's a great market for writers – what could be better than having your piece read out to a real live audience by a real live actor? – and secondly, I've wanted to get a story exploring these ideas done for ages, and this was the perfect impetus. That's what I like about themes and prompts – they get you focussed. I've given this month a miss, but I'm certainly going to submit some more – although I have a feeling that the competition to get into the Crime and Punishment evening is going to be pretty strong.
Jul
24
Oh good, another blog. Well, not really. I've decided to set this site up as a kind of online writing CV, so that if by some remote chance anyone out there has come across something I've done and wants to read some more, I can tell them where to look. The secondary reason for setting this site up is that I have a massive ego.
As far as blogging is concerned, I'm not intending to post a lot here, over and above the occasional item about something being published. If I feel the urge to sound off about something, I generally do it over at the very wonderful If Shakespeare … blog, and I'll stick to that for the time being.