We interrupt our normal service of adverts and other tiresome promotion of my wonderful new book TAKE IT COOL (available from all good bookshops and also by clicking over here —>) to bring you an extraordinary piece of Pinnock juvenilia that I came across at the weekend while sorting out some old files. This opinion piece was written for a school essay competition in which the three "best" entries (and the inverted commas are entirely deliberate) got to be published in The Bedfordshire Times. So this would be my first ever publication, although as far as I remember I didn't get paid.
The subject of the essay was London's third airport, a topic of considerable interest to the inhabitants of Bedford at the time as one of the proposed sites was at Thurleigh, not far away from the town centre. My piece bore the bold title THURLEIGH – MADNESS OR MARVEL? Unfortunately, I don't have the actual cutting from the Bedfordshire Times (my parents having probably decided that it was best not to encourage me too much), but I do have my handwritten original.
This is my favourite bit, wherein I display a precociously practical approach to the problem, although with an alarmingly cavalier attitude to wildlife. Foulness, incidentally, was one of the many sites that have been proposed over the years for Thames Estuary Airport. It's also one of the best place names ever.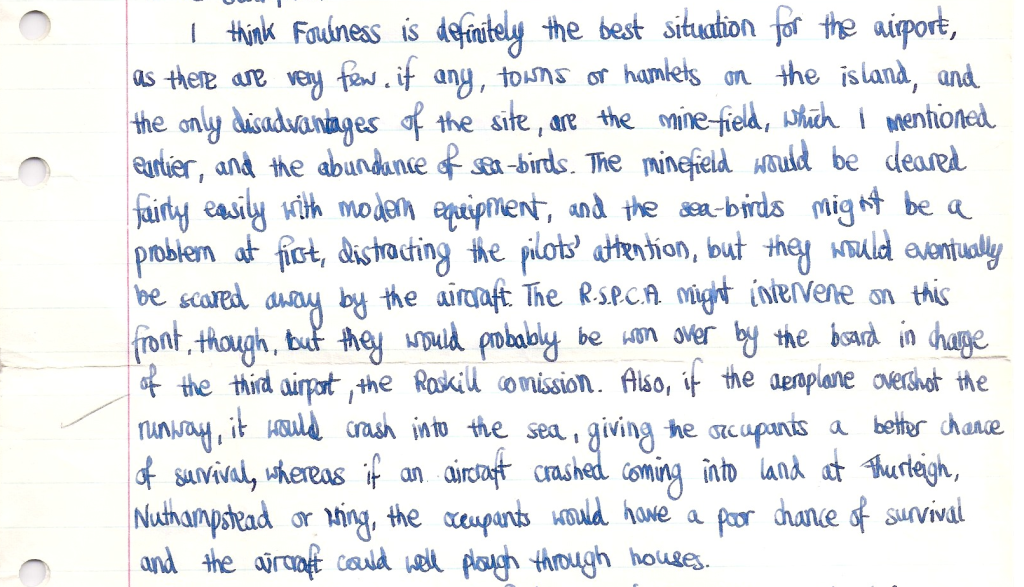 Mrs P's only comment on seeing this was "I bet you were a right little tosser."
I was twelve.