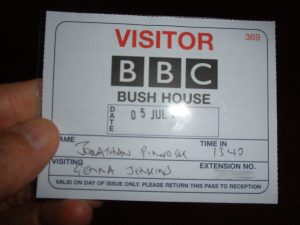 A week or so ago I had a classic anxiety dream in which I went to the BBC for the recording session and for some unspecified reason the only actor they'd managed to get hold of was a rather useless bloke who couldn't do an American accent. Not only that, but this unprepossessing individual also managed to point out to me a rather obvious flaw in the story.
So I was distinctly relieved when my producer (gosh, that sounds odd) told me that she'd managed to book Laurel Lefkow, who has the twin advantages of being both female and American. Even better than that, a bit of research revealed that she has a prominent rôle in the second BBC Dirk Gently adaptation, "The Long Dark Tea-Time of the Soul". Actually, I could have found this out without recourse to Google, as I bought the CD set for myself a few weeks ago although I hadn't – until this weekend – got around to listening to it yet (and very good it is, too). Either way, what this means is that I can now tenuously claim to be two degrees of separation removed from the late Douglas Adams. Not only that, but I can also claim the same relationship to Audrey Niffenegger, as Ms Lefkow also worked on the audiobook of "The Time Traveller's Wife". So that's two of my favourite multi-million-selling authors covered, then.
The recording session took place this afternoon at Bush House in The Aldwych. Gemma Jenkins, my producer (nope, it still sounds odd) met Laurel and myself in reception and took us through to the studio where we met Mike, the recording engineer. We had a brief chat about the piece, which both of them seemed to be genuinely enthusiastic about, and then Gemma and I retired behind the glass to join Mike. I was expecting a whole series of editorial suggestions, but there were only a couple of phrases that sounded a bit too English that Laurel and Gemma queried and I was very happy for them to fix those. I guess that's the difference between an open submission process like this and a commissioned work.
After a quick check for levels, they went for a first take. Wow. Just wow. There is nothing quite like the experience of hearing your work come to life in the hands of a skilled professional actor working under the guidance of a skilled professional producer. It was wonderful – Laurel managed to bring out pretty much every nuance of the troubled relationship between the two protagonists at the first go, and I really had to pinch myself to think that I'd actually written this.
There was then a brief discussion as to the correct US pronunciation of the word "traverse" and it turned out, after Mike had checked, that Laurel was already correct. Then they went for a second take, which was even better than the first. After this, Gemma highlighted a few minor points, and I suggested a change of a word (having noticed for the first time that the word "bill" meaning "account" was at one point followed almost immediately by "bills" meaning "banknotes" – how many times had I read this previously myself?) and they did a few retakes. There was one particularly subtle aspect to a line that I remember Laurel absolutely nailing at this point and I suddenly realised how privileged I was to have someone of her calibre reading my work. I honestly don't think there is any way in which her performance could be improved upon.
But judge for yourselves: it goes out on BBC Radio 4 on August 18th, and it will be available on Listen Again for a week thereafter. I might just give you a nudge or two in the meantime, though.
One really interesting thing. I didn't discuss this with either Gemma or Laurel, but there is a certain amount of ambiguity about the ending of the piece (and I seem to remember that it was Ian Cundell who steered me in this direction at The Goat when I originally read it out to the VWC there a while back), and you could in fact argue that there are actually three different possible interpretations. Intriguingly, both Gemma and Laurel seemed to assume the same one of these without question, although it didn't affect the interpretation at all. I'd be really interested in what other people think – and whether or not there's any kind of split along gender lines.