David Weaver the Elder
Jump to navigation
Jump to search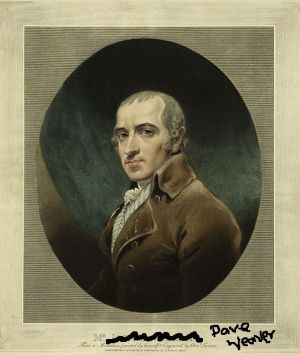 David Weaver, RA (18 May 1785 – 12 October 1864) was an artist and illustrator famous for his work with the noted zombie novelist Jane Austen. He won many awards for his cover art, and his illustrations for Sensei and the Insensibles were the focal point of an exhibition in 1809 held at Mr Scratchy's Gallery, a location that would later become famous for such iconoclastic works as Master Hurst's Pickled Herrings and Mistress Emin's My Bad.
Like his contemporary, Mr Macapple Gimp, RA, Weaver mainly worked in the medium of picture shoppe, a type of collage technique that has long gone out of fashion, but he was also noted for his pencil sketches of the rich and famous. These have been favourably compared with the work of Thomas Rowlandson, James Gillray and Master Thomas of the Grand Duchy of Finland. Unfortunately, many of these have since been lost and it is tantalising to speculate as to the nature of such works as Lord Byron Rampant with Several Hamsters and Lady Caroline Lamb's Spit Roast.
Despite the initials RA after his name, Weaver was never in fact a member of Royal Academy. Rather, this was an elaborate joke perpetuated by his entourage, the letters standing for "Rat-Arsed", being the state in which he tended to find himself after a long day in his studio.
His eponymous descendant, David Weaver the Younger, is a successful contemporary artist and writer.